I tore this recipe out of one of the weekend newspaper magazines last month. It's from Billy Law, a Malaysian cook who was on MasterChef back in 2011. I adjusted the recipe to use fewer dried chillies (2 instead of 5) and made a few other slight tweaks – spring onions instead of leeks because that's what I had.
The result is a delicious, spicy chicken dish which should serve 4, but Matthew and I both went back for seconds and there was less than half left! The method is a bit more fiddly than the recipes I usually post, but it's worth it. Definitely a keeper.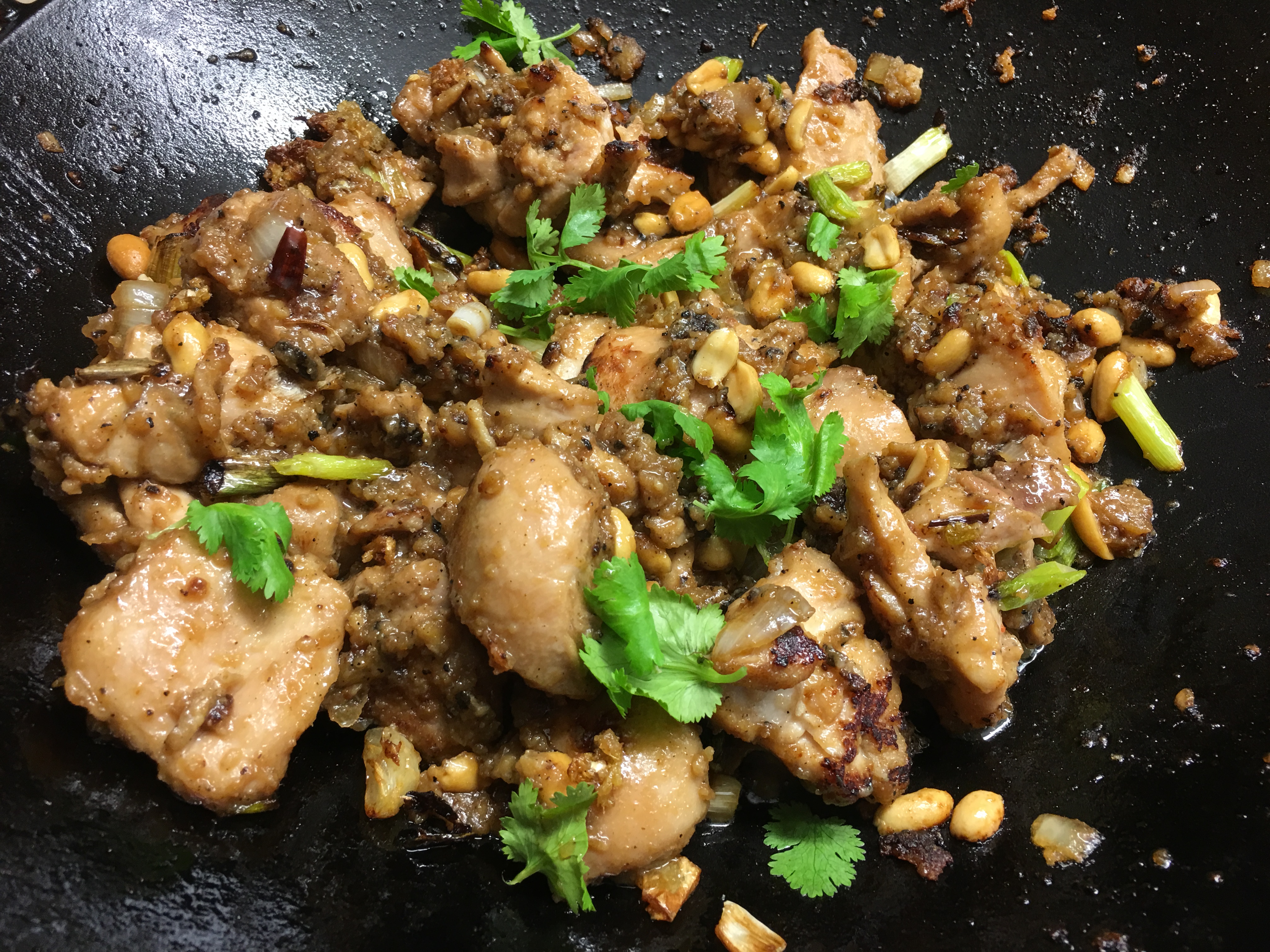 750g skinless, boneless chicken thighs cut into bite-sized pieces
3cm piece ginger, grated
2 Tbs soy sauce
2 Tbs mirin
Freshly ground black pepper, to taste
1 cup potato starch (I used a packet of instant mashed potatoes)
1 egg
Vegetable oil for frying
1 small onion or ½ large one, chopped
2 dried red chillies, sliced
1/3 cup peanuts, toasted
Chopped fresh coriander
Chilli Oil:
¼ cup vegetable oil
5 cloves garlic, halved
2 cm ginger, peeled and sliced
1 leek or 8 spring onions, thinly sliced (use mostly the white part)
1 Tbs dried chilli flakes
Sauce:
2 Tbs soy sauce
2 Tbs sugar
1 Tbs vinegar
1 Tbs cornflour mixed with ¼ cup water
Mix chicken with ginger, soy sauce, mirin and pepper and leave to marinate for an hour. Mix in the potato starch and the egg. Heat about 2.5 cm of oil in a wok and fry the chicken pieces, in 2-3 batches, until golden brown and crispy all over. Remove and drain on paper towels. Wipe out the wok.
For the Chilli Oil, heat the oil in a frying pan and add the garlic, ginger and leek or spring onion. Stir fry until golden then remove with a slotted spoon to a small bowl. Add the dried chilli flakes to the oil and stir for a minute, then pour through a sieve, discarding the chilli flakes and keeping the oil.
Heat the reserved chilli oil in the wok and add the chopped onion. Stir until softening, then add the chillies and the sauce – soy sauce, sugar, vinegar and cornflour mixture – and stir till thickened. Add the fried chicken and the peanuts, stirring to coat for 1-2 minutes.
Garnish with the reserved garlic, ginger and leek mixture and fresh coriander and serve with steamed rice.
Serves 4