This colourful vegetarian dish was created when I had some pancakes which needed using up. You could probably use round wraps or soft tortillas instead of the pancakes.
I used one kind of vegetable for each layer, but if you're in a hurry just roast all the vegetables mixed together.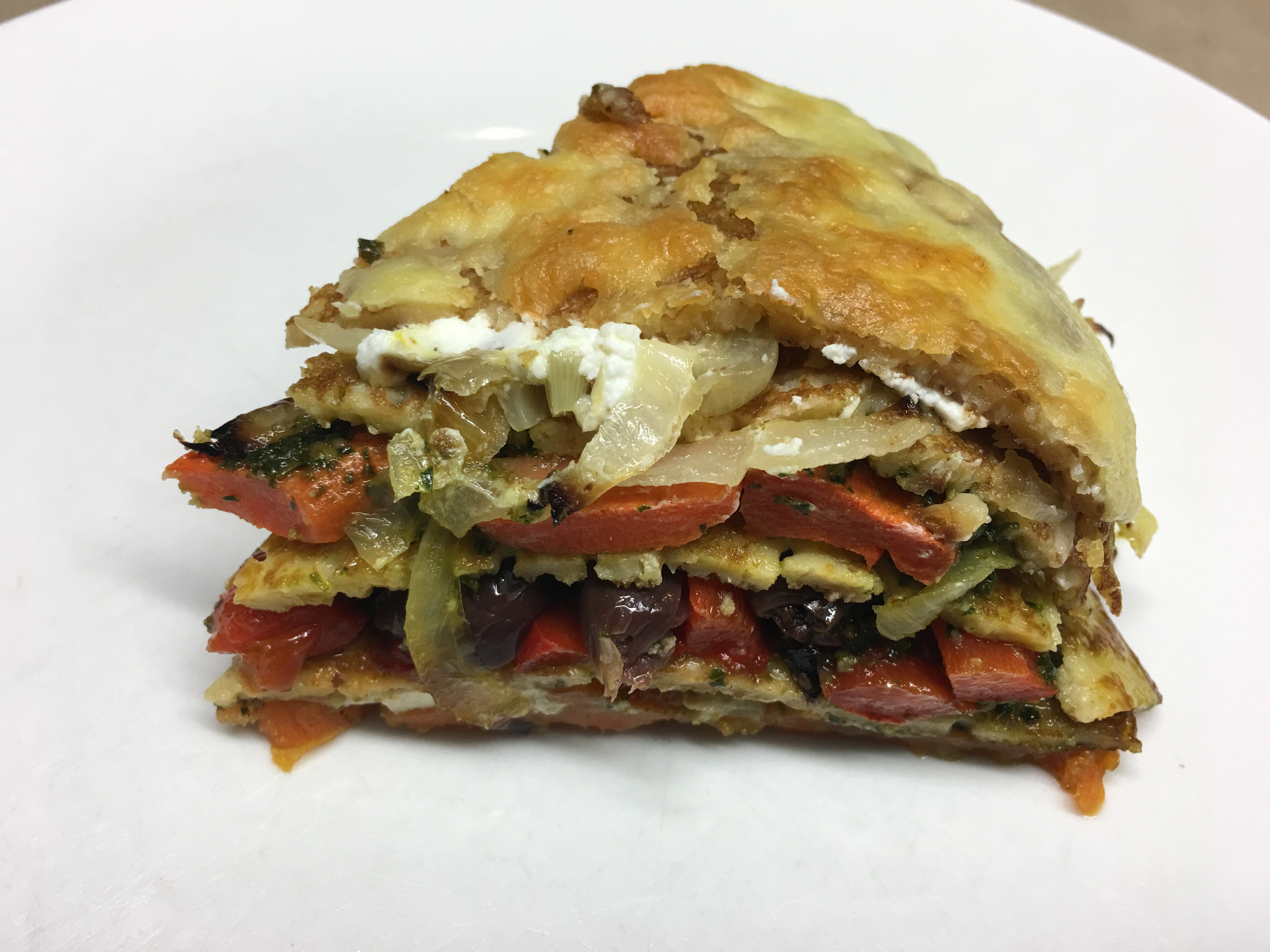 1 medium sweet potato
3 large carrots
1 large red capsicum (pepper)
1 large onion
1 cup pitted black olives (optional)
Olive oil
Salt and freshly ground black pepper
5 pancakes (crêpes) either bought or home-made
150g goat's cheese or feta, crumbled
Pesto (either bought or home-made)
2/3 cup grated cheddar or parmesan
Choose a non-stick springform pan the same diameter as the pancakes. Preheat oven to 200°C. Slice all the vegetables into thick slices rather than the usual chunks, so they're flatter. Mix each one with s little oil, salt and pepper, then spread them out in one layer, individually, on shallow baking trays lined with baking paper. Roast for 20-30 mins or until cooked and starting to brown.
You can line the bottom of the pan with baking paper, but I found it made cutting the finished dish more difficult as the paper got in the way, so next time I'll leave it out. Spray cake pan with oil and place one pancake on the bottom. Arrange one vegetable over the pancake, dot with a few pieces of goat's cheese or feta, drizzle with some pesto (add some oil if it's too stiff), then top with another pancake and continue with the other vegetables, one for each layer. I put the olives in the onion layer. Finish with a pancake, sprinkle with cheddar or parmesan. Can be made ahead to this stage and kept in the fridge, covered.
Preheat oven to 180°C. Bake the pancake stack for 30-40 minutes or until golden brown on top and heated through. Serve in wedges with a green salad.
Serves 4-6
Variations: use other vegetables such as zucchini, parsnip, pumpkin, mushrooms, asparagus, corn etc. Add another layer or two if you like.