Last weekend our friends Venessa and Tony gave us a packet of orecchiette pasta all the way from Italy, although they had bought it at the local deli.  It's shaped like baby pig's ears, hence the name, and they said it was 50% nicer than any normal pasta.  Last Sunday David Herbert's food column in The Weekend Australian Magazine featured a recipe for Pappardelle with Broad Beans, so I thought I would make it using the orecchiette instead of pappardelle.  The recipe also uses pesto, one of my favourite ways to enjoy pasta.
You can usually whip up a tasty pasta meal without having to go to the shops.  To this end a bag of pesto cubes in the freezer is a great resource for the busy cook. Towards the end of summer, when we  have an abundance of basil in the garden, I start making pesto cubes in ice cube trays,  tip them into a plastic bag and by the time I have finished I  have a couple of kilos – enough to last till next summer.  You're right, I do have plenty of freezer space!
The third main ingredient in this recipe is broad beans which I always have in the freezer.  Fresh broad beans are delicious, but the season is very short and frozen ones are really very good.  David Herbert used some green chillies in his pesto, but I prefer mine without.  You could always add some to this recipe at the end, to spice it up a bit.  A bottle of wine, a crusty loaf and maybe a rocket salad and dinner's ready.
Pasta with Broad Beans and Pesto
2 cups broad beans, fresh or frozen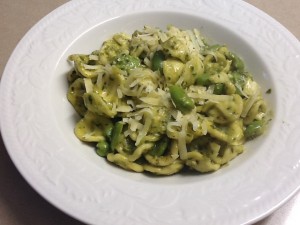 350g pappardelle or pasta of your choice
Pesto:
2 Tbs pine nuts, toasted
1 clove garlic, crushed
3 Tbs grated Parmesan
1 cup basil leaves
4-5 Tbs olive oil
Extra grated parmesan to serve
Put two pans of salted water on to boil, one for the pasta and one for the broad beans.  Cook pasta according to packet instructions and broad beans for about 3 minutes, then refresh under cold water and when cool enough slip off the outer skins and discard.  While pasta is cooking make pesto by mixing all the ingredients together in a food processor until chunky-smooth.
When pasta is al dente drain and return to the pan with the broad beans and the pesto.  Mix well then transfer to four serving bowls.  Sprinkle with extra grated cheese and serve.
Serves 4