I don't eat pizza very often, but when I do I'm fussy about what goes on top.
This is my favourite combination, using home-made pesto instead of the usual tomato base and a gourmet topping of prawns, bocconcini balls, grated mozzarella and pine nuts. This combination elevates the humble pizza to a whole new level.
To speed things up you could use a bought pizza base and bought pesto, but the home made options are, as always, best. The dough recipe makes one very large pizza (or two smaller ones) and is easy to double for a crowd. Many teenagers have hollow legs and are capable of demolishing a whole pizza each!  If you do make double the dough recipe, do it in two batches, otherwise your food processor might struggle. If you make two smaller pizzas you could do one with prawns for the adults and one with whatever the kids prefer.
When we fire up our pizza oven for a crowd, I make 3 double batches of this dough and end up with about eight medium-sized pizzas. For one pizza it's not worth using the pizza oven, so I use the oven.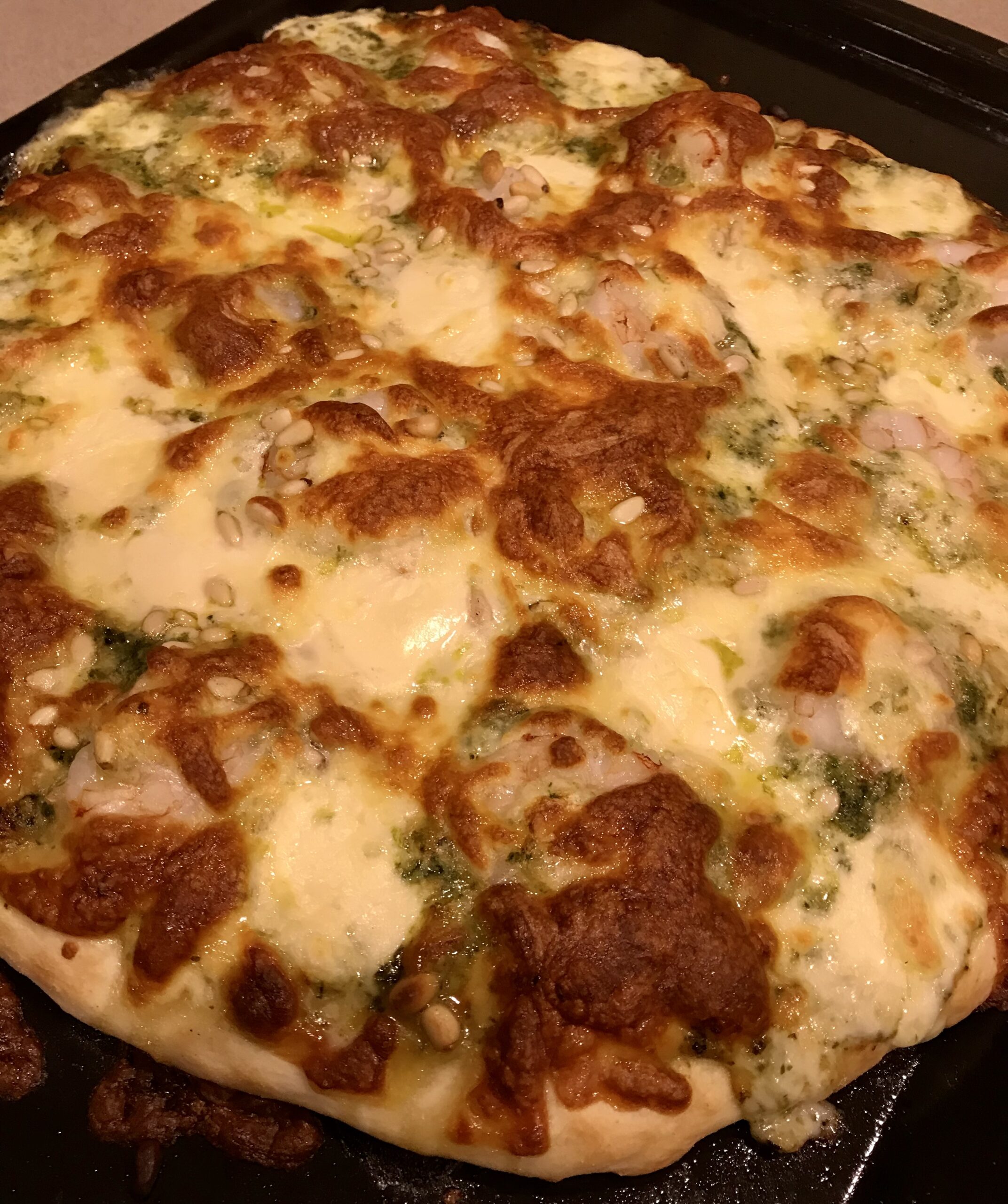 Dough:
250g plain flour (preferably "00")
½ tsp salt
Half a packet of dried yeast (about one level teaspoon)
2 tsp sugar
2 Tbs olive oil
160 ml (about ¾ cup) lukewarm water
Topping:
About 6 Tbs pesto
16-20 raw, peeled prawns, depending on size
100-150g bocconcini balls
2 cups grated mozzarella cheese
2-3 Tbs pine nuts
Place all ingredients for the dough in a food processor and process until it forms a ball. If the mixture is a too sticky to form a ball, stop the motor and add another tablespoonful of flour and mix again. Tip out into a lightly oiled bowl, cover with a tea towel or plastic wrap and leave for an hour or two, or until it has doubled in size.
Meanwhile make the pesto and assemble the topping ingredients. Preheat oven to 220°C or whatever is the hottest temperature your oven can reach. Knock down the dough and knead it for a minute or so, then press it out into a circle about 30-35 cm in diameter on a lightly oiled baking sheet or pizza stone. Spread with pesto, then arrange the prawns and bocconcini balls over the pizza. Top with grated mozzarella and pine nuts.
Bake for 10-15 minutes or until browned and bubbly. In a pizza oven it will take slightly less, probably 8-12 minutes.
Serve with a salad.
Makes one very large pizza