Looking for a different way to roast a chicken? This easy but delicious recipe uses a combination of flavours that works well. The skin goes crispy thanks to the lemon juice and any leftovers are nice cold.
A loaf of crusty bread and some roast potatoes or boiled new potatoes will pad this meal out (as my mother used to say) and ensure there's enough for a family of six.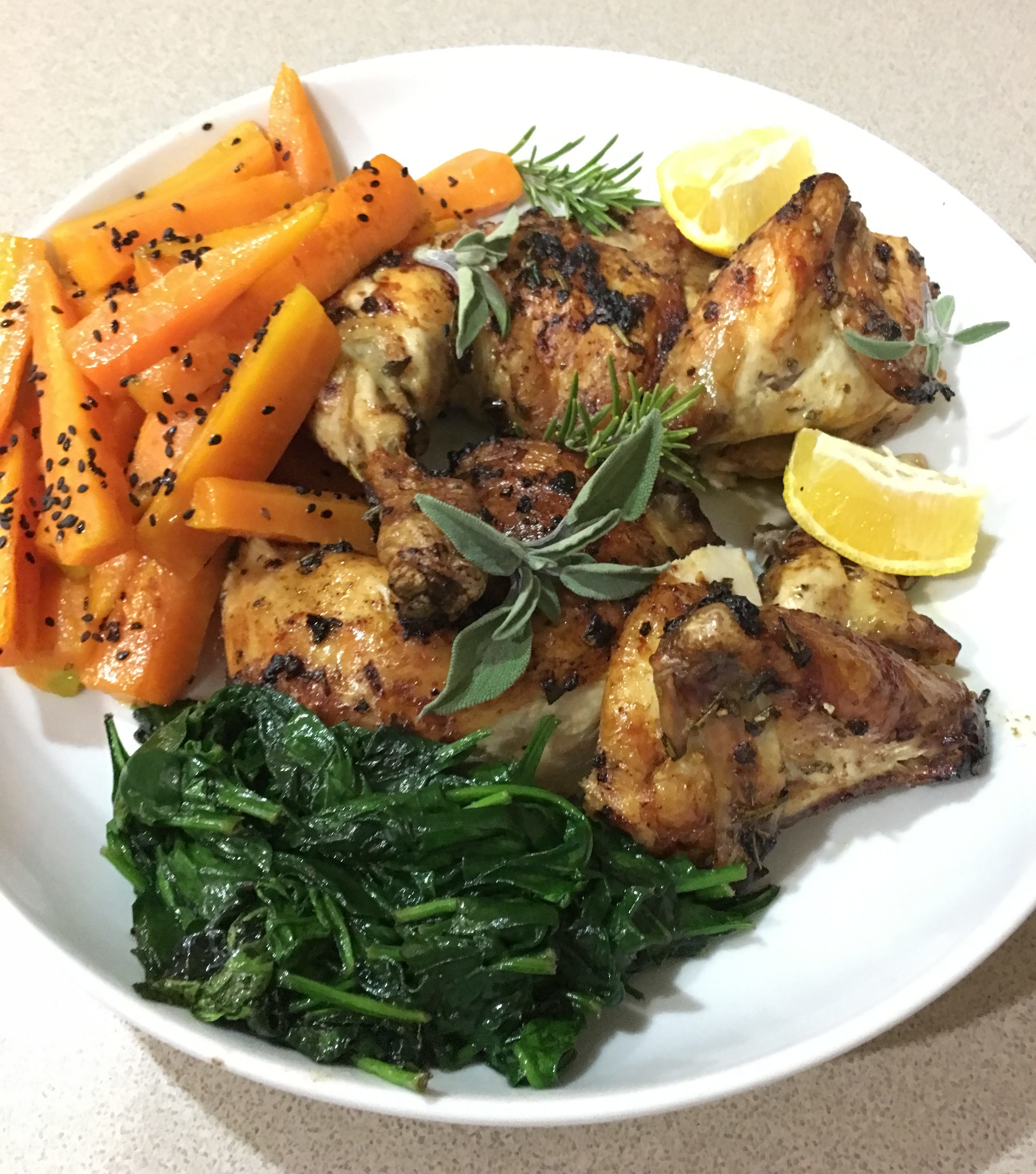 1 whole chicken
¼ cup Extra Virgin olive oil
Juice and grated rind of 1 lemon
1 generous Tbs chopped fresh Rosemary
1 generous Tbs chopped fresh Sage
4 cloves garlic, crushed
1 tsp salt
Freshly ground black pepper
½ to1 tsp chilli flakes, to taste
To serve:
Fresh herbs
Lemon wedges (optional)
Vegetables such as buttered spinach and glazed carrots
Using poultry shears, remove backbone from chicken and discard. Place skin side up in roasting pan and press down hard with your hand so it flattens out. Mix remaining  ingredients and spread over both sides of the chicken, rubbing it in. Leave chicken to marinate for half an hour at room temperature, or up to several hours in the fridge.
Preheat oven to 180°C. Roast chicken for between an hour and an hour and a half. It's ready when a skewer is inserted into the thigh and juices run clear and skin is crispy and brown. Time will vary according to the size of the chicken. Baste halfway through cooking time with pan juices.
Carve chicken and serve with lemon wedges and seasonal vegetables, such as buttered baby spinach and honey-glazed carrots.
For the spinach, stir fry a packet of fresh baby spinach leaves (or shredded larger leaves) with a knob of butter until thoroughly wilted, then season to taste.  For the carrots, cook them in boiling, salted water until tender, then tip off the water, add a knob of butter and a teaspoon of honey and shake the pan over the heat until glazed. Sprinkle with some sesame seeds – I used black ones.
Serves 6
Notes: if you don't have fresh herbs use dried, but fresh are best in this recipe.