I was inspired to have a go at making this delicious Vegetarian Paella after lunching with friends at Muse Cafe, located at the East Hotel in Canberra. When you've eaten something in a restaurant, but don't actually have the recipe, you have to use a certain amount of guesswork, but the end result was delicious.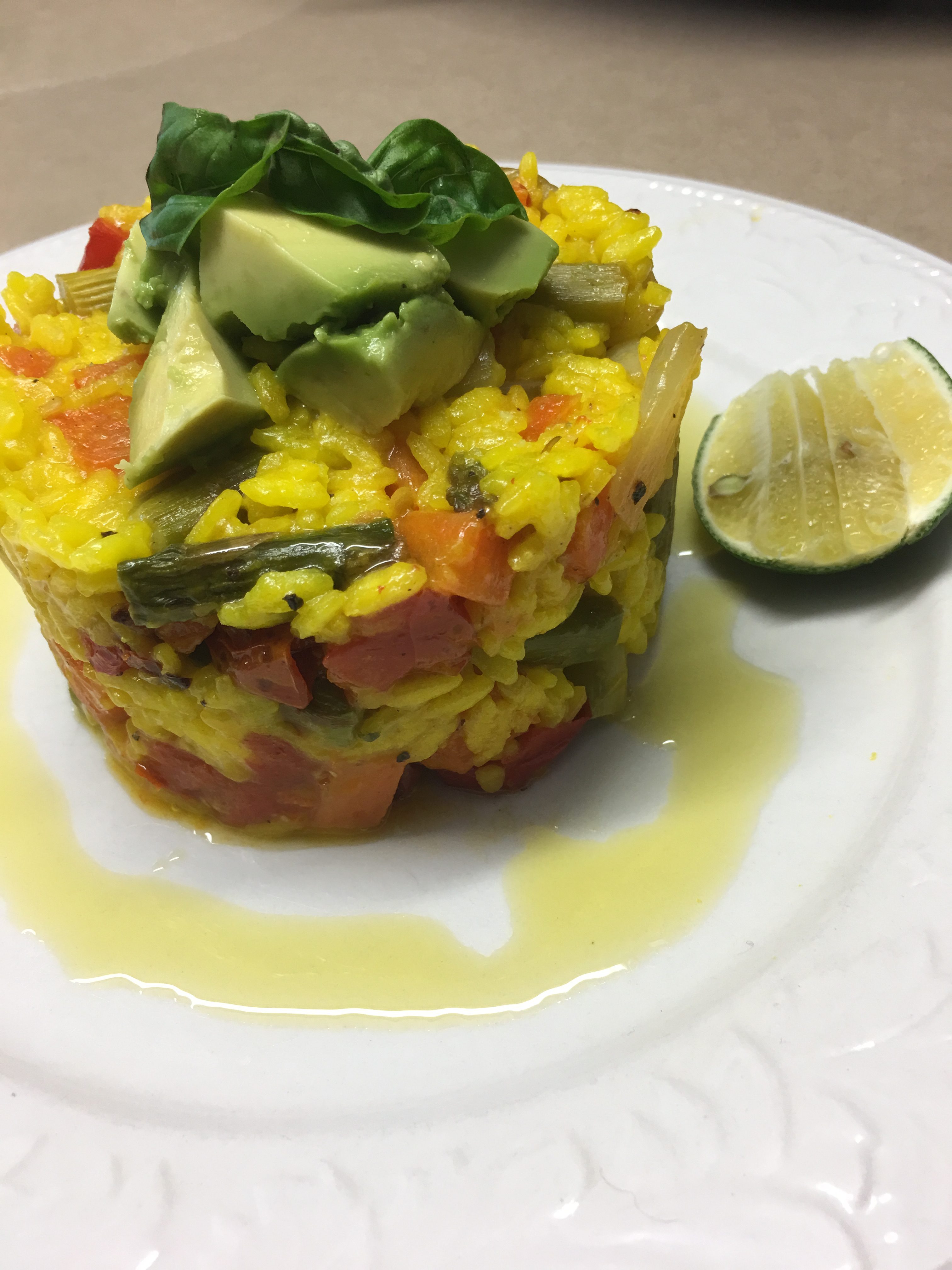 Muse calls this dish Calasparra Paella – calasparra being a variety of rice especially suited to making paella. It's not sold in any of my local supermarkets, but if you look online you can find a couple of specialty grocers who sell it.
Arborio rice is a good substitute, but you need to use less liquid and stir it less, so it doesn't go creamy and start to break down. Calasparra needs three times the volume of liquid to rice, whereas Arborio only needs about twice the volume.
As you can see in this photo, I roasted the tomatoes with the other vegetables. They ended up a bit overcooked, which is why I have amended the recipe to add them halfway through the cooking time. I also roasted the beans and asparagus with the other vegetables, which unfortunately meant they lost their vibrant green colour. So again I have amended the recipe to cook the green veggies in water rather than in the oven. Either way works, it's just about the colour.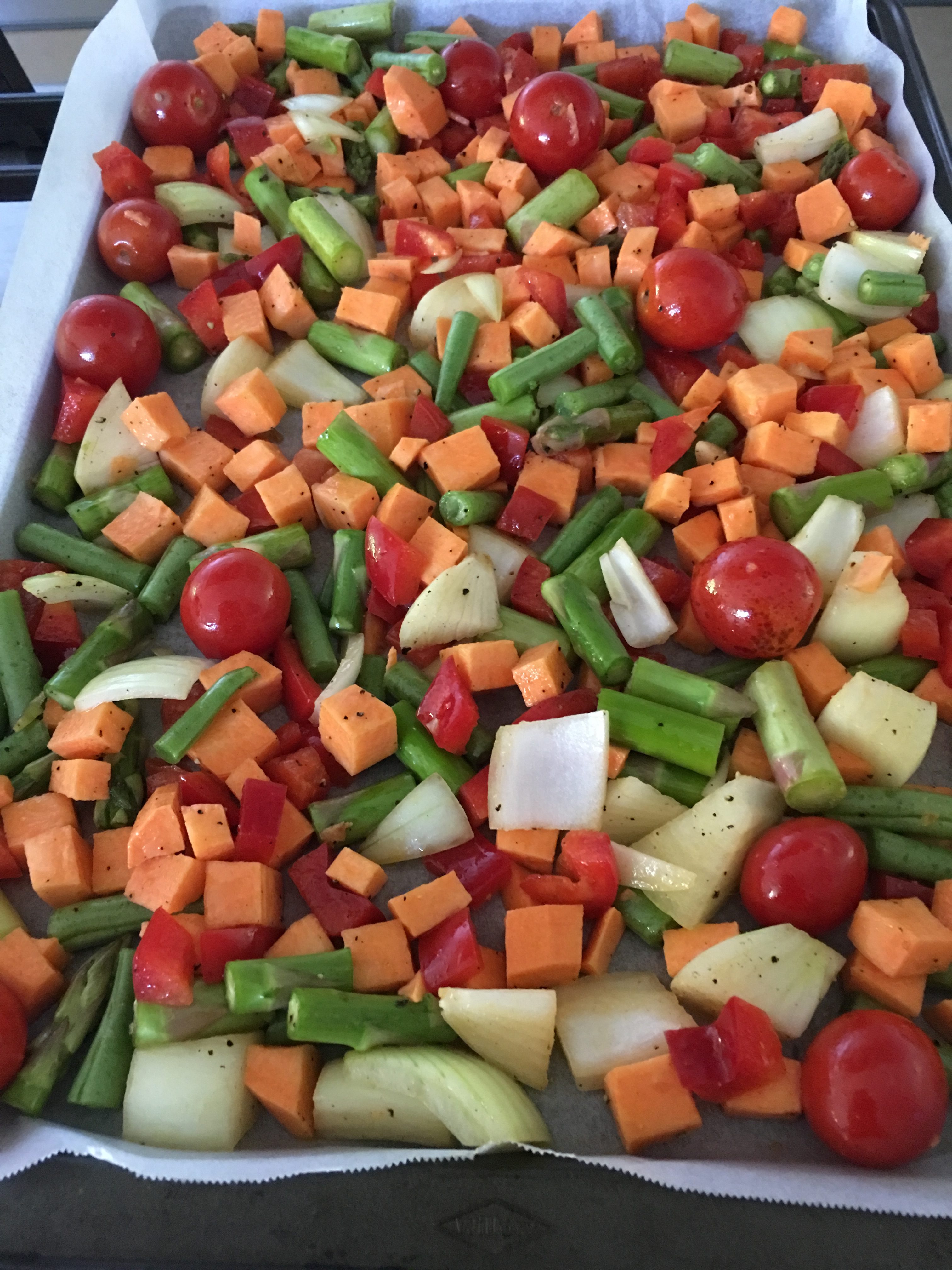 1½ cups Arborio rice (or Calasparra)
3 cups vegetable stock (4½ cups if using Calasparra)
2-3 Tbs olive oil
Salt and freshly ground black pepper
Pinch of saffron threads or powder
Knob of butter (optional)
About 12 cherry tomatoes
About 6-8 asparagus spears
About 12 green beans
1 onion
1 small red capsicum
1 small sweet potato
Pinch of chilli flakes (optional)
To serve:
2 avocados cut into cubes
Micro herbs or any small fresh leaves (basil, marjoram etc)
4 Lime wedges
Extra Virgin Olive oil
Heat half the olive oil in a heavy-based large saucepan, add the rice and stir fry for 2-3 minutes. Gradually add the stock, letting it be absorbed before adding more. Stir from time to time, but not too often or too vigorously. You may need slightly more or less stock as rice varies. When al dente add the saffron, chilli flakes and salt and pepper to taste. If liked, add a knob of butter, then cover and keep warm.
Meanwhile roast the vegetables. Preheat oven to 200°C. Cut the onion, sweet potato and capsicum into 1-1.5cm squares and place in a bowl with the rest of the olive oil and salt and pepper to taste. Mix well then spread out on a shallow oven tray lined with baking paper. Bake for about half an hour, or until cooked. Halfway through cooking time give them a stir around and add the tomatoes. Meanwhile cut the asparagus and beans into 1.5cm lengths and cook in boiling salted water for 3-4 minutes then drain and refresh under cold water.
Mix all the vegetables into rice and arrange on 4 serving plates, using a large stacking ring if you have one. Garnish with avocado, herbs, olive oil and lime wedges.
Serves 4
Note: I made a large main course sized stacking ring by cutting the top and bottom off a large can of tuna with a can opener. Place in the middle a dinner plate. Fill with the paella and press down the top, garnish with avocado and herbs, then lift off carefully and serve.
Variations: use eggplant, zucchini or peas instead of one of the vegetables.