This recipe caught my eye when it was published recently in Gourmet Traveller, so I saved the link. Friends coming to stay for the weekend is a good excuse to bake a cake so I thought I would give this a try. As a fan of chocolate, figs and hazelnuts it seemed to tick all the boxes. I wasn't disappointed.
I've cut down on the sugar in the cake from 300g to 200g and cut it out altogether in the chocolate ganache. The muscat and figs are sweet, so you could try cutting down even more on the sugar in the cake, say to 150g. Maybe add a few more figs to compensate.
The original recipe said to use muscat or brandy. I used a muscat-style fortified wine made in Australia by Angoves and called Bookmark Crema All'Uovo. I bought the bottle several months ago at Dan Murphy's to make that wonderful Italian dessert called Zabaione. If I hadn't had any of that I would have used port rather than brandy. The packet of dried figs I bought weighed 375g, so I used them all.
The original recipe tells you how to make Candied Oranges to serve with the cake. I had some candied cumquats I made several months ago, so that's what you can see as a garnish in the photo. To make the original Candied Oranges, search for the GT recipe.
To make the cake gluten-free, use gluten-free bread for the breadcrumbs.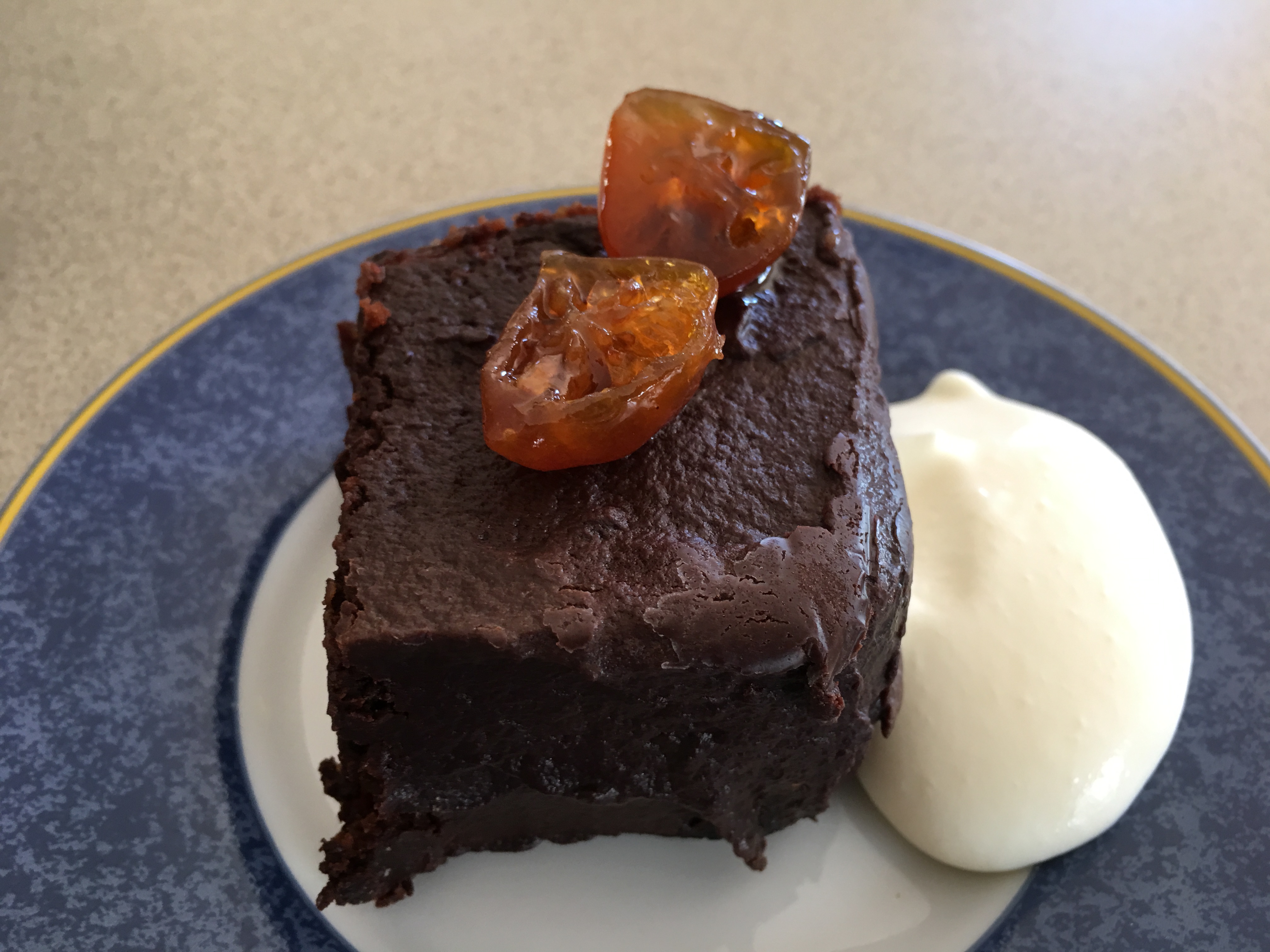 Cake:
1 cup (250ml) muscat or port
300-400g dried figs, de-stemmed and coarsely chopped
420g hazelnuts, toasted and peeled
250g unsalted butter, at room temp
200g caster sugar
6 eggs
250g dark chocolate, melted
½ cup fresh breadcrumbs
Ganache:
½ cup cream
150g dark chocolate
To serve:
Whipped cream
Candied oranges or orange peel (optional – bought or home-made)
Place muscat or port in a saucepan with the figs. Bring to the boil then simmer, stirring from time to time, for 10 minutes or until figs have absorbed the wine.
Preheat oven to 160°C. Place hazelnuts in food processor and process coarsely. Tip out. Make bread into breadcrumbs in food processor, then tip out. Place butter and sugar in food processor and process until smooth. Gradually add the eggs, one at a time, then the melted chocolate, stopping to scrape down the sides from time to time. Scrape mixture into a large bowl and mix in the figs, the ground nuts and the breadcrumbs.
Scrape mixture into a large cake pan, greased and bottom-lined with baking paper. I used a 22cm square pan, but you could use a round one. Bake for 50-55 minutes, or until cake feels firm on top and a skewer inserted in the middle comes out clean. Err on the slightly undercooked side, as the cake will continue to cook after you remove it from the oven. Leave to cool, then remove from pan and pour over the chocolate ganache, using a knife to spread it evenly over the top and sides.
Ganache: heat cream in a small saucepan. When boiling, turn off heat and add the chocolate, broken into squares. Leave to melt for a few minutes then stir until smooth. Allow to cool for a few minutes, so it's a bit thicker for spreading.
Serve cake as it is, or with whipped cream and candied oranges or orange peel.
Serves 16
Variations: use walnuts or almonds instead of hazelnuts, or a mixture.