I've made a lot of cheesecakes over the years and this one ticks all the boxes. The recipe was given to me by my daughter Catherine who said it was easy peasy and delicious.
Instead of topping with marmalade, you could serve the cheesecake with sliced strawberries, macerated with a little sugar and perhaps a splash of orange liqueur or brandy. Instead of marmalade I used about a cup of pureed fresh apricots, which I had frozen during summer, mixed with some home-made cumquat jam and heated to combine, then cooled. Use your imagination – this cheesecake would go well with any jam, marmalade, fruity sauce or fruit compote. Or just some fresh berries.
Use half the amount of biscuits, butter and cinnamon if you prefer a thinner crust.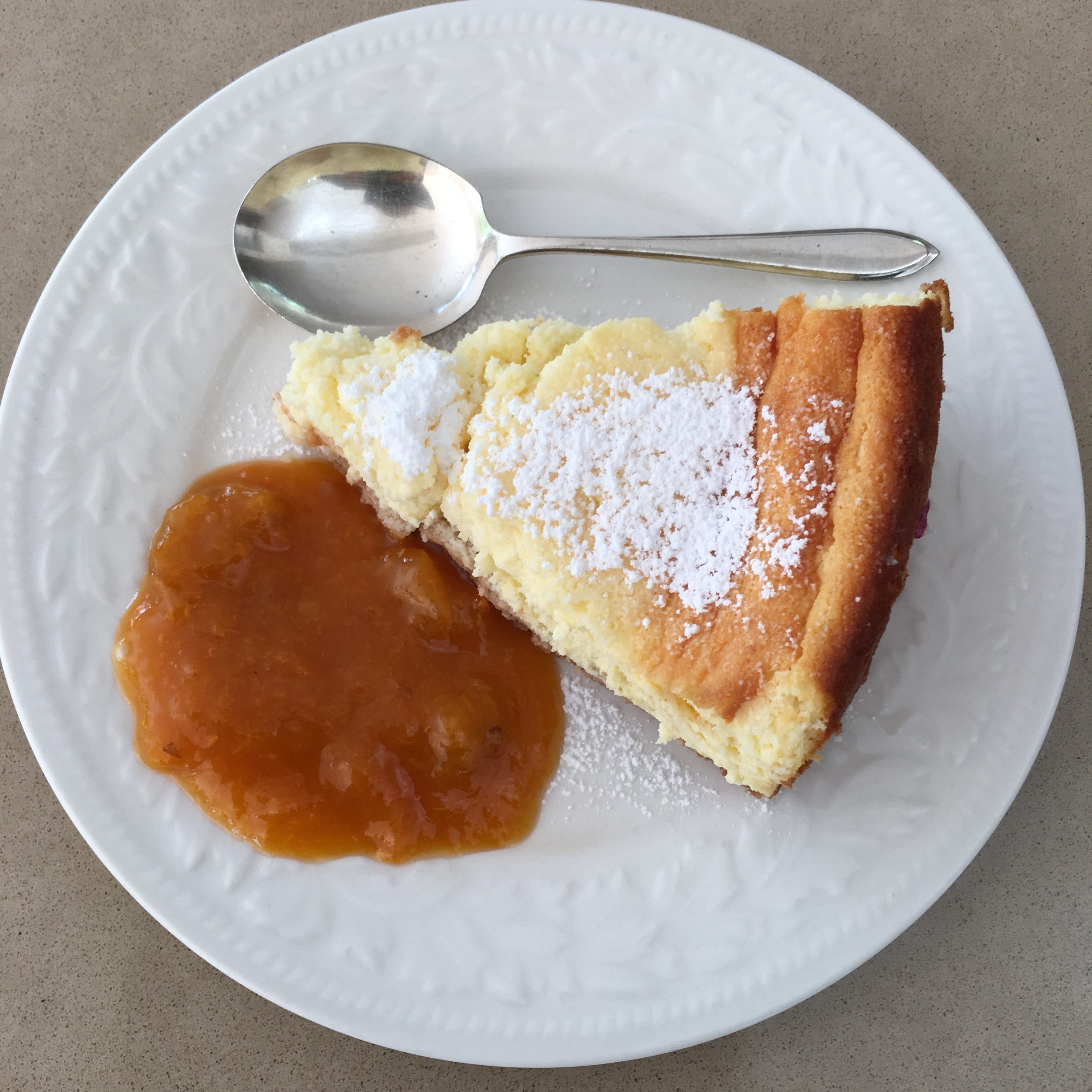 Crust:
200g plain sweet biscuits
100g butter at room temperature
1 tsp cinnamon
Filling:
250g ricotta cheese
250g cream cheese
1 cup sugar
4 eggs, separated
¾ cup cream or sour cream
2 Tbs grated lemon rind
Topping:
½ cup marmalade
¼ cup water
Icing sugar
Grease and bottom line a 22cm springform pan. Preheat oven to 170°C. Blitz biscuits in a food processor with butter and cinnamon to make fine crumbs. Tip into cake pan, spread evenly and press down. Refrigerate while you make the filling.
Place ricotta, cream cheese and sugar in food processor and process until smooth. Add egg yolks, cream and lemon rind and mix thoroughly. In a large mixing bowl whip egg whites with electric beaters until soft peaks form. Scrape mixture from food processor into the egg whites and mix gently with a rubber spatula until combined. Scrape into the cake pan, then bake for 45-50 mins or until set, but still slightly wobbly in the middle. Remove from the oven, cool then cover and refrigerate overnight.
Run a knife around the edge of the cheesecake, then remove sides from pan and dust top with sifted icing sugar. Heat marmalade and water in a small saucepan until combined, then cool and spoon over the top of the cheesecake, or serve separately in a jug.
Serves 10
Variations: use orange rind instead of lemon. Serve with fresh fruit or fruit compote of choice.