These scrumptious bruschettas make a perfect weekend lunch for four, or two if you're feeling a bit peckish.
Well-known cook, food blogger and author David Lebovitz makes his own cheese from goat's milk yoghurt for this recipe, which features in his book "My Paris Kitchen". He calls them Crostini. To speed things up I used a packet of Aldi goat cheese and a bit of feta.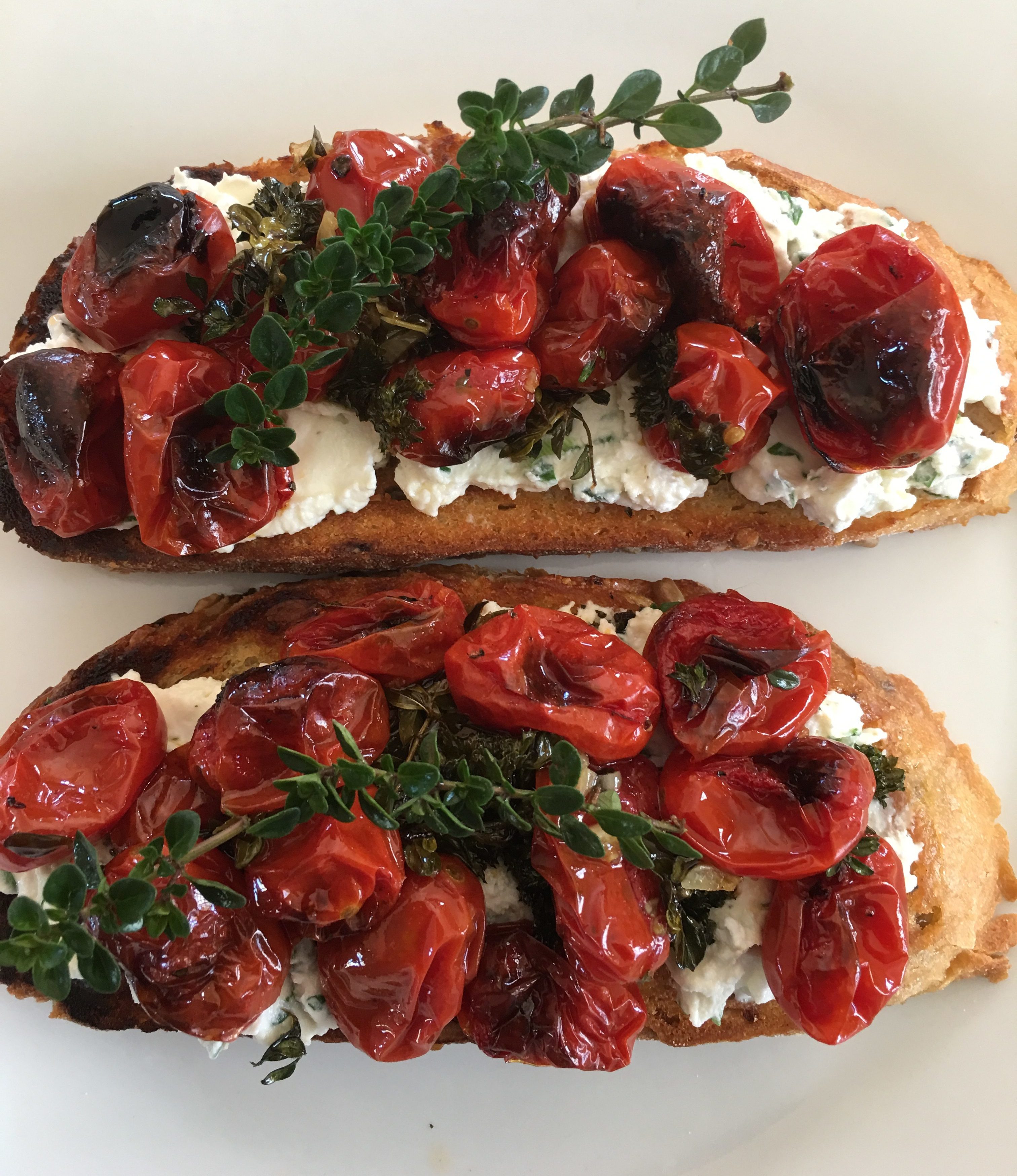 Roasted Tomatoes:
650g cherry tomatoes
3 Tbs olive oil
2 cloves garlic, finely chopped
Handful fresh herbs (whatever you can find), roughly chopped
Salt and freshly ground black pepper to taste
Herbed Goat Cheese:
125g soft goat's cheese (see note below)
Cream or plain yoghurt
1 Tbs chopped fresh herbs (eg chives, parsley, thyme)
1 Tbs finely chopped shallots (I used 2 spring onions)
1 clove garlic, crushed
Pinch cayenne pepper
Salt and freshly ground black pepper to taste
Toasts:
4 thick slices sourdough or other country-style bread
Olive oil
1 clove garlic
Fresh herbs to garnish
Preheat oven to 180°C. Mix tomatoes with remaining ingredients and tip into a baking dish where they fit snugly in one layer. Roast for 30-45 minutes or until wilted and starting to brown a bit. Stir once during cooking time. Remove from the oven and cool. Can be made several hours and up to a day ahead.
Place cheese on a plate and mash with a fork, adding enough cream or yoghurt to achieve a thick spreading consistency. Mix in remaining ingredients. This can also be made ahead of time.
Brush bread on both sides with olive oil then bake in a hot oven for 5 minutes or until golden. I used a sandwich press which is much quicker and avoids having to turn the oven on again. If liked rub a cut clove of garlic over the toasts.
Spread herbed cheese thickly onto each slice of toast, top with the tomatoes and garnish with fresh herbs.
Makes 4 bruschettas
Note: I used a 115g packet of Goat's cheese from Aldi and made it up to 125g with some Danish-style feta. Any soft creamy cheese will do. In South America you could use "queso fresco".