This recipe was inspired by one made by a contestant in the latest Australian Masterchef series. His recipe involved smoking some of the ingredients. I skipped this stage and used honey rather than caramel to brush over the cauliflower.
Umami is the fifth taste sensation, after sweet, salty, sour and bitter. An intense savoury flavour, it's  found in ingredients such as Parmesan cheese, tomato paste, stock cubes and, believe it or not, Vegemite and Marmite. The Masterchef contestant whose name was Simon admitted he had put a teaspoon of Vegemite into the dressing. The judges said it was absolutely delicious and he won the round.
Black Garlic is made by putting whole heads into a slow cooker for about a week at a very low temperature. The garlic cloves turn soft, black and sweet and are useful as a garnish or flavour booster. Sometimes described as poor man's truffles, a whole head of Black Garlic will cost you around $10 and some specialty shops sell black garlic paste in a jar. If you don't have any just leave it out. It won't be quite the same but still tasty.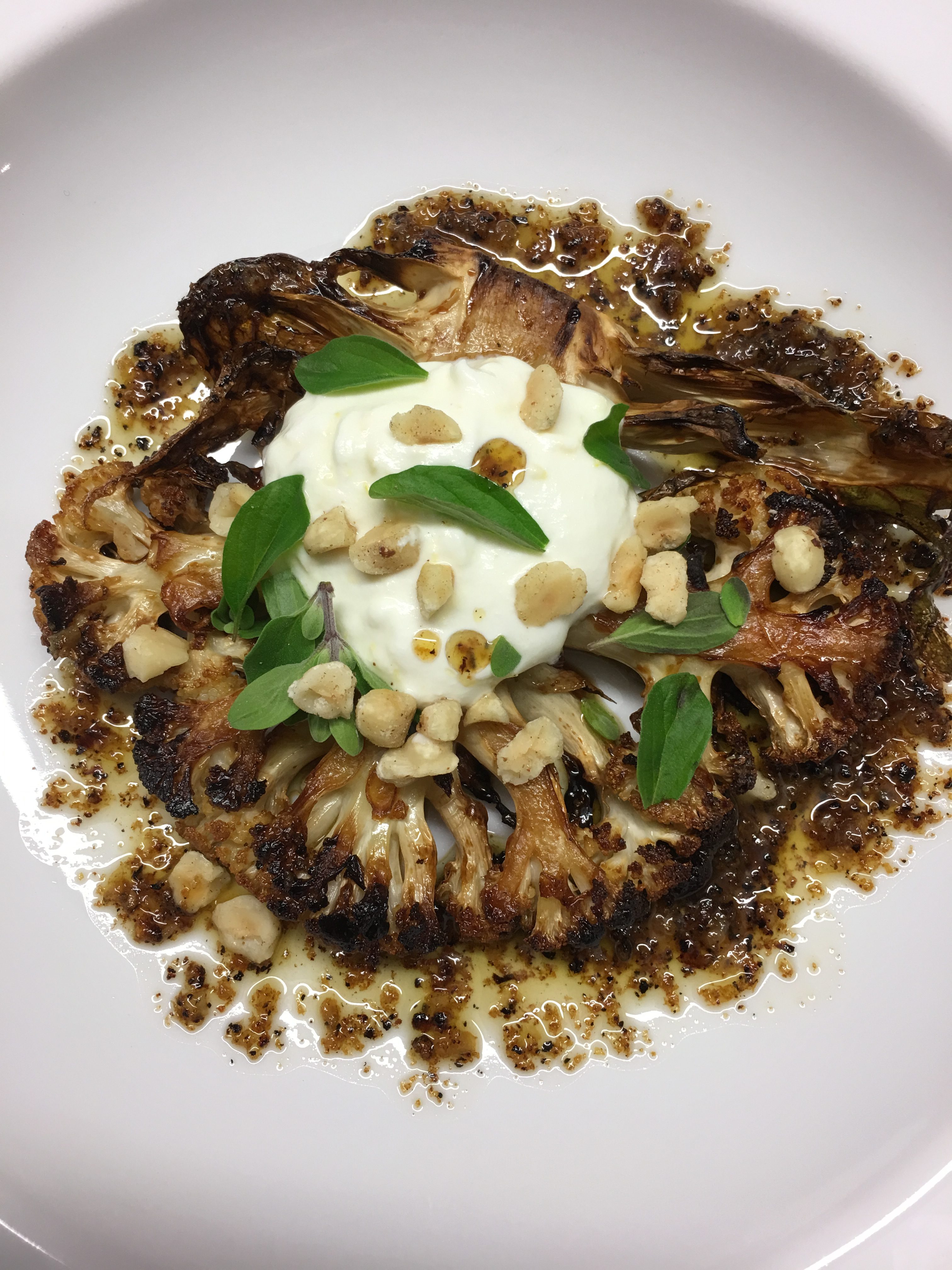 2 cauliflowers
2 Tbs honey or brown sugar
2 Tbs vinegar
2 Tbs olive oil
4 cloves garlic, finely chopped
3 shallots, finely diced
A few cloves black garlic (optional)
100ml vegetable oil
Salt and freshly ground black pepper
1 tsp Vegemite or Marmite
1 cup plain thick Greek-style yoghurt
Juice and zest of half a lemon
2 Tbs hazelnuts, skinned, toasted and chopped
Fresh herbs to garnish – I used Marjoram
Preheat oven to 180°C. Slice cauliflowers horizontally 2-3cm thick, including the stem. You should get at least 3 slices from each cauliflower. Keep the florets that fall off for another recipe.
Place cauliflower "steaks" on one or two shallow metal baking trays lined with baking paper. Mix the honey, vinegar and oil and brush all over the cauliflower. Bake for 15 minutes. Remove from the oven, turn the cauliflower over and brush with remaining sauce. Bake for 15 mins or until cooked through and caramelised.
Meanwhile in a frying pan sauté chopped garlic and shallots in a little of the vegetable oil until soft but not brown. Scrape into a deep jug, add the rest of the vegetable oil, the black garlic (if using), the Vegemite, salt and pepper to taste, then blitz with a stick blender. Alternatively process in a food processor. In a small bowl, mix the yoghurt, lemon juice and zest and place in the fridge. Toast and chop the nuts.
To serve, place a slice of cauliflower on 6 individual plates or one large platter. Garnish with the yoghurt dressing, the garlic dressing, the toasted hazelnuts and some fresh herbs.
Serves 6