Whenever we're In France I buy a few tins of Bloc de Foie Gras de Canard. We declare them as we go through Customs and have never any problems getting them into Australia. Saved for special occasions, six cans last us a year or more.
This salad makes a light lunch or a substantial starter and is a good way to make one can of foie gras serve four or even six at a pinch.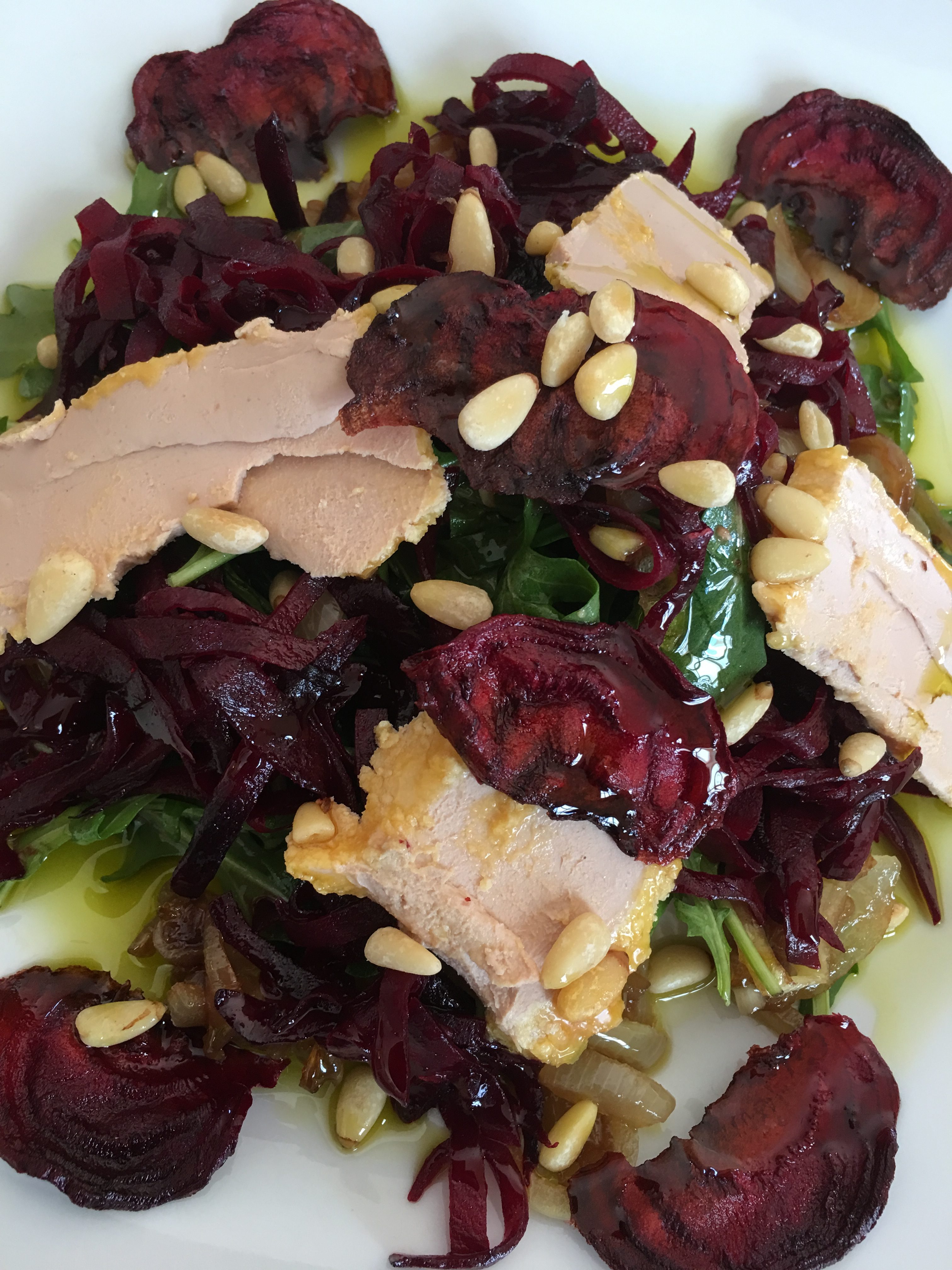 1 can (150g) bloc de foie gras de canard
2-3 small beetroot
1 large onion, halved then thinly sliced
Extra Virgin Olive Oil
Salt and freshly ground black pepper
1 Tbs balsamic vinegar
4 handfuls rocket, washed and spun dry
Salad dressing
2 Tbs pine nuts, lightly toasted
To serve:
Hot buttered toast
Preheat oven to 180°C. Peel beetroot, then thinly slice using a mandolin or slicing attachment on food processor. Mix about 30 slices with a drizzle of oil and a pinch of salt and arrange on a shallow baking tray lined with baking paper. Place in the oven and immediately turn temperature down to 100°C. Cook until they are crisp. This shouldn't take long as they are so thin, but keep an eye on them.
Heat a Tbs oil in a frying pan and cook the onion for 15 mins over low heat until soft but not brown, stirring often. Add balsamic and continue to cook for a few minutes until caramelised. Transfer to a bowl and wipe out the pan. Cut the rest of the beetroot slices into julienne strips. Heat a Tbs oil in the frying pan and stir fry the beetroot for 10 mins or until al dente. Cool.
Mix rocket with a little salad dressing or some oil and vinegar and arrange on four serving plates. Divide the onion between the plates, then the stir-fried beetroot (you may not need it all) and the beetroot crisps.
Divide the foie gras, cut into thin slices, between the plates, top with a few toasted pine nuts, then drizzle a little oil around the edge of each plate. Serve with hot buttered toast.
Serves 4
Variations: instead of beetroot use fresh or dried figs, or marinated/preserved figs; instead of pine nuts use walnuts or pecans.