This delicious salad was served by friends who have a house in Mittagong. It's from Janelle Bloom, guest cook at The Cook's Cooking School in Bowral and was published in the Oct/Nov 2018 edition of the Southern Highlands of Australia magazine Highlife.  A perfect lunch on its own or as part of a buffet.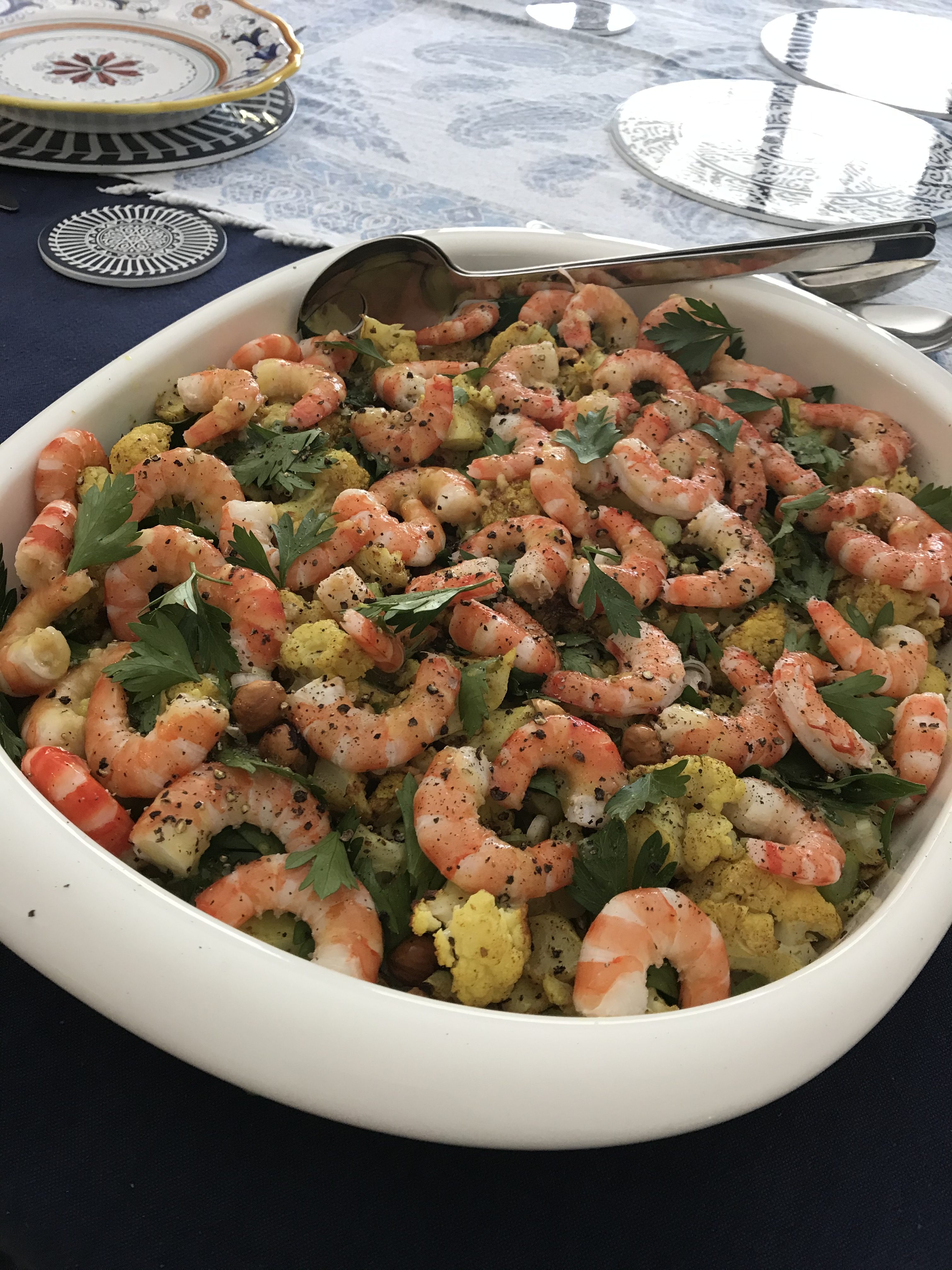 ¼ cup skinned hazelnuts
1 very large or two small cauliflowers
2 Tbs olive oil
1 tsp ground turmeric
2 tsp ground cumin
1 tsp fennel seeds, bruised in a mortar and pestle
½ tsp ground cinnamon
Salt and freshly ground black pepper
1 cup flat-leaf parsley leaves
4 spring onions, thinly sliced
1kg king prawns, peeled and deveined
Dressing:
3 Tbs extra virgin olive oil
1 Tbs apple cider vinegar
1 tsp Dijon mustard
Small clove garlic, crushed
1 tsp caster sugar
Salt and pepper to taste
Preheat oven to 200°C. Place hazelnuts in a dry frying pan and stir over moderate heat until lightly toasted. Roughly chop. Cut cauliflowers into 2-3cm florets (some may need to be halved) and place in a large bowl. Add the oil and spices, salt and pepper and mix to coat well. Arrange in one layer in a roasting pan lined with baking paper. Bake for 15-20 mins or until golden brown and just tender, turning once during cooking time.
Place all ingredients for dressing in a jar with a lid and shake well. Arrange cauliflower in serving dish. Scatter with the spring onions and hazelnuts. Drizzle with the dressing, then toss gently to combine. Top with the prawns and parsley and sprinkle with coarsely ground black pepper.
Serves 6 or more as part of a buffet