With everyone in coronavirus lockdown, some of us are finding more time to cook. And eat.
I highly recommend you find a sunny corner in the garden to plant some rhubarb. It doesn't take up much room and keeps on fruiting for most of the year. Ours only dies down a bit for 2-3 months in the coldest part of winter. When there's virtually nothing else in the veggie garden, there's usually some rhubarb.
This pastry recipe from chez Panisse via Rick Stein is deliciously buttery, reminiscent of a Parisian croissant, fresh from the oven. The oven needs to be nice and hot to get that lovely French glaze. Serve the tart as it is or with some whipped cream or sour cream, which is my preference.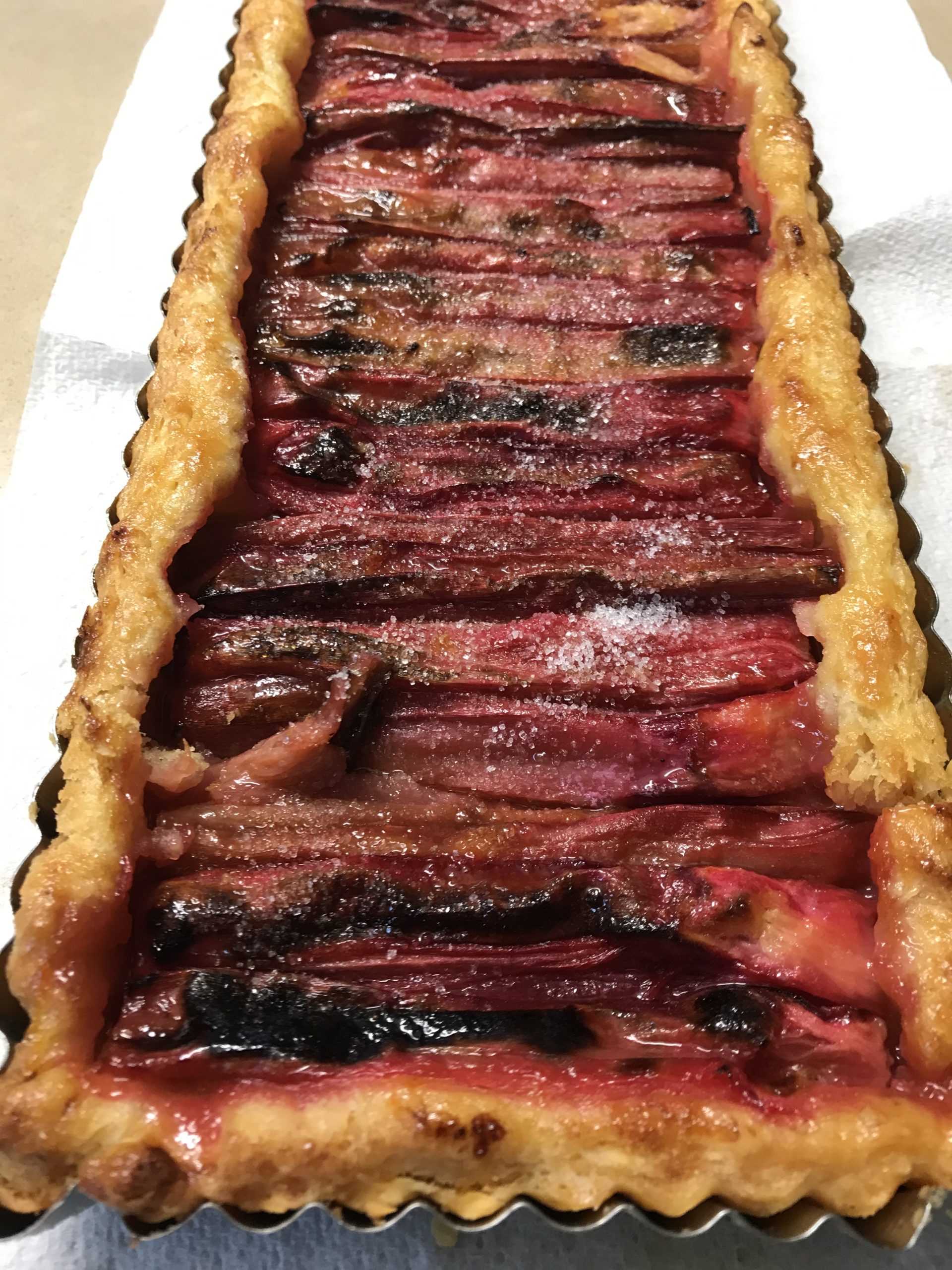 Pastry:
225g plain flour
Good pinch of salt
170g butter, cold from the fridge
About 4 Tbs cold water
Filling:
500-600g rhubarb
½ cup sugar, or more, to taste
2 Tbs fortified wine such as port, but any will do
Grated rind of an orange or lemon
To finish:
Extra sugar
About 2 Tbs butter
Apricot Jam (optional)
To serve:
Whipped cream, sour cream or creme fraiche
To make the pastry, place flour and salt in food processor. Add butter cut into large chunks. Process carefully, preferably using the pulse button, until the butter is in small pieces. You don't want it to be completely fine like breadcrumbs. Slowly add the water through the feed chute, processing briefly with the pulse button, until just combined. You don't want it to be too wet, but it needs to start sticking together. Tip out, form into a flat disc using floured hands, wrap in plastic wrap and refrigerate for half an  hour or up to 2 days. It can also be frozen.
Preheat oven to 220°C. On a floured surface with a floured rolling pin, roll out the pastry thinly and line a lightly greased tart tin, preferably metal. Mine is rectangular, but any will do. Wash and trim the rhubarb. I had plenty, so used only the red ends. All the trimmings and greener ends were made into a compote which is great for breakfast with yoghurt or as the base of a fruit crumble. I cut the rhubarb into the exact width of the tin and lined them up in the uncooked pastry case, so I knew exactly how many I needed. If you want more fruit in the tart you could cut up all the green bits and put them in first, then arrange the bigger pieces on top.
Place rhubarb in a bowl and mix with the sugar, port and citrus zest, then arrange in the tart shell. Drizzle over any remaining sugary juice. Sprinkle with the extra sugar, then dot all over with small pieces of butter.
Bake for 30-40 minutes, or until pastry is golden and rhubarb is starting to blacken in places – see photo. If liked, brush the surface of the tart with some apricot jam (just the non-chunky part) when it comes out of the oven.
Serve warm or at room temperature with cream, sour cream or creme fraiche.
Serves 10
Variations: use peaches, plums, nectarines or apricots instead of rhubarb.