Chili con Carne (pronounced Carnay) means Chili with Meat and was invented by working class Mexicans living in southern Texas. Often referred to simply as Chili this dish has lots of variations, a bit like Spag Bol which we're all familiar with.
In this version, the sun-dried tomatoes give extra tomato flavour to the sauce. If preferred use tomato paste instead, or some of each. This recipe is enough to serve a big family, or a smaller family with some leftovers, which go down well for lunch on toast or in a wrap.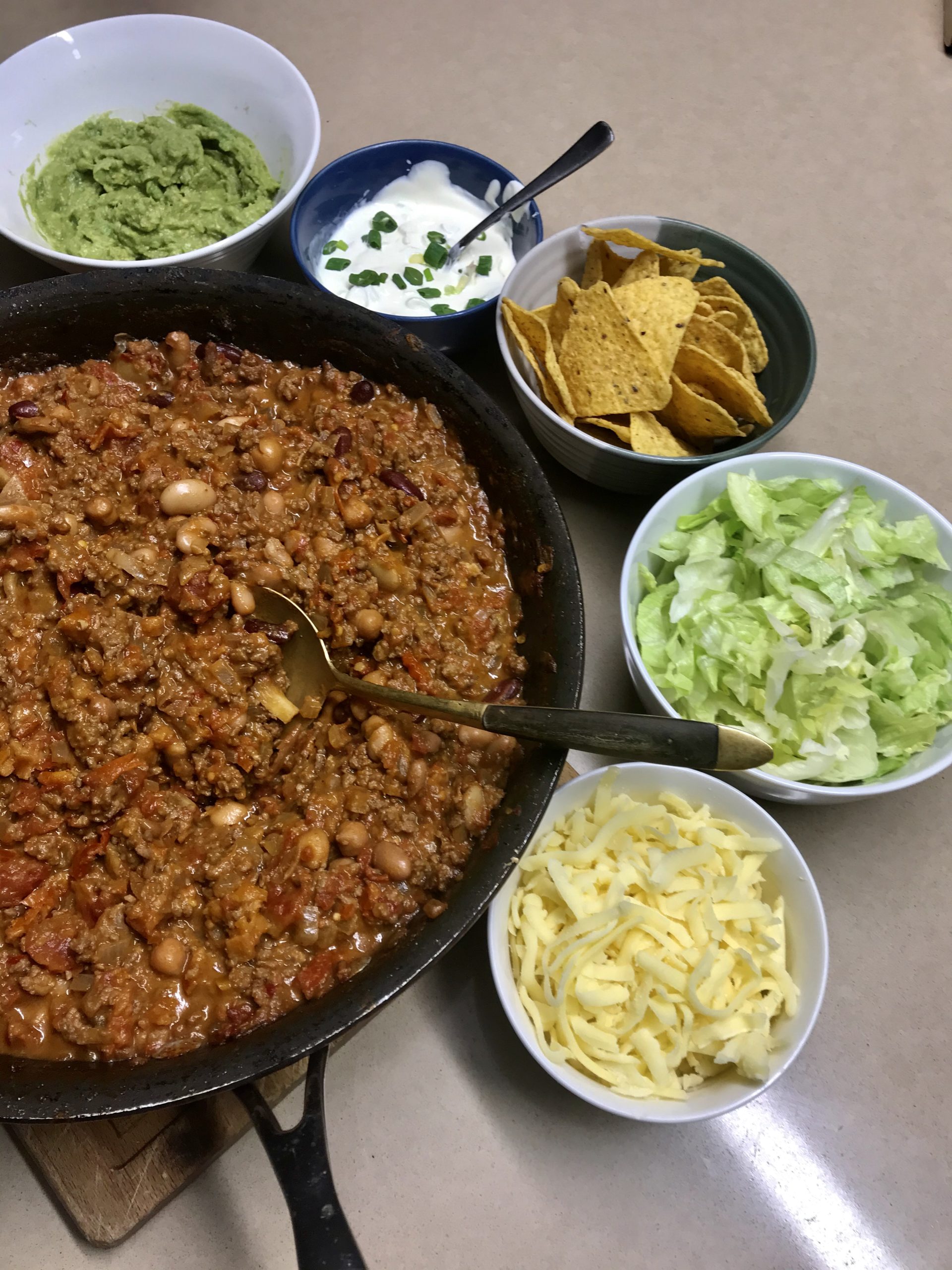 500g minced beef
2 medium onions
1 clove garlic
1 Tbs olive oil
2 tsp chilli powder or flakes
1 tsp ground cumin
100g sun-dried tomatoes, drained (or 4 Tbs tomato paste)
1 fresh red chilli, seeded & finely chopped (more if you like it hot!)
2 400g tins tomatoes
2 cups water and more as required
2 400g tins red kidney beans, drained (or white beans or a mix)
Stick cinnamon or 1 tsp of powder
Salt and freshly ground black pepper
1 beef stock cube
3 tsp sugar
Salt and freshly ground black pepper to taste
To serve:
Sour cream (or thick Greek yoghurt)
2 finely sliced spring onions or 1 small red onion, chopped
Grated cheese
Corn chips or corn tortillas
Shredded iceberg lettuce
1 ripe avocado, roughly mashed and seasoned (optional)
Chop onions and garlic and fry in olive oil in a large deep frying pan until softened. Add the chilli powder and cumin with the meat and cook, stirring, until browned. Place the sun dried tomatoes, one cup of water and the chilli in a food processor and blend to form a paste. Add to the beef with the tomatoes, cinnamon, sugar, stock cubes and another cup of water.
Bring to the boil, cover then turn the heat down to simmer and cook for 1½ hours. Stir often and add more water as necessary. Add the red kidney beans 30 minutes before the end of cooking time. Check for seasoning. This meat sauce will keep for several days in the fridge and can be frozen. When reheating add a little water.
Serve with corn chips or tortillas, shredded lettuce, grated cheese and sour cream mixed with spring onions. Put all the elements in individual bowls and let everyone help themselves.
Serves 8
Low Carb Variation: use whole iceberg lettuce leaves to wrap instead of corn Tortillas.