This recipe was inspired by a recent Master Chef programme. The contestant, Courtney Roulston, used cauliflower steaks or thick slices and the method was quite long. I've adapted it to use cauliflower florets and taken a few short cuts with the method. Despite these adjustments it's still a somewhat long-winded recipe, compared with the ones I usually put on this blog. But it's worth it and most of the elements can be made ahead of time.
Courtney called the sauce Cashew Tarator, but it's really just Hummus made with cashew nuts and a slice of bread, instead of chickpeas. She used raw cashews. I only had salted ones, but the salt washes off when you soak them.
The chickpeas were rolled in flour, deep fried until crunchy and used a garnish. Mine didn't go crunchy, so when I made the recipe a second time I roasted them with the cauliflower.
To speed things up you could use bought Hummus instead of the Cashew Hummus, a bought sun dried tomato dip instead of the Harissa sauce (add some chilli sauce to perk it up a bit) and Dukkah instead of the Spiced Seeds.
Any leftover cashew hummus and harissa sauce make a delicious dip, either separately or together. Just dollop them into a bowl and swirl them together a bit. Serve with corn chips, pita bread or veggie sticks.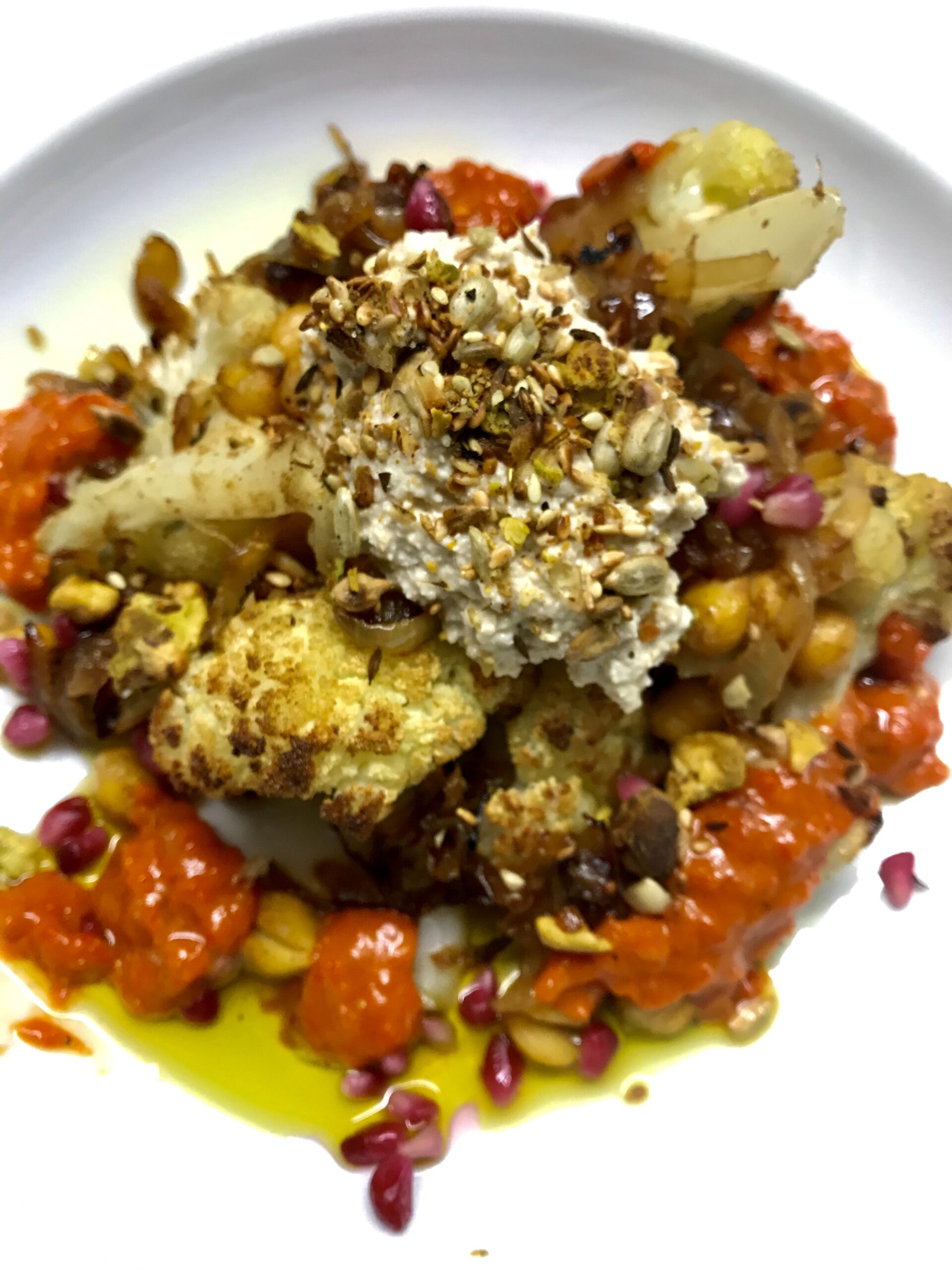 Cauliflower:
1 large cauliflower, cut into 3cm florets
2-3 Tbs olive oil
1 tsp cumin powder
1 can chickpeas, rinsed and drained
1-2 tsp salt
2 Tbs lemon juice
Cashew Hummus:
1 cup cashew nuts
1 slice sourdough bread, crusts removed
1 heaped Tbs Tahini
2 Tbs lemon juice
2 tsp maple syrup
1 clove garlic
½ tsp cumin powder
1/3 cup cold water
Salt to taste
Harissa Sauce: 
1 large red capsicum
1 large or 2 medium tomatoes
3 long red chillies, seeded and chopped
¼ cup olive oil
2 tsp cumin seeds
1 tsp caraway seeds (I substituted fennel)
1 Tbs tomato paste
2 tsp maple syrup
2 tsp vinegar
Salt to taste
Spiced seeds:
2 tsp pistachios
2 tsp sesame seeds
1 tsp sunflower kernels
½ tsp cumin seeds
1 tsp sumac
Salt and freshly ground black pepper, to taste
Garnish:
Pomegranate seeds (optional)
Cauliflower: Preheat oven to 200°C. Line a shallow baking sheet with baking paper. Place cauliflower in a bowl with remaining ingredients except lemon juice. Mix well then spread out on the tray in a single layer. Roast for 20-30 mins, turning halfway through, or until cauliflower is cooked and slightly browned. Remove from the oven, arrange on 4 serving plates (or one large one) and drizzle with the lemon juice.
Hummus: cover cashew nuts with warm water in a small bowl and bread with cold water in another bowl. Leave the bread for about 10 mins, then squeeze out water. Leave the nuts for 20-30 mins then drain. Place nuts and bread in food processor with remaining ingredients and mix till smooth. Add a touch more water if it's too stiff. Can be made ahead and kept refrigerated for 3-4 days.
Harissa Sauce: Roast the capsicum over a gas flame or BBQ until blackened, then place in a plastic bag and leave until cool when it should be easy to peel, remove seeds and chop. Cover tomato with boiling water, drain after a minute, run under cold water and peel. Place cumin and caraway or fennel seeds in a frying pan and stir over medium heat for a minute or two, until fragrant. Add oil, capsicum, tomato and chillies. Cook, stirring, for 3-5 minutes. Add remaining ingredients, cook for a couple of minutes, then cool a bit before pureeing in food processor. Can be made ahead and kept refrigerated for 3-4 days.
Spiced Seeds: place pistachios and seeds in a small frying pan over moderate heat and toast, stirring for 2-3 minutes or until the sesame seeds start to colour. Place in a mortar and pestle, add sumac, salt and pepper and grind a bit, leaving the pistachios quite chunky. Can be made ahead and kept refrigerated for a week or two.
Place a dollop of Cashew Hummus on top of each serving of cauliflower, dollop some of the Harissa Sauce around, sprinkle with Spiced Seeds and pomegranate kernels, if using. Drizzle with a little Extra Virgin olive oil.
Serves 4 as a light meal or 6-8 as a starter