Black garlic is sweet and pungent. Ottolenghi calls it "licorice meets balsamic meets essence of garlic." I have heard it called  Poor Man's Truffles.
Like all vegetables, Brussels sprouts, which our mothers and grandmothers loved to boil to death, are completely transformed by roasting in a hot oven. This is a delicious recipe from Yotam Ottolenghi which I have adapted with the addition of pasta and a couple of tweaks to turn it from a vegetable side dish into a vegetarian main course for four. By the way, I used Orecchiette pasta shapes which look a bit like mushrooms in the photo!
A friend lent us a black garlic-making machine. It looks a bit like a rice cooker and you just put the garlic heads in for 270 hours on a very low heat. We had to banish it to the garage because it was stinking the house out, but now we have plenty of black garlic. You should be able to find black garlic at your local farmer's market.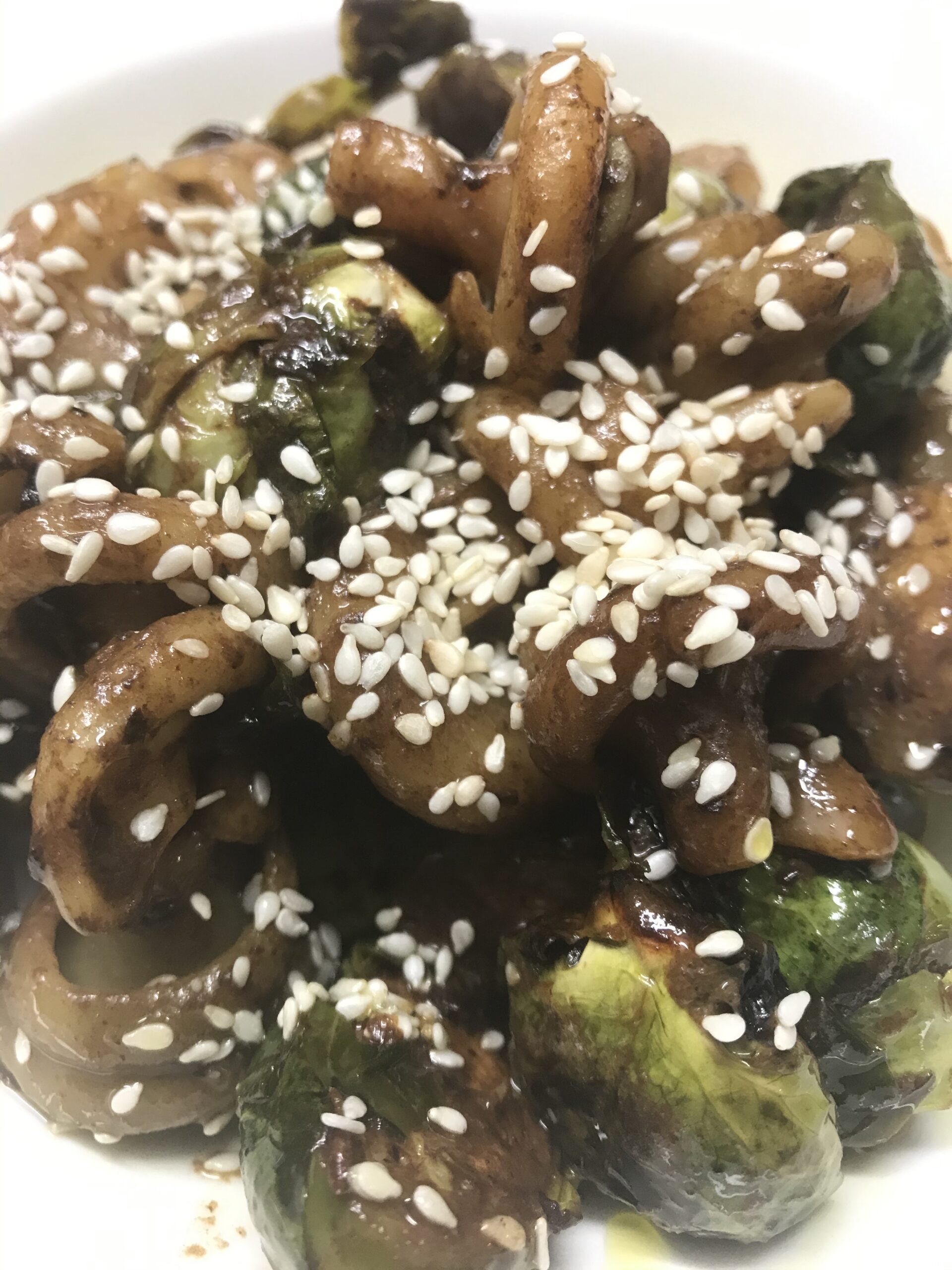 500g brussels sprouts, trimmed and halved lengthways
3 Tbs olive oil
Salt and pepper to taste
1 tsp cumin seeds
12 black garlic cloves
2 Tbs fresh thyme leaves or 1 Tbs dried
30g butter
2 Tbs pumpkin seeds
1 Tbs lemon juice
1 Tbs Tahini
250g pasta of your choice, cooked al dente
Sesame seeds, toasted, to garnish
Preheat oven to 200°C and put the water on to boil for the pasta.
Place sprouts in a bowl with 1 Tbs of the oil and salt and pepper to taste. Mix well then spread out in one layer on a baking sheet lined with baking paper. Bake for 10-15 mins until golden brown but still crunchy.
Meanwhile lightly crush the cumin seeds in a pestle and mortar, then place in food processor with the black garlic, thyme and the remaining 2 Tbs of olive oil. Blitz to form a paste.
Cook pasta according to package instructions. In a large wok or frying pan heat the butter until it turns a nutty brown. Add the black garlic paste, sprouts, pumpkin seeds, lemon juice and tahini. Cook, stirring, for 2-3 mins, then add the cooked pasta and a little of the cooking liquid. Check seasoning.
Serve in 4 individual bowls sprinkled with the sesame seeds.
Serves 4