I adapted this recipe from one by Noor Murad. She uses fresh coriander as the green herb in the pesto. I used mint and am confident that basil would work equally well. You could even use a mixture of fresh herbs. This recipe raises the humble old carrot to amazing heights. Serve as a side dish or as part of a buffet.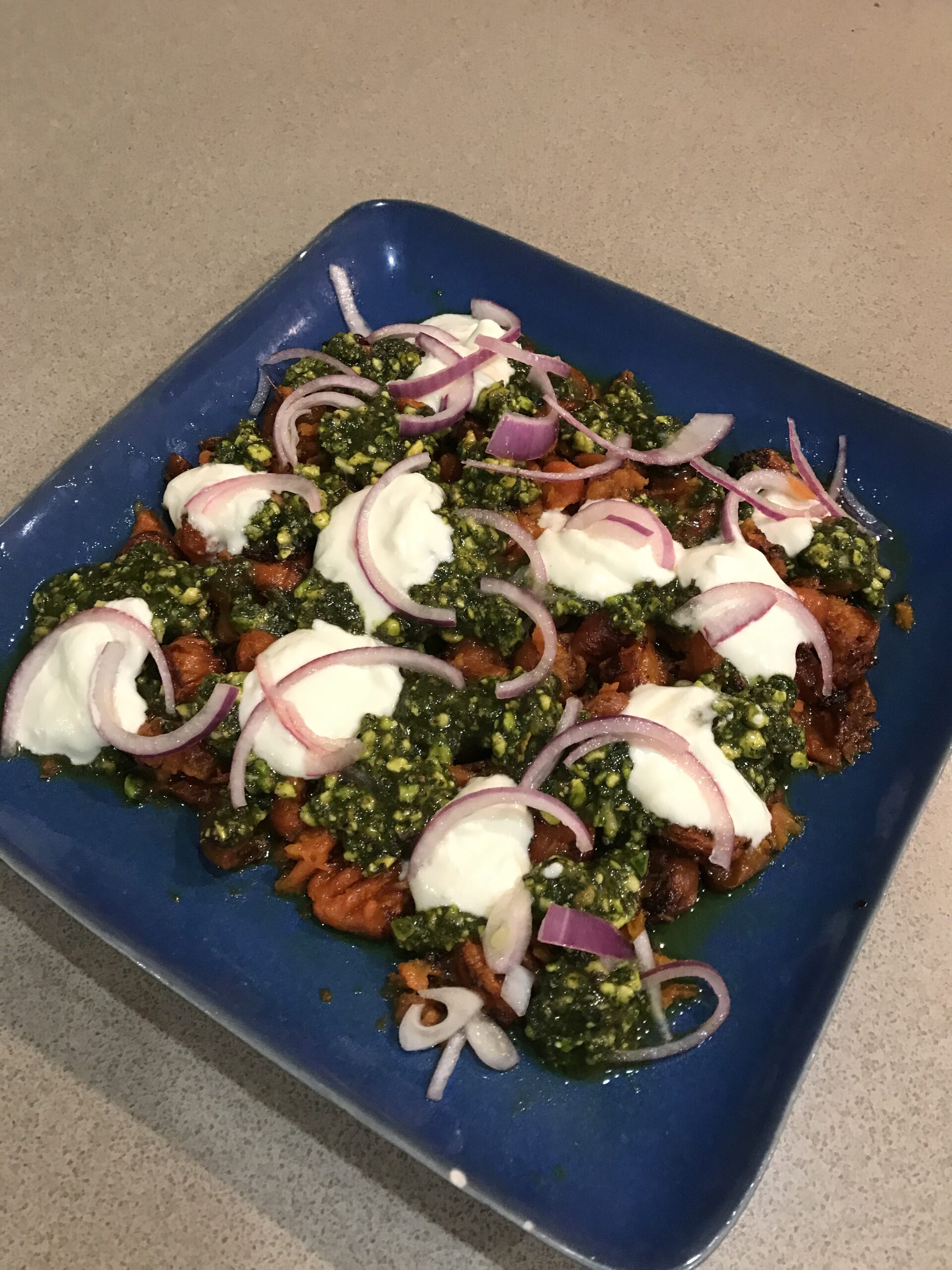 Carrots:
1 to 1½ kg carrots, peeled and thickly sliced
½ cup water
2 Tbs olive oil
6 cloves garlic, peeled
½ tsp turmeric
1 tsp cumin seeds
1 tsp ground coriander
¼ tsp chilli flakes
2 Tbs maple syrup
Pesto:
1 cup tightly packed coriander, mint or basil leaves
¾ cup pistachio nuts, lightly toasted
1 clove garlic
About ½ cup olive oil
Salt and pepper to taste
Garnish:
½ red onion, thinly sliced
Juice of 1 lime or half a lemon
¾ cup Greek yoghurt
Preheat oven to 200°C. Place carrots and remaining ingredients in a shallow roasting pan. Mix then roast for 30 mins, or until no liquid remains and carrots are glazed, turning once or twice during cooking time. Tip onto a shallow serving plate and crush the carrots roughly with a  fork.
While carrots are cooking make the garnishes by mixing about half the lemon or lime juice with the red onion and the other half with the yoghurt. Also make the pesto by placing all ingredients except the oil in a food processor. Process until chunky, adding the oil gradually through the feed tube with the motor running and stopping halfway to scrape down the sides. Season to taste.
Drizzle the pesto over the carrots, then put blobs of the yoghurt all over and finally the drained onions.
Serves 4-6 as a side dish
Variations: use pine nuts instead of pistachios, a little Harissa paste instead of chilli flakes, parsnips or sweet potatoes instead of carrots