This cake, of Middle Eastern origin, is delicious with a cup of coffee or as a dessert, with a dollop of cream. It will keep in a cake tin for 2-3 days. Being doused in a sugary syrup, you would think it would be very sweet, but it's not. The syrup helps to keep it moist.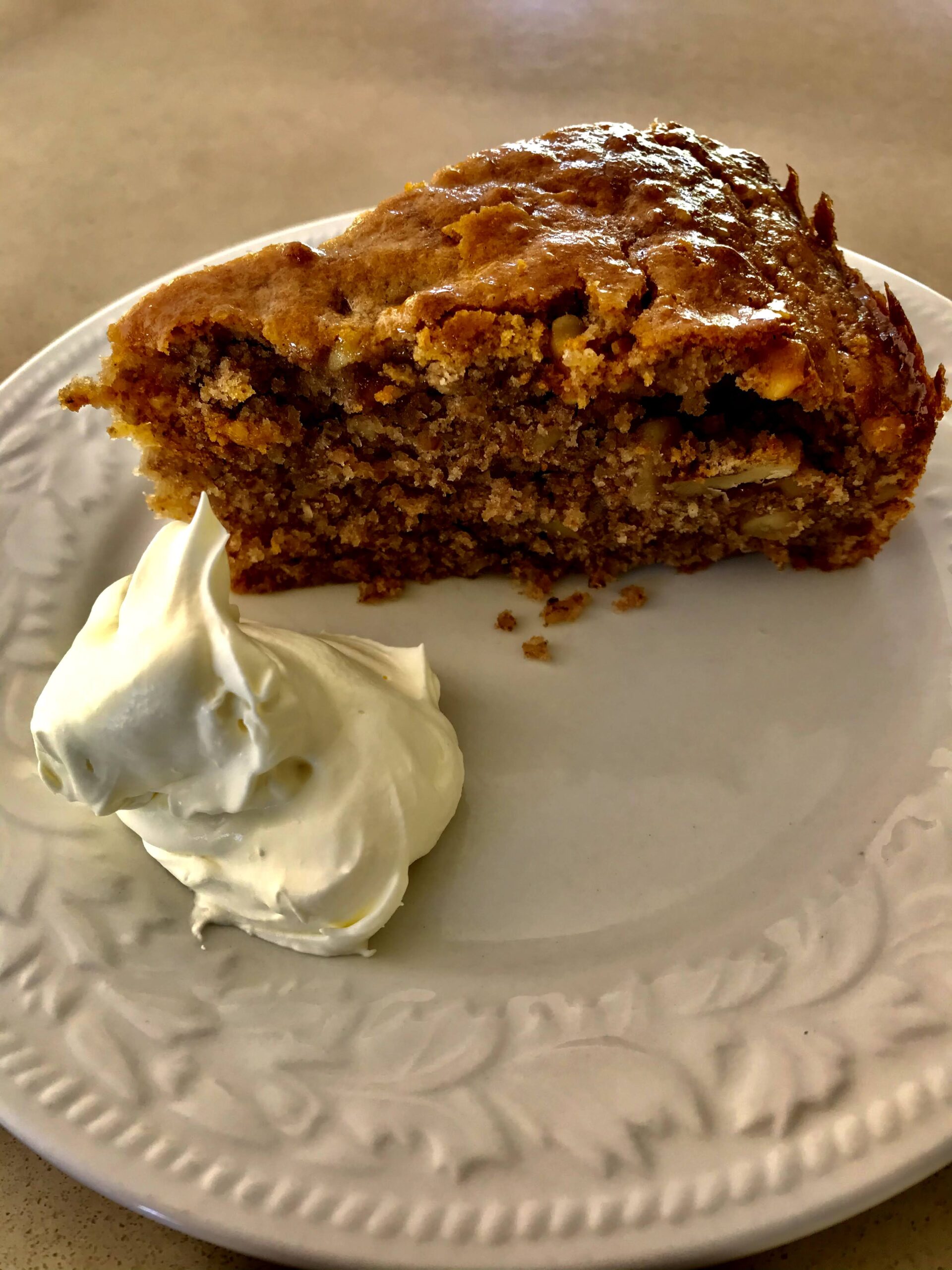 125g butter at room temperature
¾ cup sugar
4 eggs
1 tsp ground cinnamon
1 tsp salt
2 heaped cups walnut halves (or pecans)
1¼ cups self-raising flour, sifted
Syrup:
1 cup sugar
1 cup water
1 Tbs lemon juice
Piece of cinnamon bark
1 Tbs brandy
To serve:
Whipped cream or sour cream
Preheat oven to 180°C. Grease and bottom line a 22cm (9 inch) cake pan. I use a silicone pan which doesn't need to be greased or lined.
Place butter and sugar in food processor and mix well until smooth and creamy, stopping to scrape down the sides. Separate the eggs. Add the yolks to the food processor, with the cinnamon and salt. Lastly add the walnuts and process to chop them, but not too finely, stopping to scrape down the sides. With electric beaters, whip the egg whites in a large clean bowl, until they hold soft peaks. Scrape the mixture from the food processor into the whipped egg whites and add the sifted flour. Fold all together gently but thoroughly, then scrape mixture into the cake pan and smooth the top.
Bake for 30-40 minutes or until light brown and firm to touch. Don't overcook. Remove from the oven and spoon the cooled syrup evenly over the hot cake.
Syrup: while cake is baking make the syrup. Place sugar, water, lemon juice and cinnamon in a small saucepan. Bring to the boil then boil for 10 minutes. Remove cinnamon bark, add brandy then leave to cool.
Cool the cake and serve as it is or with whipped cream or sour cream (my favourite, shown in the photo).
Serves 10