Suzanne, a fellow-subscriber to a Facebook cooking site for fans of Yotam Ottolenghi, kindly sent me this recipe.
With a dollop of thick cream it doubled as a 90th birthday cake and dessert at a celebration lunch I hosted recently. The original recipe was made in a 7 inch square cake tin and as I used a 9 inch one, I increased all the ingredients. It worked out perfectly.
The recipe uses canned apricot halves (or peaches), but I am pretty sure you could use fresh apricots, peaches or plums. As the fruit contains quite a bit of moisture I would tend towards overcooking this cake, rather than undercooking. The more cooked edges were chewy and tastier than the middle of the cake.
This cake is gluten-free and if you want to make it dairy-free use margarine instead of a dairy spread.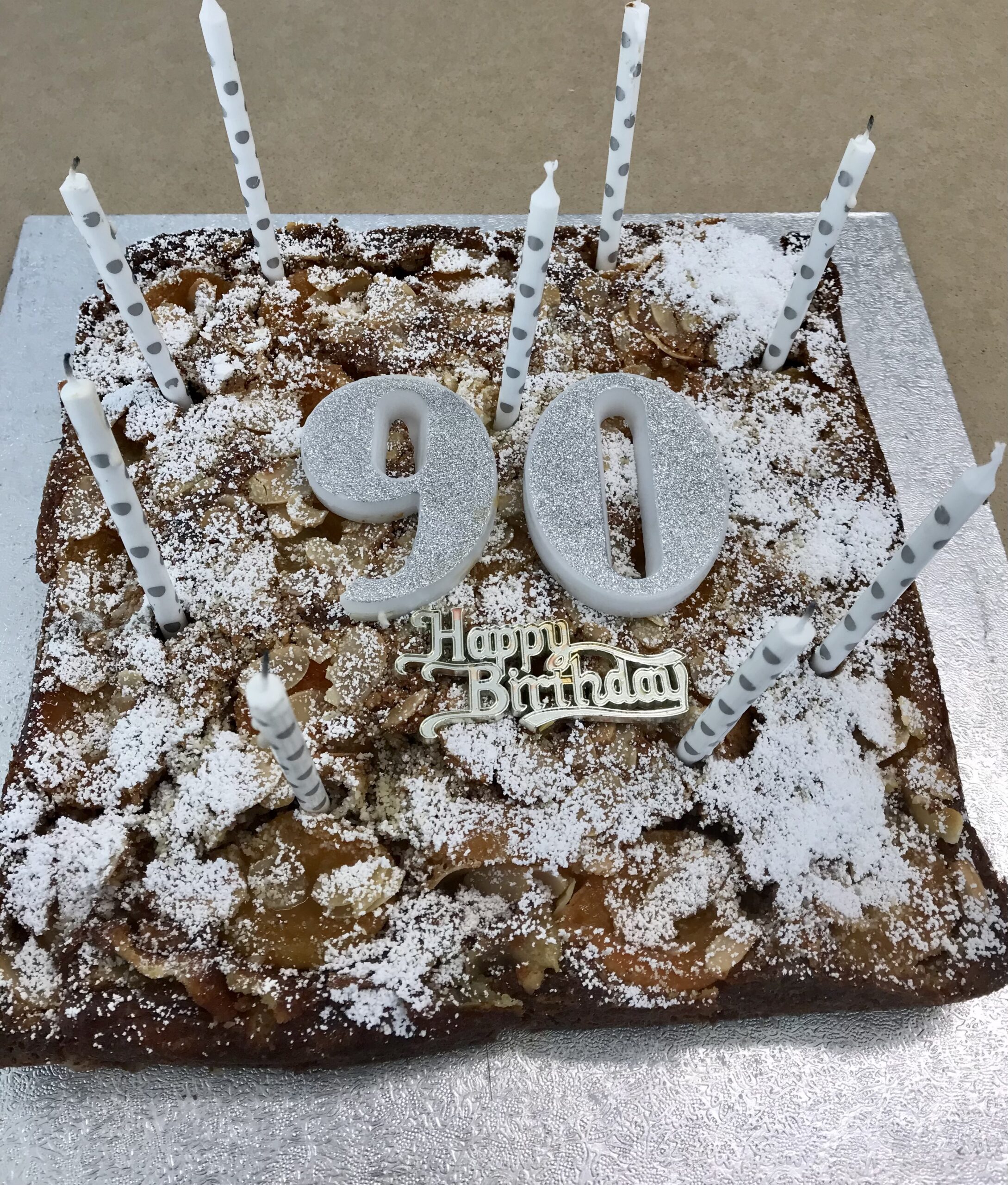 250g icing sugar
5 eggs
250g soft spreadable butter (or margarine)
250g shelled almonds (blanched or un-blanched)
2 x 400g cans apricot (or peach) halves (or one 800g can)
½ cup flaked or slivered almonds
1 Tbs sugar
To serve:
Icing sugar (optional)
Thick cream or whipped cream
Preheat oven to 180°C. Grease and line a 9 inch (22cm) square cake pan. Place one piece of baking paper one way, covering opposite sides and the bottom and leaving a bit extending above the cake pan to make it easier to lift the cake out after cooking. Then use another rectangle of baking paper to cover the other two sides and the base. So the base will have two layers. Spray or brush with a little oil.
In a stand mixer or using electric hand held beaters whisk the eggs and sugar until thick, creamy and doubled in volume. Add the butter and continue mixing until combined. Place shelled almonds in food processor and process until fairly fine. Add almonds to the egg, sugar and butter mixture and carefully combine. Scrape batter into cake pan and smooth the top.
Thoroughly drain the apricots and pat them dry with paper towels then arrange over the top of the cake, pushing them in slightly. Mine were small and I used 5 halves each way, 25 in total, with 3-4 left over. Sprinkle flaked or slivered almonds over the cake and lastly the sugar.
Bake for 40-50 minutes or until well risen and golden brown. Test with a skewer in the middle – when cooked it should come out clean. Cook the cake for a bit longer rather than risk undercooking it in the middle.
When completely cool lift cake from the pan onto a serving plate using the paper, then carefully peel or cut it off. You may have to leave the paper on the bottom. If liked, dust a little icing sugar over the top. Serve as it is or with cream. This cake is best served the same day.
Serves about 12
Note: if. you want to make a smaller cake using a 7 inch (18-20cm) cake pan, use 4 eggs and 200g of icing sugar, spreadable butter and almonds instead of 250g.