I've tweaked this recipe by Yotam Ottolenghi and added prawns, which aren't in his original version. The result is a light and healthy salad which will serve four as a starter or two as a main.
You may have noticed that I use this serving dish a lot. It's one of my favourites from a pottery called Bison, located just outside Canberra in Pialligo.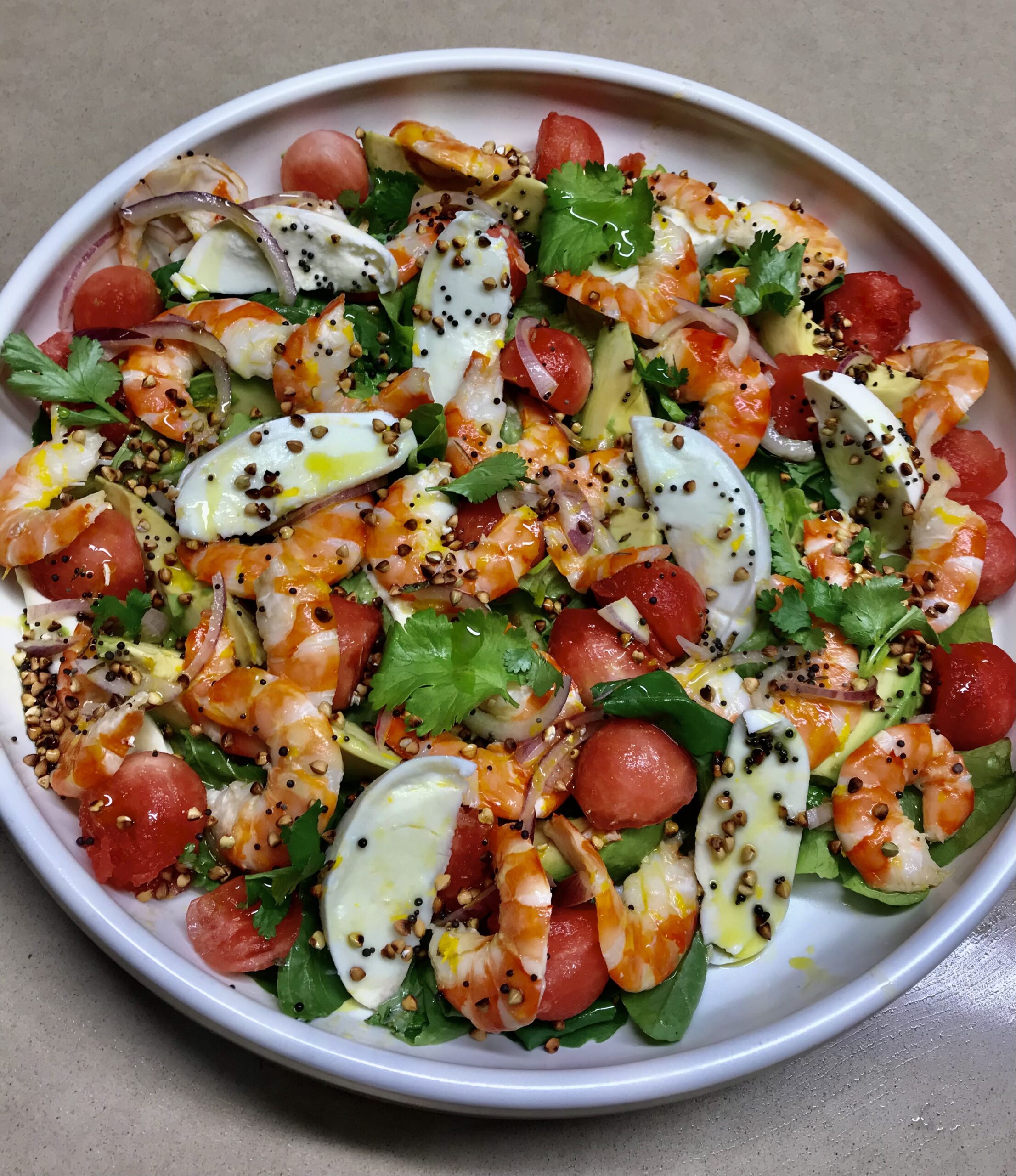 ½ small red onion, thinly sliced
Grated rind and juice of ½ lemon
Salt and freshly ground black pepper
250g peeled large cooked prawns (weight before peeling about 500g)
3-4 cups mixed salad greens (lettuce, rocket etc)
2-3 cups melon balls or cubes (rockmelon or watermelon or a mix)
1 avocado, peeled and cut into 8 wedges
1 whole ball Buffalo Mozzarella (100-150g) cut or torn into bite sized pieces
1 Tbs buckwheat groats (optional)
1 tsp black mustard seeds
2 Tbs fresh coriander leaves
3-4 Tbs Extra Virgin Olive Oil
Mix onion with lemon rind and juice. Halve the peeled prawns horizontally. If prawns are small leave them whole. Add them to the onion with a pinch of salt and mix.
Arrange salad leaves in a shallow salad bowl. Arrange the melon balls, avocado and mozzarella on top. Arrange the prawns and onions over the salad and drizzle with the lemon juice. Place the buckwheat groats in a dry frying pan over moderate heat and cook, stirring, until lightly toasted.
Garnish the salad with the buckwheat, mustard seeds, coriander leaves and a generous drizzle of olive oil.
Serves 4 as a starter or 2 as a main