This recipe, from one of my favourite recipe websites called Mind Food, makes a delicious light lunch or dinner.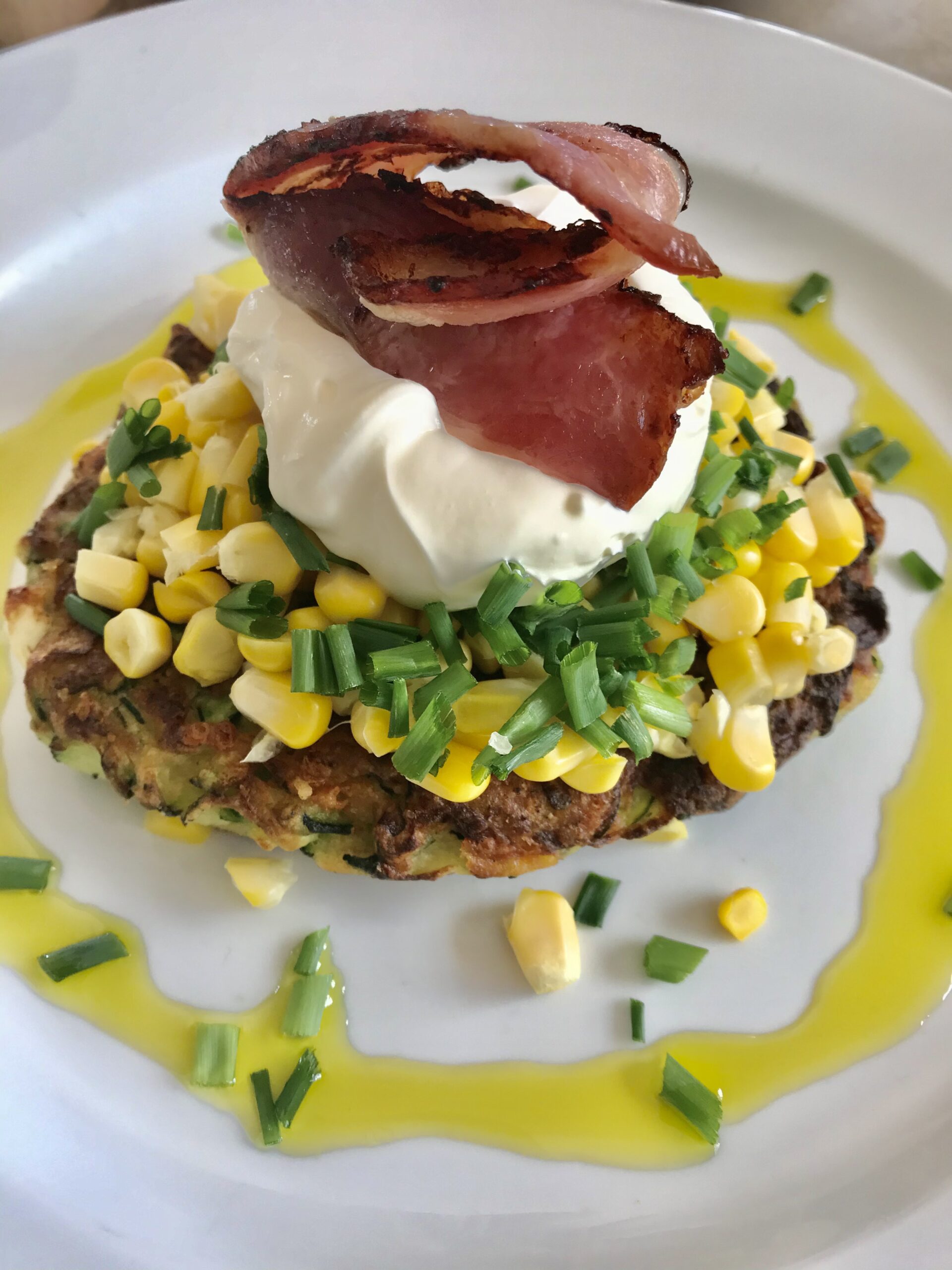 400g zucchini, washed and coarsely grated
½ cup self-raising flour
½ cup grated Parmesan cheese
50g feta cheese, crumbled
1 egg
Salt and freshly ground black pepper
4 rashers bacon, rinds removed
1 Tbs olive oil
1 cob fresh corn, kernels removed (or substitute frozen)
1 Tbs snipped chives
1/3 cup sour cream
Extra virgin olive oil to garnish
Sprinkle a good pinch of salt over the zucchini, mix through then leave to drain in a colander for 20 minutes or so. Squeeze out as much moisture as you can then place in a large mixing bowl with the flour, two cheeses, egg and seasoning to taste. You probably won't need any salt having salted the grated zucchini.
In a large non-stick frying pan fry the bacon until crispy on both sides then drain on paper towels and keep warm. Place the corn in a bowl and cover with boiling water. Wipe out the frying pan then heat the tablespoonful of oil and fry the fritters for about 3 minutes each side, using about a quarter of the mixture for each fritter. Just scoop it out using two or three big spoonfuls for each. If the pan is large enough make all four at the same time. If not make two and keep them warm while you make another two. Drain well on paper towels, then arrange one on each of 4 warmed serving plates.
Drain corn and mix it with the chives, then divide amongst the four fritters. Top each with a dollop of sour cream and a folded slice of crispy bacon. Drizzle a little olive oil around each serving.
Serves 4
Variation: top with a slice of smoked salmon or trout instead of the bacon.