A cake made in a loaf tin is just the right size, now there are just two of us. Any bigger and it gets stale before we can finish it and it ends up going to the birds. One solution with a big cake is to put half in the freezer, but cakes are always nicer when freshly made.
I learnt to cook all the basics at Chatham Grammar School for Girls in England where I grew up. Home Economics was a weekly double class for the seven years I spent there and it was one of my three favourite subjects, along with French and Spanish. The classes took place in a large room divided into six (or maybe it was eight?) kitchens, each with its own oven and sink. When we made cakes by the creamed method, Mrs Wood would walk around to make sure we had thoroughly creamed the butter and sugar before we were allowed to add the eggs and the dry ingredients. We creamed away like demons, until our arms nearly dropped off, trying to be the first to get her tick of approval.
Nowadays I use my Magimix to do this job. So long as the butter is at room temperature this method works well. The trick is not to over mix once you've added the flour – just enough to combine everything. If you haven't got a food processor, use a stand mixer or give your biceps a work out!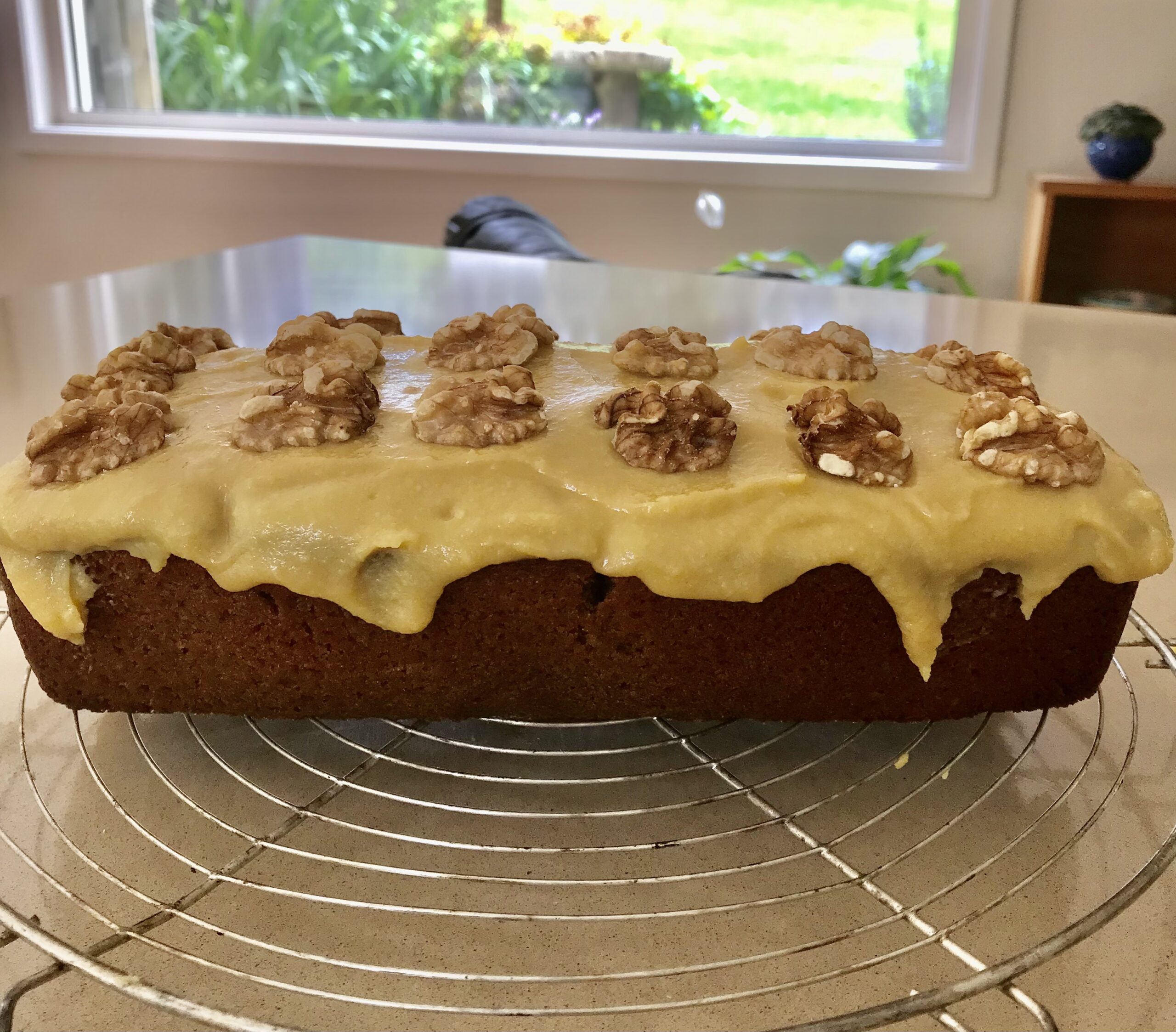 2 Tbs instant coffee
¼ cup boiling water
200g butter, at room temperature
1 cup brown sugar
½ cup condensed milk from a 400g can
3 eggs
2 cups self-raising flour, sifted
½ cup milk
Caramel Icing:
The rest of the condensed milk
2 Tbs Golden Syrup
60g butter
To decorate: 
Walnut or pecan halves (optional)
Grease and line a loaf pan with baking paper. Or use a silicone one which doesn't need to be lined. Preheat the oven to 180°C.
Mix coffee with boiling water. Place butter, sugar and condensed milk in food processor and mix until smooth and creamy, stopping halfway to scrape down the sides. Add the eggs, sifted flour, milk and coffee and mix just enough to combine all the ingredients, stopping halfway to scrape down the sides. Scrape into the loaf pan and bake for 35 minutes, or until well-risen, golden and a toothpick or skewer inserted in the middle comes out clean. Cool, then ice and decorate with nuts.
Icing: place all ingredients in a small saucepan. Cook, stirring for 2-3 minutes until thick and golden. Cool slightly before using.