Many readers will be familiar with the delicious French apple tart called Tarte Tatin. Caramelised apples covered with pastry, cooked until golden and crisp and then inverted onto a serving plate.
This is a tomato version which is perfect to make when you have, as we do at the moment, heaps of cocktail tomatoes in the garden.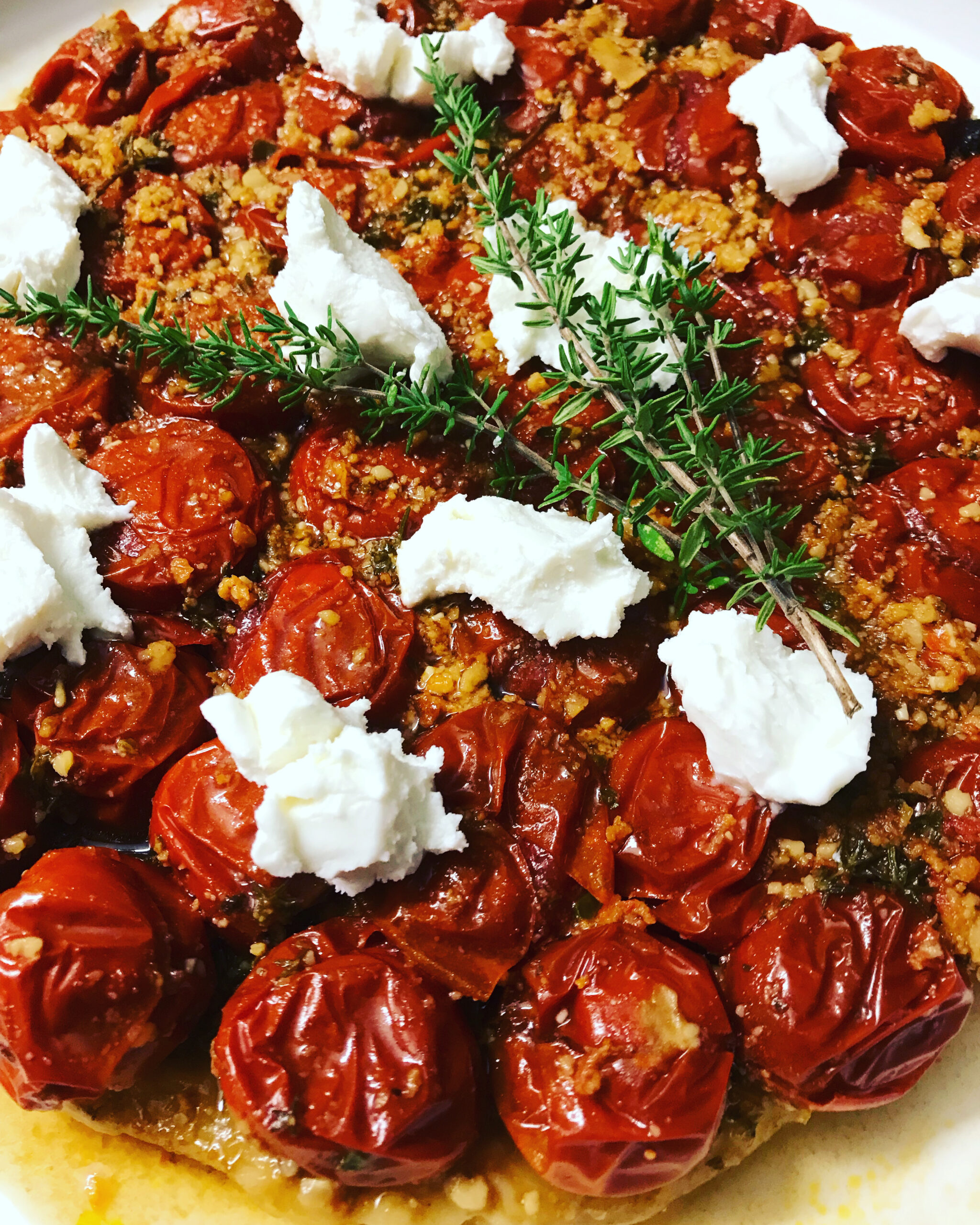 About 375g puff pastry
2-3 Tbs balsamic glaze
1 Tbs caster sugar
3 Tbs fresh thyme leaves, plus a few sprigs to garnish
About 500g cocktail tomatoes (enough to cover base of the pan)
To serve:
Rocket, toasted pine nuts and grated Parmesan salad
Crumbled goat cheese
Sun-dried Tomato Pesto:
¼ cup sun-dried tomatoes in oil, drained
¼ cup toasted pine nuts
¼ cup fresh basil leaves
1 Tbs (a 5cm or 2″ chunk) Parmesan cheese
Make the pesto by blitzing all the ingredients together to form a nice chunky paste. Preheat the oven to 180°C.
Cut a circle of baking paper to fit the bottom of a 20cm (8 inch) tart tin. Drizzle the balsamic glaze over the paper, then sprinkle with the sugar and thyme leaves. Arrange the tomatoes over the base – they should cover it completely and snugly. Dollop the tomato pesto all over the tomatoes, as evenly as you can. Roll out the pastry, cut a circle 25cm (10 inches) in diameter. Place on top of the tomatoes and tuck in the edges.
Bake for 30-35 minutes, or until pastry is puffed and golden brown. Let the tart rest for 5-10 minutes then carefully invert onto a serving plate and remove the paper. Serve warm or at room temperature, garnished with crumbled goat cheese and thyme sprigs, with a lightly-dressed salad of rocket, toasted pine nuts and grated Parmesan.
Serves 6