When we were a family of five, spaghetti bolognese and lasagne were regulars on the week-day menu. Now there's just the two of us we don't eat a lot of mince. Every now and then, however, I like to make burgers. Like everything else you make yourself, they are so much tastier than the ones you get in fast food outlets, especially if you use top quality, lean minced beef. And it's the additions, such as mustard and grated Parmesan, which make all the difference to creating a great burger.
This mix is our favourite. If you end up with too many burgers, freeze them raw, or cook them and reheat the following day for lunch. Sometimes I have mine with just half a bun, or no bun at all and find I don't miss the carbs. Feed a family by making some oven fries in the oven, or in an air fryer to go with the burgers.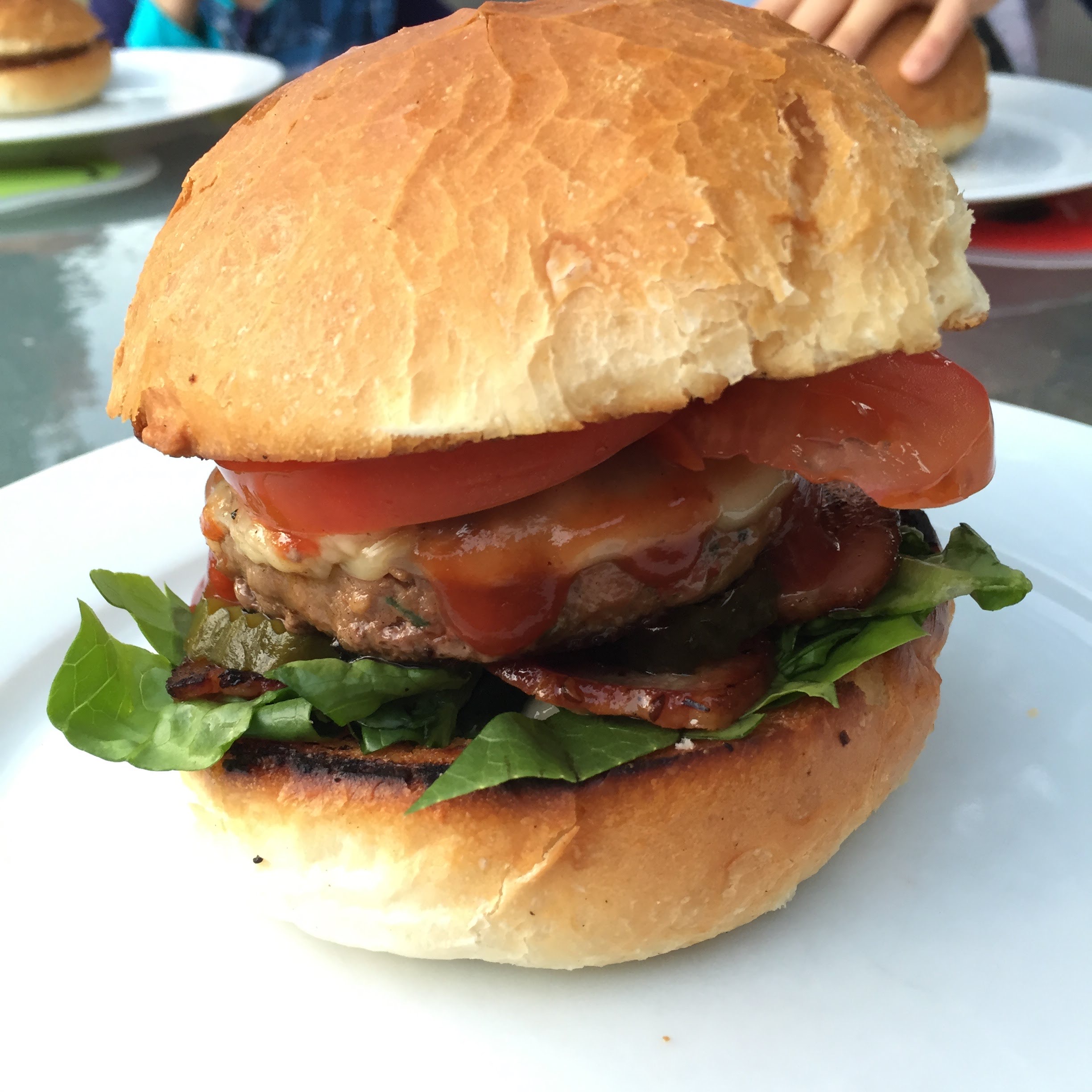 500g top quality minced beef
1 small onion, or ½ a large onion, very finely chopped
½ tsp dried chilli flakes (optional)
1 egg
½ cup breadcrumbs (made from stale bread or use Panko crumbs)
1 tsp mustard (I use hot English)
2 Tbs grated parmesan cheese
Pinch grated nutmeg
Salt and freshly ground black pepper, to taste
1-2 Tbs olive oil, to fry the burgers
To serve: 
4 burger buns, split and toasted
Lettuce, rocket or baby spinach leaves
Sliced tomato
Sliced red onion (optional)
Sliced cucumber or avocado or both
Mayonnaise or aioli
Fruit chutney, tomato ketchup or barbecue sauce (optional)
Mix all ingredients except oil and use your hands to shape into 4 evenly-sized burgers, the diameter of your buns. Refrigerate until serving time.
Heat oil in a non-stick frying pan over medium to high heat and cook the burgers for 3-4 minutes each side, or until cooked to taste. Spread one side of the toasted buns with mayonnaise or aioli and the other with chutney, tomato ketchup or barbecue sauce. Serve the burgers in the buns with lettuce, rocket or spinach leaves, tomato and cucumber slices.
Makes 4 burgers