This recipe was inspired by a photo of a dish served at The Retreat on the Row restaurant, located in Worksop, Nottinghamshire, UK. It's very quick to whip up for a midweek family dinner, but smart enough to serve to friends. The herb mix is very versatile. You can even use a few rocket leaves if that's all you have.
Choose a waxy potato which will hold its shape in a salad and any firm-fleshed fish fillets which haven't been skinned.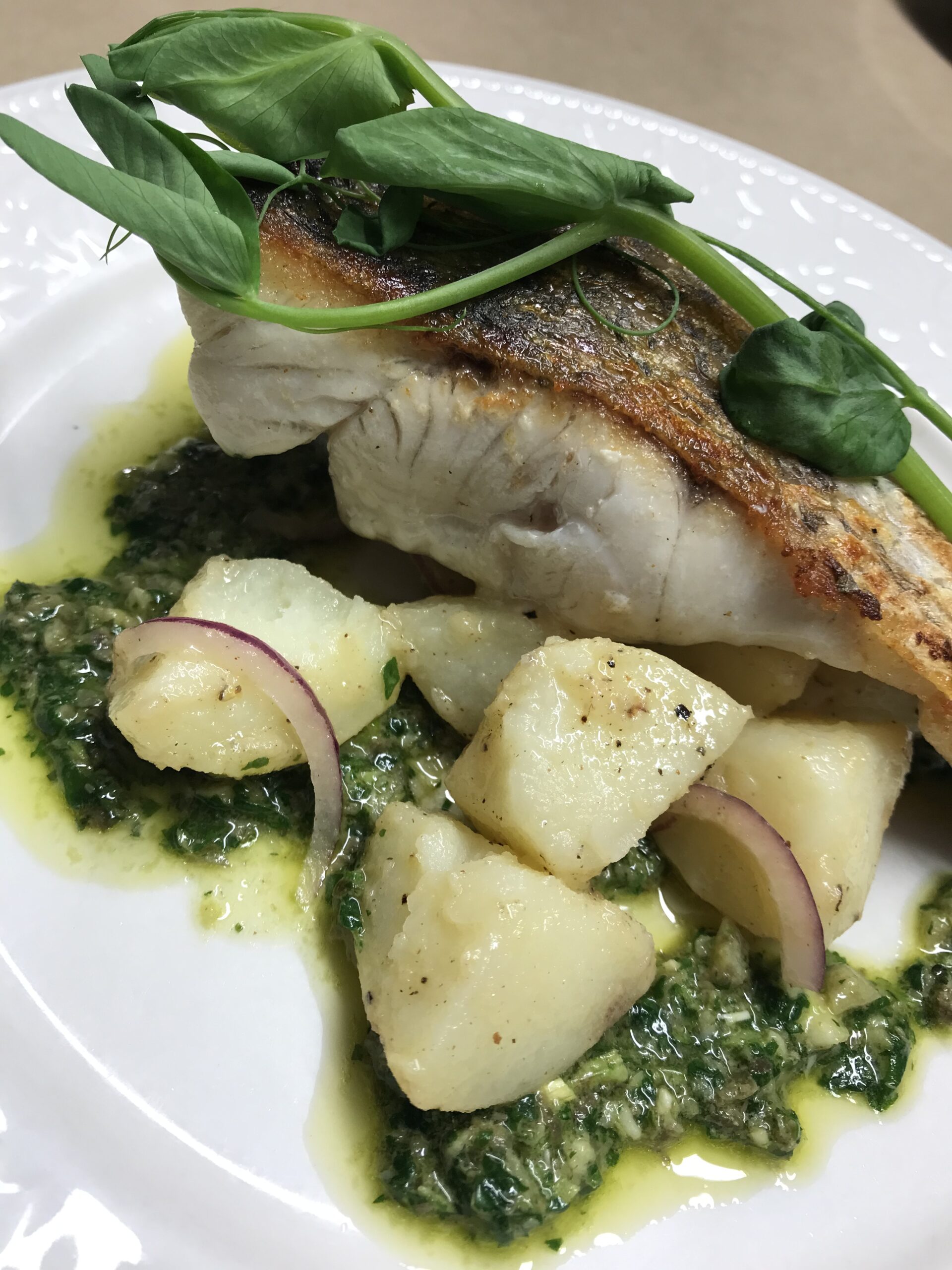 Two portions of firm-fleshed fish, skin on (I used barramundi)
Salt and freshly ground black pepper, to taste
1 Tbs olive oil
250g small waxy potatoes
Basic Salad Dressing
Snipped chives
A quarter to half a red onion, very thinly sliced
Something green to garnish – I used a pea shoot from the garden
Salsa Verde:
2 big handfuls fresh herbs – mint, coriander, basil, parsley, whatever you can find in the garden
Juice of half a lemon
2 tsp capers
Small clove garlic, crushed
2 small gherkins
½ tsp Dijon mustard
Salt and pepper to taste
Olive oil
Scrub the potatoes and cut them into quarters. Cook in boiling salted water for 15 minutes, or until tender. Drain, then mix with some basic salad dressing, a few snipped chives and the red onion.
Salsa verde: place all ingredients in food processor except the oil and process for a minute or until chunky. Drizzle olive oil through the feed chute with the motor running, until you have a thick chunky green sauce.
Season fish then place skin side down in a cold non-stick frying pan smeared with the tablespoon of olive oil. Turn on the heat and cook over medium heat until skin is golden and crispy. Turn fish over and cook for another couple of minutes, or until cooked through.
Spoon some Salsa Verde on two serving plates. Top with the potato salad, then the fish and garnish with a pea shoot.
Serves 2