Raw vegetables are full of nutrients and very good for you. But unadorned they look and taste a bit like rabbit food. It's the dressing that makes all the difference.
I've always been a big fan of beetroot. I grew up in the UK where supermarkets and green grocers sold beetroot cooked and ready to use. My mother used to slice it and dress it with dark malt vinegar, a dash of water and a teaspoon of sugar. This was standard fare in England when I was growing up. My Dad loved it but my mother and I preferred to rescue a few slices before she added the vinegar.
When an exchange student came over from France she didn't realise that the beetroot was not intended to be polished off in one sitting. It was an accompaniment, like a pickle or chutney, which made an appearance several times a week until it was all gone. Martine looked around the table and said "This salad is delicious. If nobody else wants any more I will finish it." And with that she tipped the remaining half kilo or so onto her plate. I will never forget the look on my Dad's face.
I no longer make Mum's beetroot and vinegar mix and I've never liked tinned beetroot. Roasting is a better way to bring out the distinct earthy flavour which is the main appeal for me. I often mix beetroot cubes, which have been roasted in olive oil, with rocket, goat's cheese or feta, some toasted walnuts and a dash of salad dressing to moisten.
This salad uses raw beetroot and fennel and is very moreish. Using the large 5mm grating disc on my Magimix for the beetroot and the thin slicing blade for the fennel and onion, the veggies are ready in no time.
This salad dressing is my standard, basic, everyday dressing. It's the one I make up in a one litre jar (with 3 times the recipe) and always have in the fridge. I don't use it for everything, but it's great to have on hand when you're in a hurry and certainly much nicer than anything you can buy. If preferred, leave out the honey or use just a tiny amount or a teaspoon of sugar. Don't crush the garlic because it will soon overpower the dressing – just leave the cloves whole or sliced in two.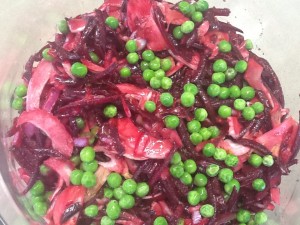 3-4 beetroot, peeled and coarsely grated
2 fennel heads, trimmed and very thinly sliced
½ to 1 red onion, very thinly sliced
Basic Salad Dressing – see below
1 cup frozen peas (optional)
Mix beetroot, fennel and onion with enough dressing to moisten. Taste to see if it needs a dash more salt. Place peas in a sieve and run under the hot tap to thaw, then sprinkle over the salad. The peas are optional but add a nice colour contrast. Once mixed through, the beetroot with turn them red.
Serves 4-6
Basic Salad Dressing: in an empty screw top jar place 1 cup of vegetable oil (I use Canola), ¼ cup cider vinegar, 1 Tbs Dijon mustard, 1 Tbs honey (or to taste), ½ tsp salt, freshly ground black pepper and 1-2 cloves garlic, peeled and halved. Shake well. Keeps in the fridge for at least a month.