Back in the 1980s I bought a copy of the Women's Weekly's Chinese Cooking Class Cookbook and worked my way through it. I was a young mother of three kids at the time and my only experience with Chinese food prior to that was buying takeaway.
I still have that book, dog eared and spattered from many years of use, with comments and amendments jotted here and there. The recipe for Chicken Chow Mein is served on a bed of crispy fried noodles and includes pork. I've adapted it to use the precooked Asian noodles sold in most supermarkets these days – preferably Chow Mein, but Hokkien or Singapore noodles will do – as they are healthier than anything deep fried. I also leave out the pork and just use chicken and prawns.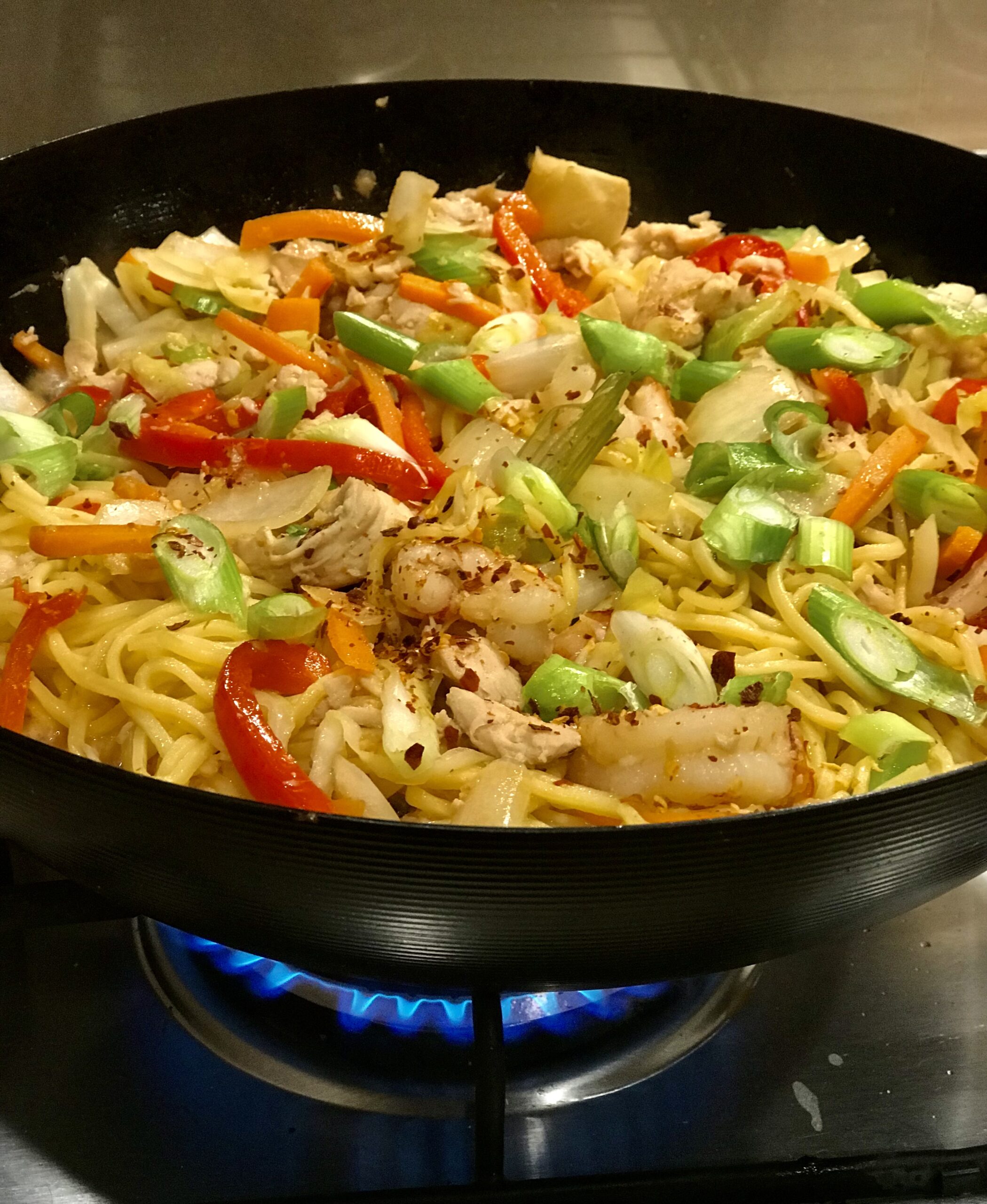 450g lean chicken meat, cut into thin strips
2 tsp soy sauce
2 tsp Chinese cooking wine or dry sherry
1 tsp cornflour
450g ready to serve egg noodles (Chow Mein, Hokkien or Singapore)
4 Tbs vegetable oil
1 Tbs ginger, finely chopped
2 cloves garlic, crushed
350g peeled uncooked prawns, deveined
2 medium onions, peeled and roughly chopped
1 red capsicum (pepper), cut into thin slices
1 large carrot, cut into julienne strips
2 sticks celery, thinly sliced diagonally
¼ white cabbage, shredded
8 spring onions, sliced diagonally
Sauce:
1 clove garlic, crushed
½ cup water
2 Tbs soy sauce
2 chicken stock cubes (about 2 tsp stock powder)
1 Tbs Chinese cooking wine or dry sherry
1 Tbs sesame oil
2 tsp sugar
Mix chicken with soy sauce, dry sherry and cornflour. Stand for one hour while you prepare the vegetables. Pour boiling water over the noodles, stand for a few minutes, then drain.
In a wok or very large frying pan heat the oil and cook the ginger and garlic for one minute. Increase the heat and add the chicken and stir-fry for five minutes. Add the prawns, toss for a couple of minutes, then add all the vegetables (save a few spring onions for garnish) and stir-fry for 2-3 minutes. Add the combined sauce ingredients and lastly the drained noodles. Toss for a couple of minutes, then serve garnished with the reserved spring onions. Serve with extra soy sauce or sweet soy sauce (kecap manis) drizzled on top, if liked. And if you're wondering what you can see sprinkled on the front of the dish, it's a good pinch of crushed chillies.
Serves 4