When I started cooking, any recipe using eggplants involved salting the slices and leaving them to drain, in order to remove any bitterness. You then had to pat them dry and fry them in oil. Eggplants are a bit like blotting paper and will soak up as much oil as you give them. More recent varieties of eggplant seem to have eliminated the bitterness and browning the slices in the oven means you don't need to use too much oil.
This recipe was given to me by my friend Margaret when we were all posted to Tel Aviv, many moons ago. Like a big lasagne, it's a great choice for feeding a crowd. All the preparation can be done ahead and with a big salad and some crusty bread you're all set.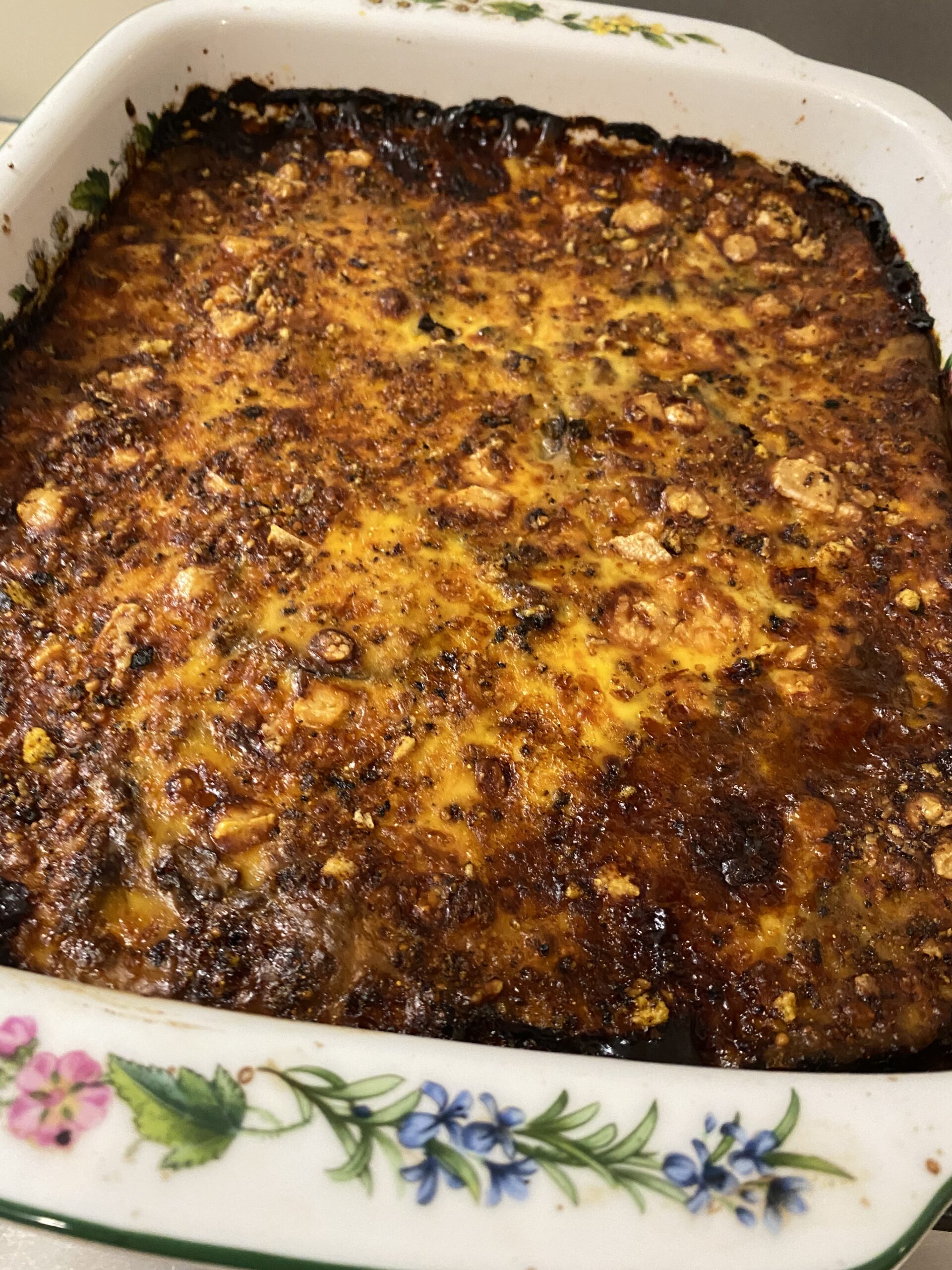 1kg eggplants, sliced 1cm thick
1kg minced lamb or beef
2 chopped onions
1 clove garlic, crushed
4 Tbs olive oil
1 400g tin tomatoes, chopped (or equivalent in fresh tomatoes)
500g mushrooms, thinly sliced
2 Tbs chopped parsley
2 tsp dried oregano
2 tsp cumin
Salt and freshly ground black pepper to taste
2 heaped Tbs tomato paste
½ cup water + 1 beef stock cube
Olive oil for brushing or spraying
Grated Parmesan cheese
Sauce:
30g butter
30g plain flour
Salt and freshly ground black pepper to taste
1½ cups milk
2 beaten eggs
Salt and freshly ground black pepper to taste
Preheat oven to 200°C. Arrange eggplant slices on two large oven trays lined with baking paper. Spray on both sides with olive oil, or use a brush. Cook for 20 minutes, turning once, or until golden brown on both sides.
Heat oil in a large frying pan and cook onion and garlic until soft. Turn up heat and add meat and mushrooms and cook stirring until meat has browned. Add chopped tomatoes (skinned if fresh), herbs, tomato paste, cumin, stock cube and water and season to taste. If the frying pan isn't big enough put everything into a deeper pan. Simmer 10-15 minutes, adding a little more water if necessary.
This recipe is enough to make two large moussakas or one extra large one, as shown in the photo. If preferred, make half the recipe. Fill each dish with layers – meat sauce sprinkled with a little grated Parmesan, eggplant slices, then meat sauce and more Parmesan, then remaining eggplant slices.
For the sauce, melt butter in a non-stick pan, add flour and cook, stirring for a couple of minutes. Gradually add the milk, stirring until thick before you add more. Season to taste. Remove from the heat and add the beaten eggs last. Pour sauce over the top of the moussaka and spread out evenly. If you're making it early in the day, refrigerate at this stage until you're ready to bake. Bake for 40-50 minutes at 200°C, or until browned and bubbly. Stand for 10 minutes before cutting. Can be completely cooked a day ahead, kept in the fridge, then just reheated.
Serves 10-12