Many Australians grew up eating Weetbix for breakfast and some are still fans. Not Weet-a-Bix, sold in England, but the Aussie equivalent by Sanitarium, called Weetbix.
In the post-War generation of my mother-in-law, when nothing was thrown away, women invented recipes to use up the broken Weetbix at the bottom of the packet.
This is an adaptation of a typical Date Loaf, with the addition of some crushed Weetbix. It's quickly made, nice and moist and keeps for several days in a tin. If you don't have Weetbix, use any crushed breakfast cereal such as raisin bran, All Bran or even cornflakes.
What I like about this recipe is that you just throw all the ingredients into a saucepan, so there's minimal washing up and mixing involved. By the time the oven has heated, the loaf is ready to go in. It's also a very flexible recipe so if you don't have dates you can add any dried fruit or nuts you have available. To make this dairy free use olive oil instead of butter.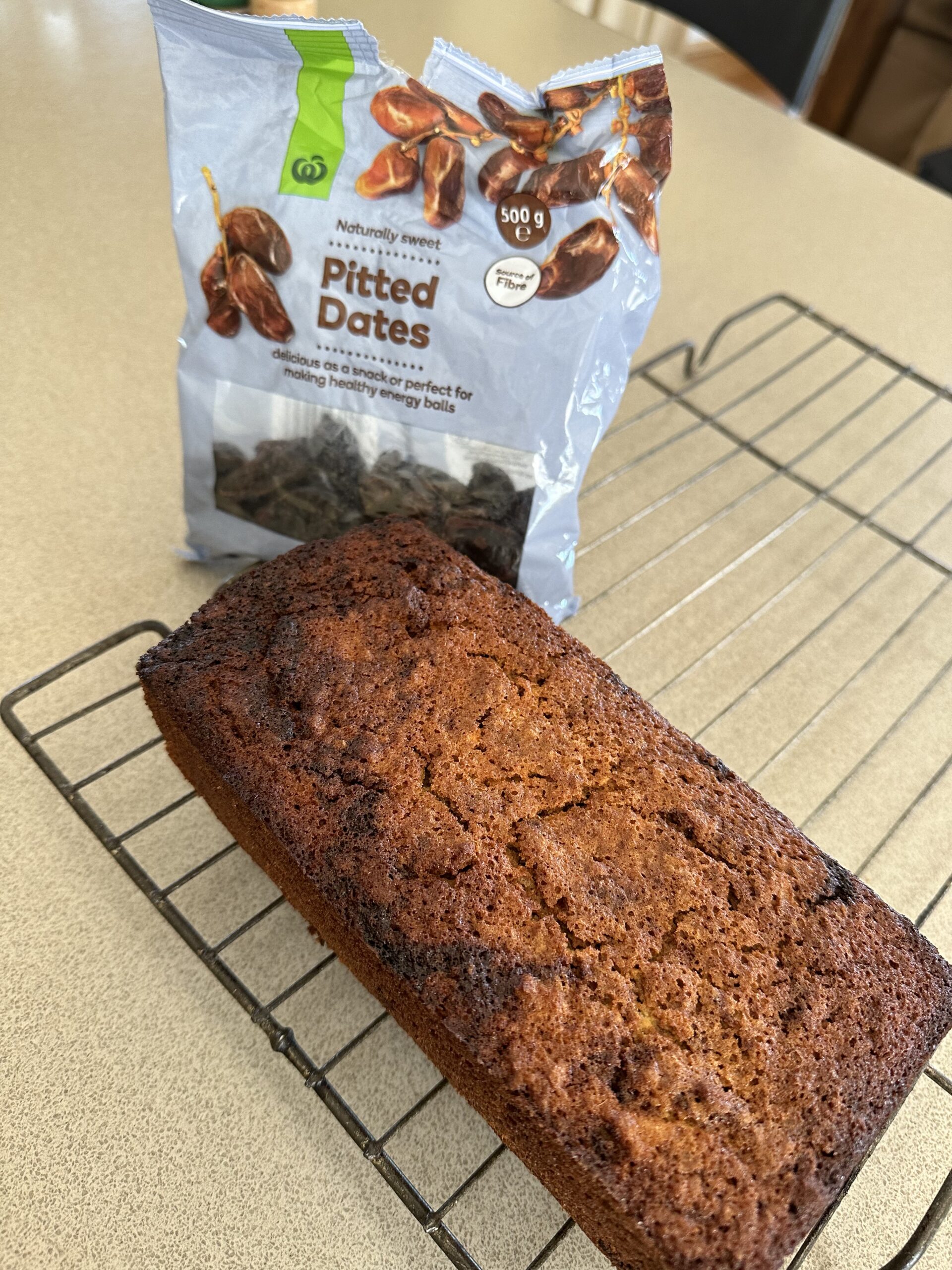 80g butter
1 cup (250ml) water
1 cup pitted dates chopped (or raisins, or mixed fruit, or fruit & nuts)
¾ cup sugar (white or brown)
1 tsp bicarbonate of soda
4 crushed Weetbix – about 2 cups
1 tsp vanilla essence
1 cup self-raising flour
1 egg, beaten
Preheat oven to 180°C. Grease a loaf pan and line with baking paper. I just line the bottom of mine, but you can line the sides as well if preferred. Just a standard size, whatever you have.
Place butter, water, dates and sugar in a medium to large saucepan. Turn on the heat and when the butter has melted turn it off. Add the bicarbonate of soda, Weetbix, vanilla and sifted flour and lastly mix in the egg. Scrape into the loaf pan and bake for 30-40 minutes, or until a skewer or toothpick inserted in the centre comes out clean.
Cool for 10 minutes then run a knife around the sides if you haven't lined them with paper, tip out and remove paper. Serve as it is or buttered. Store in a container with a lid.
Makes 1 loaf