We have six perpetual spinach plants in the garden. It's a great leafy vegetable to grow because you just break off the leaves as you need them and it keeps on growing.
Ours are in a raised bed which we can cover at night in the cooler months, like a greenhouse, so the plants don't get damaged by frost.
This is a healthy, quick and easy dinner for two, but easily doubled for four. If liked serve with rice, potatoes or Israeli pearl couscous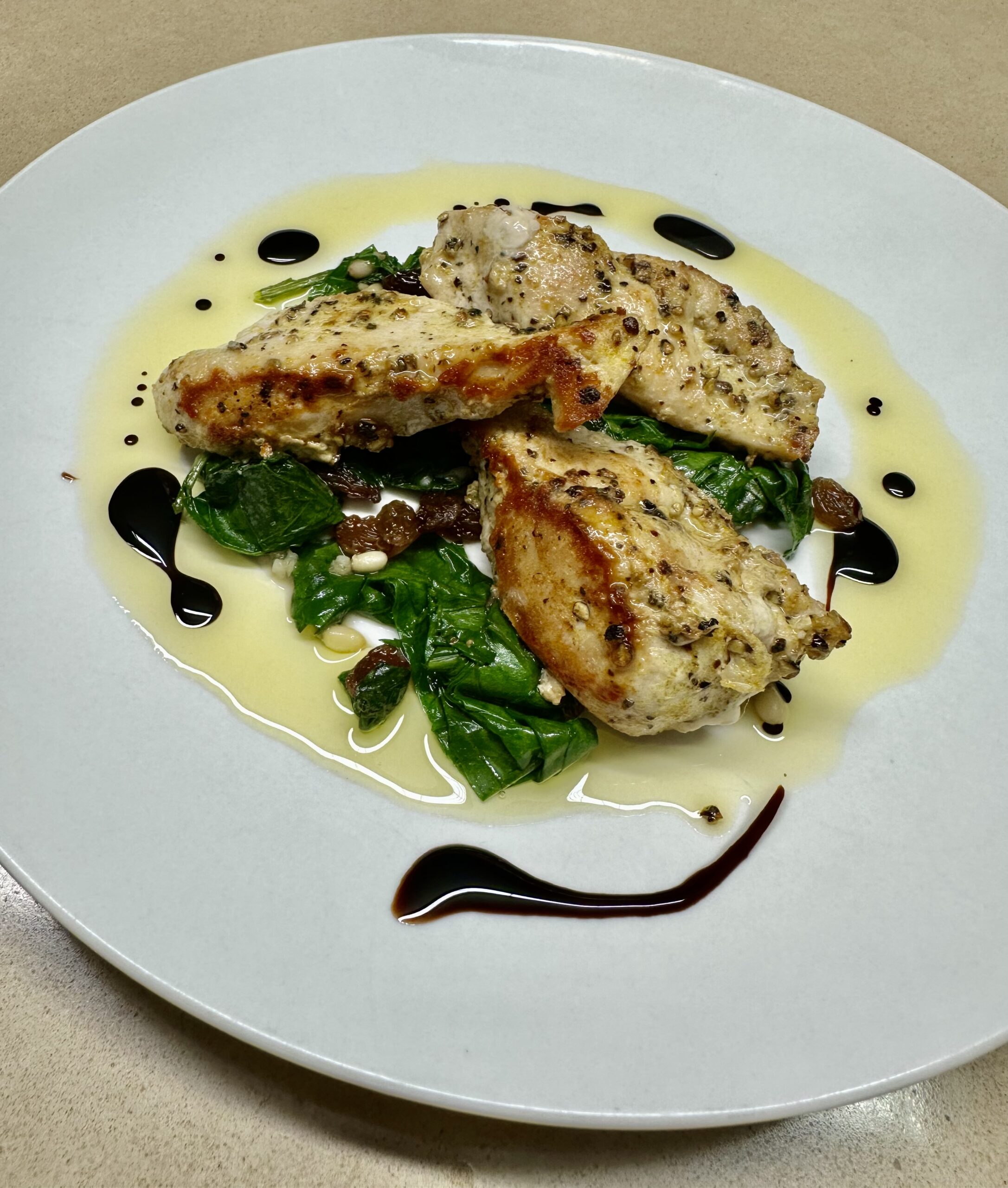 1 large or two small chicken breasts
Salt and freshly ground black pepper to taste
Herbs or spices of choice (paprika, thyme etc)
2 Tbs olive oil
1 bunch spinach, washed, stalks removed
1 clove garlic, crushed
2 Tbs pine nuts
2 Tbs sultanas or raisins
Balsamic glaze
Cut chicken into six or eight lengthwise fat fingers. Season with salt and pepper and a good pinch of any spices or herbs you fancy. Last time I added a good pinch of curry powder. Place sultanas in a small bowl, cover with hot water, leave 3 minutes, then drain.
Pour boiling water over the spinach and leave for 2 minutes. Drain, squeeze out all the water and if spinach has large leaves, chop roughly. If using baby spinach, no need. Leave in a sieve to continue draining while you cook the chicken.
Heat 1 Tbs oil in a frying pan and cook chicken on both sides for 8-10 minutes, turning a couple of times, until cooked through. When chicken is cooked, remove from the pan. To the pan add the second Tbs of oil – you might not need it – spinach, garlic, pine nuts and sultanas or raisins. Stir fry for 2 to 3 minutes then season to taste.
Divide spinach among two serving plates. Top with chicken, then garnish with olive oil and balsamic glaze.
Serves 2