This is a delicious way to serve roast lamb.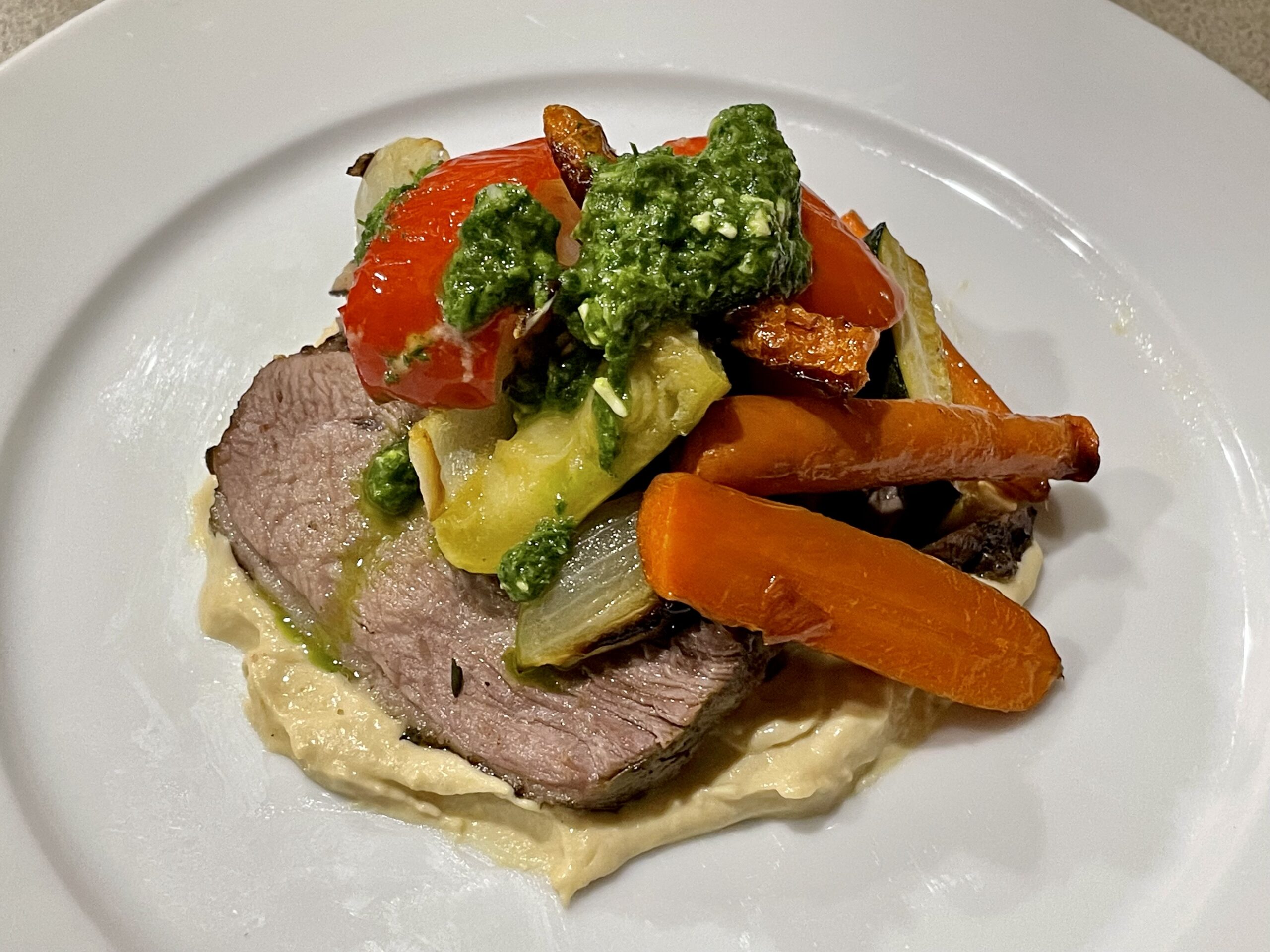 1 leg or shoulder of lamb, boned or not
½ cup balsamic vinegar
½ cup water
2-3 tsp Za'atar spice mix (or spice mix of your choice)
Salt and freshly ground black pepper to taste
2 cups hummus (home-made or bought)
1 batch oven roasted veggies
Mint Pesto:
1 cup mint leaves, firmly packed
½ cup pistachios or pine nuts, lightly toasted
1 Tbs lemon juice
1 tsp honey
Olive oil
Salt to taste
To serve:
Toasted pine nuts
Pre-heat oven to 150°C. Place lamb in a large heavy casserole with a lid. Season with the Za'atar, salt and pepper. Add the balsamic vinegar and water and cover. Cook for 2- 3 hours, turning the meat over halfway through. If when you turn the meat the liquid has all dried up add a bit more water – half a cup or so. If the meat is boned it will take less time. Cook to preferred doneness.
Prepare the roast veggies.
For the mint pesto, place all ingredients except the oil in a food processor. Process until chunky then add the oil through the feed chute with the motor running until you have a thick sauce. Scrape down the sides halfway through. Scrape out into a bowl.
To serve, spread the hummus on one large plate or divide between individual plates. Top with sliced lamb, then the roasted vegetables. Top with some mint pesto and sprinkle with a few toasted pine nuts – which as you can see from the photo, I forgot! If liked drizzle some of the cooking liquid from the lamb over the top and around the edge of the plate.
Serves 6-8