Whenever I make oven-roasted vegetables I always think there will be lots of leftovers. But they're so delicious, not to mention healthy, so everyone comes back for seconds and there's none left.
You can use any combination of vegetables and there are some important rules. Cook the vegetables in a hot oven i.e. 200C or 400F in a very shallow baking tray in one layer – otherwise they will stew in their own juices rather than roasting. Also it's important to cut vegetables which cook quickly, such as zucchini, into larger pieces than the rest. When cooked the vegetables should be slightly charred on the edges, while still maintaining a bit of crunch. The first photo shows them just out of the oven. The second photo shows them served on a bed of rocket, garnished with some soft goat's cheese and toasted pine nuts.
2-3 large carrots, peeled
2 red or yellow peppers (capsicum) or one of each, seeds and membranes removed
4-6 small yellow squash (if available)
3 onions – red or brown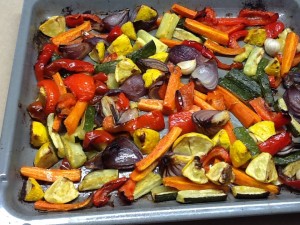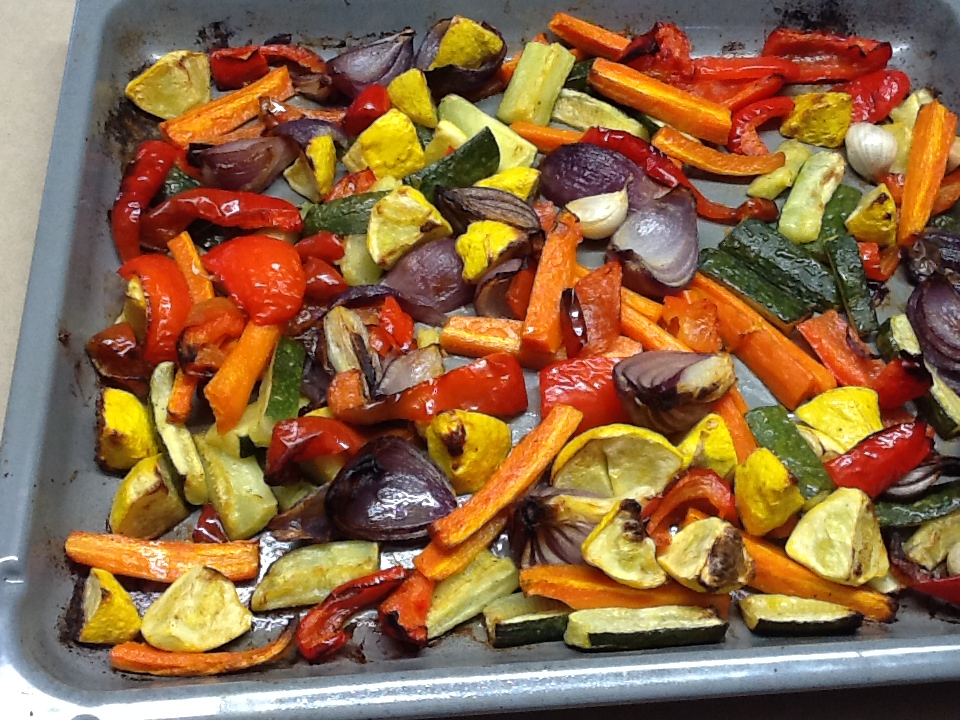 4-6 zucchini (courgettes)
6-8 whole garlic cloves
Olive oil, salt and pepper
Balsamic glaze or vinegar
Chopped fresh parsley or coriander to serve
Optional additions:
1 eggplant (aubergine)
1 sweet potato
parsnips or pumpkin
Preheat oven to 200°C. Cut vegetables into sticks or chunks, onions into quarters or eighths depending on size. Leave garlic cloves whole. Place all the vegetables in a shallow baking tray in a single layer. You don't want them all on top of each other, so use two if necessary. Drizzle generously with olive oil, season with salt and pepper and mix well with your hands. Roast vegetables for 30-40 mins, turning a couple of times during cooking time. Serve at room temperature, drizzled with balsamic glaze or balsamic vinegar and sprinkled with chopped herbs.
Serves 6-8