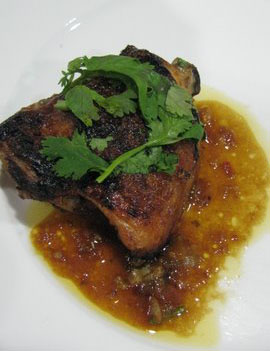 This weekend we went to Woodlands, our 46 hectare rural property at Hereford Hall, 40 minutes out of Braidwood, New South Wales.  Sometimes we invite friends or family to join us, but this weekend Matthew wanted to prepare the area around the house for planting a lawn and sow the seeds, so there was no time for socialising.
Browsing through this month's Delicious magazine before we left, I read a letter from a reader which mentioned a recipe for Sticky Honey Chicken with Ginger and Garlic by Rick Stein. It had apparently appeared in the magazine many moons ago and the reader said it was so good she was still making it regularly.  I decided to find it on the internet, print off a copy and make it over the weekend.  Here is my slightly adapted version.  I cut out the olive oil – the chicken was fatty enough without it – and added fresh coriander as a garnish.  I also cut down a bit on the quantities in the glaze and used only chicken thighs, because I'm not mad about drumsticks.  The cayenne pepper gives the sauce a nice kick and any leftovers are nice cold.
Rick Stein's Sticky Honey Chicken with Ginger and Garlic
8-12 chicken pieces – drumsticks, thighs etc, skin left on
juice of one small or ½ large lemon
1 tsp cayenne pepper
1 tsp salt
Glaze
1½ Tbs honey
2-3 cm fresh ginger, grated
2 Tbs HP sauce (I substituted BBQ sauce)
1 Tbs Worcestershire sauce
2 Tbs tomato sauce (ketchup)
1 Tbs tomato puree
2 Tbs red wine or cider vinegar
2 Tbs soy sauce
2  large garlic cloves, crushed
fresh coriander to garnish
Preheat oven to 200°C. Trim chicken of any excess fat or skin.  Place in a shallow ovenproof dish in one layer.  Sprinkle with lemon juice, cayenne pepper and salt. Turn chicken pieces until well coated. Cover and set aside while you mix the glaze.
Make glaze by mixing all ingredients together. Roast chicken for 15 minutes skin side up. Turn chicken pieces over, spoon over half the glaze and roast for another 15 minutes.  Turn over so they are skin side up again, spoon over remaining glaze and bake for a further 10-15 minutes or until nicely browned and cooked through.  Garnish with coriander. Serve with steamed rice, with a knob of butter added and a steamed green vegetable or green salad.
Serves 4-6