I recently spent three days in hospital for a knee operation. Hospital food as a general rule is nothing to write home about, but I have to say that my stay in the Canberra Specialist Surgical Centre was a pleasant surprise in that regard. The food was well above average and to be honest everything else (apart from no wifi!) was also fantastic. Lovely staff who arrive within a minute of patients pressing the buzzer, great views, comfortable rooms.
One exception on the food front was the Dutch Apple Pie. When you're incarcerated, bored and in pain food takes on a whole new meaning. Each day I was given a form to choose what I wanted to eat the next day, so when I saw Dutch Apple Pie I thought "yum" and ticked the box.  Unfortunately when it arrived it was very disappointing and not remotely related to the real thing.  Just a shortbread covered with apple puree and topped with pale crumbs.
Many years ago my Dutch friend Kien gave me her recipe for Dutch Apple Pie and here it is. The real McCoy.
Shortbread:
250g plain flour
150g self-raising flour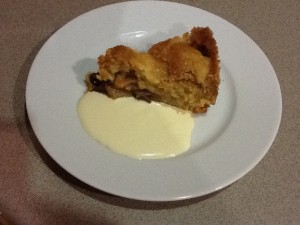 200g sugar
300g butter at room temperature
Filling:
125 sultanas
125g currants or raisins
750g peeled and sliced green apples
¾ cup rum
125g sugar
2 tsp cinnamon
½ cup apricot jam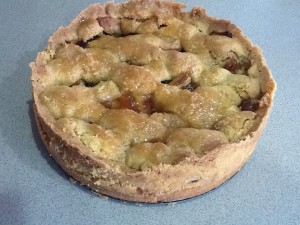 Soak dried fruit in rum. Pre-heat oven to 160C.  Mix butter and sugar until light and fluffy in food processor or with electric beaters. Mix in flour until well mixed and sticking together.  Tip out, form into a fat log and refrigerate for about 30 mins wrapped in plastic wrap. Cut log into three. Cut off slices and use to press all over the bottom of a buttered 30 cm spring-form pan. Bake for 20-30 mins till golden then cool.
Filling: Turn oven up to 170°C.  Mix apples with sugar and cinnamon. Line sides of cake tin with another third of the shortbread.  It's difficult to roll out so the easiest way is to cut off thin slices and press them onto the sides of the tin like a jigsaw puzzle. Drain dried fruit (keep rum), mix with apples and put into tin. Use remaining shortbread to make strips and form a lattice to cover apples. Pinch edges of the lattice onto the sides of the pie so it all joins up.  Bake for 1¼ hours. Spoon rum through holes between the lattice. Paint lattice with heated and sieved apricot jam, using a pastry brush, which gives a nice glaze. Cool thoroughly before removing sides of tin. Serve with whipped cream or pouring cream.
Serves 12