At 3pm on the first Tuesday of November Australia comes to a virtual standstill.  The Melbourne Cup, Australia's major thoroughbred horse race, has been run since 1861.  Even people who never bet on horses place a bet in this race.  Lunches with sweepstakes are organised all over the country by those who can't make it to the Flemington racecourse in Melbourne.  Ladies come dressed to kill, wearing their best hat, in order to create the right atmosphere.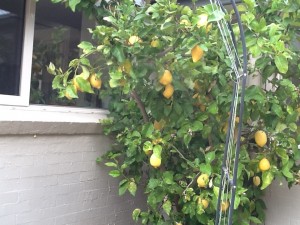 Asked to bring a plate to a Melbourne Cup buffet lunch I decided to make an old English favourite, Lemon Meringue Pie.  As you can see, the lemon tree outside our kitchen window is laden with fruit.  Last year we picked all the lemons and put them in a second fridge we keep in the garage for drinks.   After a few weeks they started to go off, so this year we've decided to leave them on the tree and pick them as we need them.  Not sure if this will affect next season's crop, but we'll find out.
My ceramic quiche dish holds about a litre of filling, so this makes quite a large pie.  If you find you have too much filling,  put the excess into little glasses  to eat with a dollop of cream.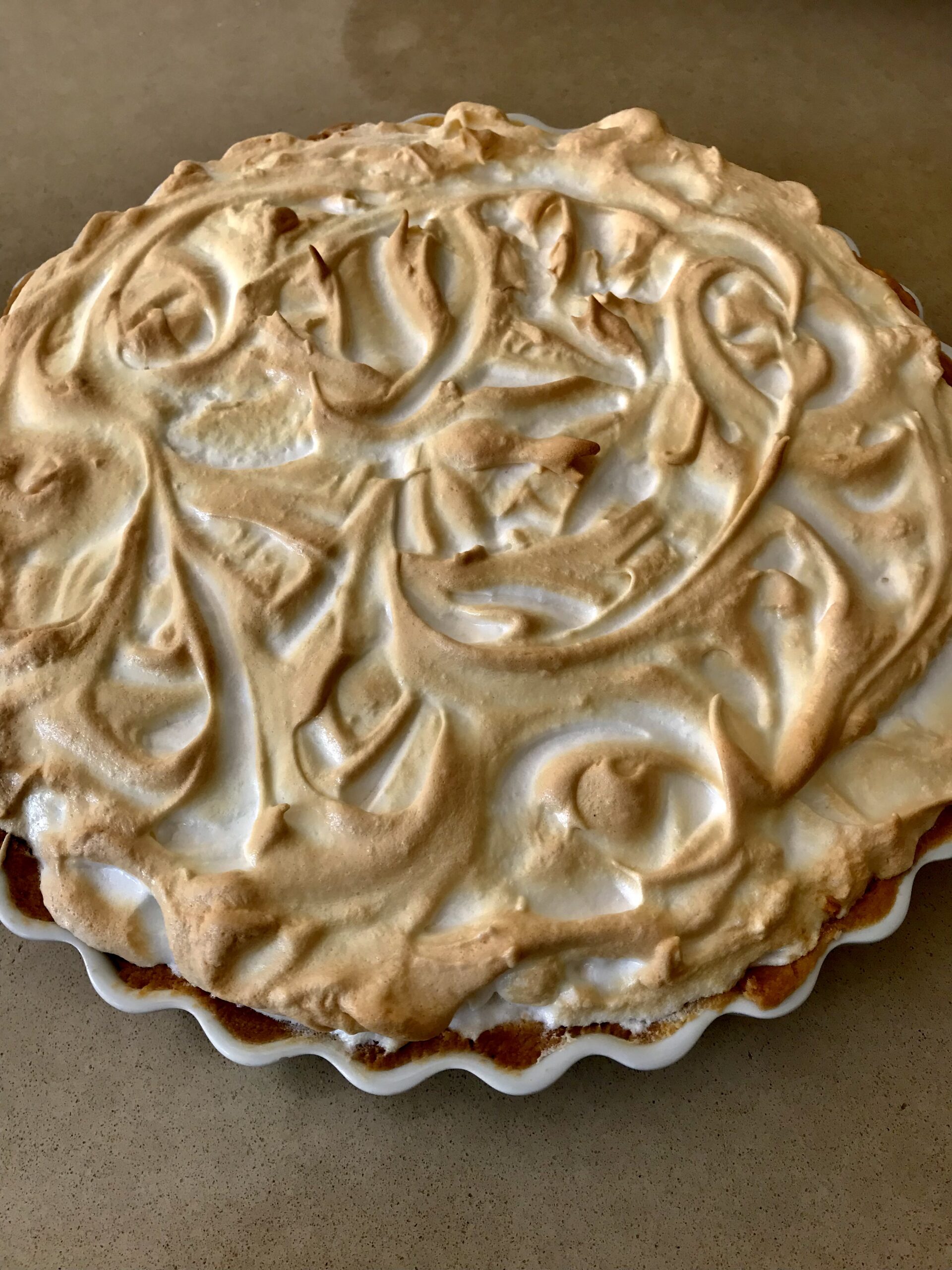 1 large fully-baked sweet shortcrust pastry shell
¾ cup caster sugar
¾ cup lemon juice
1 Tbs grated lemon rind
2 cups water
½ cup cornflour
3 eggs, separated
75g unsalted butter
½ cup caster sugar, extra
Keep the egg white from making the pastry and use it in the meringue.
Mix cornflour with some of the water to a smooth paste in a small bowl.  Heat lemon juice, sugar, remaining water and grated rind in a saucepan.  When boiling add cornflour mixture and stir until thickened with a wooden spatula.  Remove from heat and mix in egg yolks and lastly butter.  Cool a bit then push through a sieve to remove any bits of cooked egg white and spoon evenly into the pastry case.
With electric beaters whip the four egg whites (one left from making the pastry) with a pinch of salt until they hold soft peaks, then gradually add the extra sugar and continue whipping until you have a glossy meringue.  Pile onto the lemon filling, covering completely so there are no gaps.  Bake at 170°C for 10-15 minutes or until lightly browned.  Remove from the oven and cool.  Serve chilled.
Serves 10-12