With every renewed subscription to Delicious magazine last month you got a free copy of their 300 page cook book "Love to Cook" by the magazine's food editor, Valli Little. It normally sells for $40 so I was very pleased with myself.
It's full of quick, easy and delicious recipes and I couldn't wait to get stuck into them. Last Sunday we had guests for lunch so I made the Slow Roast Lamb with Chilli Mint Sauce. As an accompaniment I followed Valli's suggestion and served her  "Best Crunchy Potatoes" and Nigella Lawson's Baby Eggplants with Picked Red Onions, which appeared on Café Cat in January.  Lamb and eggplants always go well together and the potatoes were to die for. Cut into cubes, parboil for 2 minutes, drain thoroughly, then mix with a tablespoonful of flour, salt and pepper, then spread out on a cookie/biscuit tin lined with baking paper. Drizzle with melted duck fat or some oil and bake for 40 mins in hot oven.
Valli's Lazy Lemon Tart was the perfect way to end the meal. It's not the first recipe I've come across where you throw a whole lemon or orange in the blender – I have a very successful orange cake which uses a whole orange. You would think the pith would make it bitter, but it doesn't. I decided to re-name this tart and call it amazing, because it really is.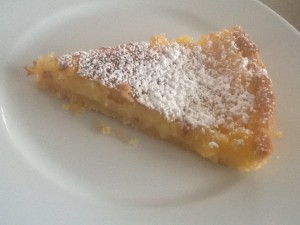 Sweet shortcrust pastry:
1½ cups plain flour
125g chilled unsalted butter, chopped
1/3 cup icing sugar
1 tsp vanilla essence
1 egg yolk
Filling:
1 very large lemon, seeds removed, quartered (or use 2 small ones)
1¼ cups caster sugar
100g unsalted butter, at room temp
1 tsp vanilla essence
4 large eggs
¼ cup thick cream or sour cream
To serve:
Icing sugar and thick cream
Grease a loose-bottomed metal 23cm tart pan. Preheat oven to 180ºC.
Make pastry: place all ingredients except egg yolk in food processor and process until it resembles fine breadcrumbs, then add egg yolk and continue to process until it forms a ball. Tip out, gather into a ball, wrap in plastic wrap and chill 30 mins. Roll out thinly and line the tart tin. After trimming the pastry off level with the edge of the pan, go round and squeeze the pastry so it goes up above the edge a bit. This should compensate for any shrinkage in the oven. Line with baking paper and fill with rice, corn or pastry weights. If you have time refrigerate pastry for 15 mins. Bake 8 mins, remove paper and weights, then bake for 3 mins more until dry and crisp. Any leftover pastry can be used to make some jam tarts or similar.
Place lemon, sugar, butter, vanilla and eggs in a blender and blend until smooth. A blender is better than a food processor as it makes the mixture smoother. Add cream and pulse quickly to combine. Pour into tart shell – filling should come to the very top of the pastry shell. Bake 30 mins or until just set. Cool tart in pan, dust with sifted icing sugar. Serve at room temp with thick cream.
Serves 8