Matthew said the rhubarb was going berserk and needed picking. All the other little desserts you've seen on here recently have been devoured and the fridge was looking bare. I thought I would concoct something with this delicious under-rated fruit from the garden and came up with this.  A cross between a crumble and a slice which can double up as a dessert or something sweet to go with a cup of tea for the next few days.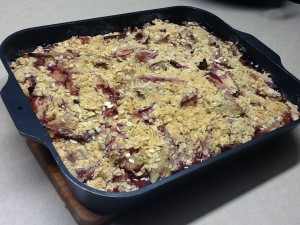 250g plain flour
250g butter
200g brown sugar
200g porridge oats (not the quick cook variety)
About 1 kg washed and trimmed rhubarb, cut into 2-3cm slices
1½ cups jam (any flavour will do)
3 tsp finely chopped fresh ginger (optional)
Preheat oven to 180°C.  Place flour and butter in food processor and process to fine crumbs.  Add sugar and oats and process briefly, just enough to mix.  Butter an oblong cake tin or roasting pan.  I used a roasting pan 28x34cm. Tip in about ¾ of the crumble mix and spread evenly. Top with the rhubarb, then drizzle over the jam, mixed with the ginger if using.  If jam is a bit stiff zap it briefly in the microwave. Cover with remaining crumbs then bake for 30-40 mins or until browned and bubbly. Cut into 16.
Keeps in the fridge, covered, for up to a week. Can be eaten cold as a cake/slice or hot as a dessert. If you just want to heat up one portion use the microwave.  However, if you want to reheat say half a dozen slices to serve as dessert with cream or vanilla ice cream, remove the required number of squares from the tin with a fish slice and reheat in a moderate oven for 10-15 mins on a sheet of baking paper.
Serves 16