Over the years I've stopped making some of the recipes I collected in my teens because my taste has changed, or maybe they were never that special to begin with and new ones have taken over as favourites. Others have evolved over the years with slight modifications and improvements – cutting down on fat or sugar, or smartening up the presentation.
This curried chicken salad, which I've been making for decades, falls into the latter category. When I'm asked to bring a plate and take this dish I am always asked for the recipe, so I can't imagine I will ever cross it off my repertoire. The original version used canned pineapple, which was very popular in the UK when I was growing up.  I don't think I ate a fresh pineapple until I was well into my 20s, but everyone had a few cans in the pantry to add to coleslaw, serve with grilled ham steaks or add to fruit salads.  Nobody needs to buy canned fruit these days with such a wide selection of fresh fruit available.
This dish makes a perfect addition to a cold buffet and is a great way to make one roast chicken serve a crowd. It's easy to double, triple or quadruple, any leftovers go down well the following day and I've also made it using leftover roast Turkey from Christmas lunch. The dressing and all the ingredients can be prepared the day before. It looks nice in individual servings, piled onto a large lettuce leaf or in a whisky tumbler lined with lettuce.  If you want to be really swish, serve the salad in hollowed out fresh pineapple halves, with the green tufty bits left on and of course use what you've dug out in the salad. Garnishing with red chilli brings this dish into the 21st century.
Curried Chicken Salad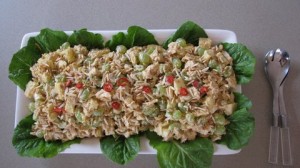 Meat from one large roast chicken, cut into bite-sized pieces
1½ cups thinly sliced celery (sliced on the diagonal looks nice)
2 cups seedless grapes
1 cup fresh pineapple cubes
¾ cup flaked almonds or unsalted cashew nuts, roughly chopped
To garnish
: Thin slivers of red chilli or red capsicum
Dressing:

1½ cups mayonnaise (preferably home-made)
2 Tbs lemon or lime juice
2 Tbs soy sauce
2 Tbs chutney or relish
1 Tbs curry powder or paste
1 Tbs grated onion
Dressing: Chop chutney if it's very chunky. Mix all ingredients together and refrigerate for several hours or overnight.
Toast almonds or cashews in a dry frying pan, stirring frequently, until golden, then remove from pan and cool. Prepare the chicken, grapes, celery and pineapple and refrigerate each separately. Recipe can be prepared to this stage up to 24 hours before serving.
If you have time, mix chicken with dressing and refrigerate for a couple of hours for flavours to blend. Mix in celery, grapes and pineapple just before serving.
To serve, mound the salad onto a flat serving platter with lettuce leaves around the edge.  Or omit the lettuce and pile the salad into a serving bowl. Sprinkle with toasted nuts and garnish with the chilli.
Serves 6 as a main course or at least 12 as part of a buffet.