When I'm looking for inspiration I browse through old cook books. I have quite a few, including some by Robert Carrier.
Born in the USA in 1923, Carrier's success came in England, where he worked for most of his life as a chef, restaurateur and food writer. The Jamie Oliver of the 70s and 80s, Carrier tried to persuade the British public there was more to life than meat and three veg. He retired to France where he died in 2006.
Carrier said he acquired the recipe for Mezzorgiorno (which I have shortened to "Italian") Mince Pies served with Panna Cotta and Berry Compote from The Don Camillo restaurant in Provence. It may seem like a complicated recipe, but most of the work is done by the food processor and you can spread it over three days. Make the pastry and filling for the pies on day one. Next day make the panna cottas, the compote and the pies. Refrigerate them covered, but uncooked. On the third day brush with egg and bake an hour or so before serving.
The pastry is not easy to roll out and you may find yourself using quite a bit of flour to stop it from sticking, especially on a hot day. Unfortunately too much flour makes pastry tough, so if you're having difficulty try rolling it out between two sheets of baking paper. You could always substitute home-made or bought shortcrust or puff pastry.
Mr Carrier said to cut the pastry into 8cm squares, but I found this made the pies too big – 6 to 7cm is a better size. The original filling included brown sugar in addition to the honey, but the mixture is sweet enough with all that dried fruit and chocolate, so I left it out.
Panna cotta – which means cooked cream – is delicious served with just the compote. And the pies are nice served on their own as a change to traditional mince pies at Christmas. But all put together they make an unusual dessert.
Italian Mince Pies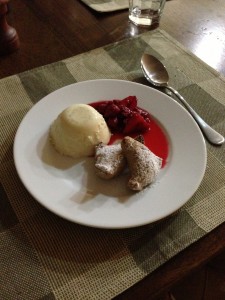 Pastry:
½ cup caster sugar
150g unsalted butter at room temp
1 Tbs cinnamon
grated rind (zest) 1 lemon
3 eggs
2¾ cups (350g) plain flour
Filling:
125g good quality dark chocolate
150g dates, pitted
250g dried figs, stems removed (or substitute raisins)
3 Tbs honey
3 Tbs Marsala or port
100g pine nuts, toasted
Grated rind (zest) 1 lemon or orange
½ cup dried sour cherries (I substituted cranberries)
1 egg, beaten
Icing sugar for dusting
Pastry: Place sugar, butter, cinnamon and lemon rind in food processor and process until creamed. Add eggs and when mixed add flour. Process until dough comes together in a ball. Tip out, form into a flat disc, wrap in plastic wrap and refrigerate for 2 hours or up to 3 days. Can be frozen for several weeks.
Filling: Break chocolate into squares, then pulse in food processor until coarsely chopped. Tip into a bowl. Place dates, figs, honey and Marsala or port in food processor and pulse until coarsely chopped.  Add to the bowl with remaining ingredients except egg and icing sugar and mix well. Store in a covered container in the fridge. Keeps several weeks.
Assembly: Preheat oven to 170°C. Roll pastry thinly on floured surface and cut into 6 or 7cm squares. You should have enough to make 35-40, but it's best to make only as many as you can eat on the same day.  Also it's easier to work with about a quarter of the dough at a time. Place one rounded teaspoon of filling on one side of each square, brush 2 sides with egg and fold over to form a triangle enclosing the filling, pinching well to seal.
Place pies in the cups of lightly oiled muffin trays, which is what gives them their interesting curved shape. If you don't have muffin trays use flat baking trays.  Brush with egg and bake for 15 minutes or until golden brown. Don't overcook or they will be dry. Dust with icing sugar and serve warm.
Pies are best eaten the day they are made, still warm from the oven, so it's best to make just the right amount and store leftover pastry and filling for another time. While leftover cooked pies can be reheated next day, they are not as nice as on day one.
Vanilla Pana Cottas
4 Tbs water
3 tsp powdered gelatine
750ml cream
250ml milk
4-5 Tbs caster sugar, to taste
Seeds scraped from 1 vanilla bean or 1 tsp vanilla essence
Place water in a small bowl, sprinkle gelatine on top then zap in microwave to dissolve. Heat cream, milk, vanilla and sugar in a saucepan to boiling point, stirring to dissolve sugar. Add gelatine, mix well, cool a bit then divide among 10 half cup moulds. Refrigerate, covered, overnight. To serve, tip briefly in hot water, run a thin knife around the edge and tip out. Serve with Berry Compote and one or two Italian Mince Pies.
Serves 10
Berry Compote
750g – 1 kg fresh or frozen berries (one or more of the following: raspberries, strawberries, blueberries, stoned cherries)
1 Tbs lemon juice
¼ cup cherry brandy, Kirsch or other liqueur (optional)
¼ cup sugar, or to taste
Slice or halve strawberries. Place all ingredients in a bowl and allow to macerate for several hours or overnight, stirring from time to time.
Serves 10