This recipe is slightly adapted from one which appeared in the December 2012 edition of Australian Gourmet Traveller. My daughter made it and said it was yummy. I added some sugar and a substitute for chipotle chillies in adobo for those who – like me – are unable to find them easily. When something's not sold in the first two supermarkets, I usually look for a substitute.
The original recipe called for two avocados, but I found one large one was plenty. A couple of fine slivers of red chilli on top of the avocado salsa would have improved the photo.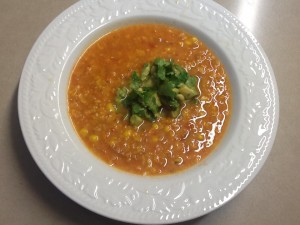 6 large vine-ripened tomatoes, halved
1 red onion, peeled and cut into wedges
¼ cup olive oil
2 banana chillies, halved lengthwise, seeds removed
5 cloves garlic, finely chopped
3 cups (750ml chicken or vegetable stock)
2 chipotle chillies in adobo (see note)
3 cups (500g) fresh corn cut from 3-4 cobs
salt and freshly ground black pepper to taste
1-2 tsp sugar, to taste
1-2 avocados, depending on size, diced
Juice of 1 lime or ½ lemon
½ cup loosely packed roughly chopped coriander
Preheat grill to high. Line a baking tray with foil and place tomatoes, skin side up and onions on the foil. Season then drizzle with half the oil. Grill 5-6 mins till blistering then add the banana chillies and grill for another 5-6 mins or till tender. Cool then remove skins from tomatoes. Heat remaining oil in a large saucepan over medium heat. Cook garlic until tender but not brown, stirring occasionally. Add stock, grilled vegetables, chipotle chillies and bring to the boil. Add corn, season to taste then simmer 4-5 mins until tender. Pulse in a food processor or blender until chunky-smooth. Tip back into pan and check seasoning. Mix avocado, lime juice and coriander and season to taste. Ladle soup into bowls and top with avocado salsa.
Serves 4
Note: substitute ½ tsp smoked paprika and a pinch of cayenne pepper