My grandfather, Herbert William Staples, was posted to Malta from the UK in January 1939 with the Royal Engineers. When War broke out later that year he was offered the chance to leave with his wife and five children, aged between 10 and 14. But leaving by ship was risky, with many being bombed and sunk, so they opted to stay. My mother Margaret was almost 10 at the time and spent the next 6 years on the island with her younger twin sisters Joan and Daphne and two older brothers, Patrick and Edwin. At the end of the War she received a medal for never having missed a day of school, despite periods of heavy bombing when she had to get there via air raid shelters.
More bombs fell on this little island of just 121 square miles than fell on London during the Blitz. The Germans wanted to capture it for strategic reasons, due to its proximity to Axis shipping lanes. But they didn't succeed and at the end of the War Malta was awarded the George Cross for bravery.
Feeding a family of seven was a constant challenge for my Irish grandmother Hilda Mary. Strict rationing allowed just one slice of bread per person per day. My mother remembers her brothers asking if they could have another slice and my grandmother giving them hers, half each. Nana Staples was skin and bone at the end of the War, but she made up for it afterwards! There were no cattle on the island, which meant no dairy industry. Sometimes the Quartermaster would issue a few cans of food to each British family. My mother still likes tinned peaches served with evaporated milk, for nostalgic reasons. While onions and tomatoes were easy to grow and Mediterranean fruit such as figs, grapes and pomegranates were plentiful in season, food-wise life was tough.
My Uncle Pat was a very good diver and could hold his breath for a long time. One day he heard that a ship had been sunk in the bay so he dived down and inside the wreck he found a whole cheddar cheese, weighing about 10 kilos. He wrapped it in his towel and staggered home, triumphant. My grandmother was thrilled and as she had tomatoes and onions in the garden she invented Staples Special with what she had available.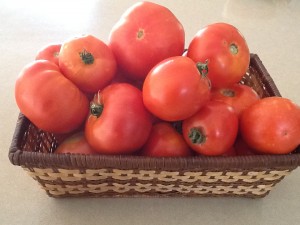 Fortunately I've never known what it is to go hungry or be unable to buy enough food for my family. But I still make Staples Special because it's so delicious and makes a perfect Saturday lunch or Sunday evening supper. It's important to use vine-ripened tomatoes from the garden or local market. Those tasteless ones you buy in supermarkets during winter just won't work in this recipe. The same goes for the toast – the better the bread, the better the toast.
My Dad was a nurseryman and for many years his main crop was tomatoes, grown under glass in Kent, in south-east England. All my tomato-growing knowledge came from him and I think he would be proud of this year's crop from our Canberra garden. To be honest Matthew does all the work, but I do cook the produce. One cardinal rule I learnt from my Dad and that's never, ever store tomatoes in the fridge.
1 large onion, halved and sliced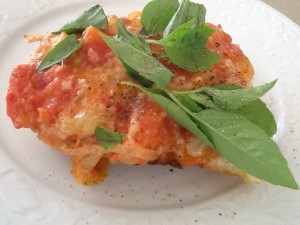 2 Tbs olive oil
500-600g ripe tomatoes, skinned and roughly chopped
1 tsp sugar
salt and freshly ground black pepper to taste
3 cups grated cheddar cheese
6 large slices buttered toast (Turkish bread is nice)
Basil leaves, torn up (optional)
Heat oil in a large frying pan and cook onion, stirring, over moderate heat, until soft but not brown. Add tomatoes and continue to cook for a few minutes, stirring. Tomatoes should be semi-cooked and still chunky. Add sugar and season to taste. Add cheese and when just melted serve on toast garnished with basil.
Serves 4