When I was growing up in England we had swedes, parsnips and turnips, but I never saw sweet potatoes or pumpkin. So I didn't try either of these vegetables until I married and moved to Australia in 1975. I quickly became a big fan of both – in soups, roasted, mashed – I love their sweet earthy flavours and satisfying textures.
February is usually the hottest month in Canberra, but this year we have had some cool, wet days. And this weekend, the first in March, is positively autumnal. After several months of salads a bowl of soup goes down well for lunch on a cool day, with a slice or two of toast.
I made this soup with sweet potato, but pumpkin would work equally well. Two year old granddaughter Natalia, who had hers without the toppings, had fun finding the chick peas which she called "chippies".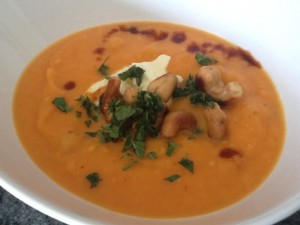 25g butter
2 large onions, chopped
3 cloves garlic, crushed
1 kg sweet potatoes, peeled and chopped
1 cup white wine
4 cups (1 litre) vegetable stock
About 2 cups milk
1 can chickpeas, drained
Hot pepper sauce (see note below)
1 Tbs grated fresh ginger
Salt and freshly ground black pepper to taste
To serve:
Sour cream or thick plain yoghurt
¾ cup unsalted cashew nuts
small piece of butter
2-3 Tbs chopped fresh oregano, marjoram or coriander
Hot pepper sauce (see note below)
Melt butter in a large saucepan. Add onion and garlic and cook gently, stirring from time to time, until soft but not brown. Add sweet potato, wine and stock and simmer until sweet potatoes are tender. Meanwhile heat a small piece of butter in a small frying pan and cook the cashew nuts, stirring, until browned.
Blend soup in a blender until smooth, adding enough milk to make desired consistency. Put soup back into a saucepan with the chickpeas and ginger, adding hot pepper sauce, salt and pepper to taste. Reheat soup and serve in soup bowls garnished with a dollop of sour cream, some cashews, chopped herbs and a drizzle of hot pepper sauce.
Serves 6
Variations: use pumpkin instead of sweet potato; pecan nuts instead of cashews.
Note: If you can find a smoky hot pepper sauce such as Montezuma's Smoky Chipotle sauce, this is ideal. Have a look in the Mexican food section of your supermarket and see what they have. If you can't find a smoky one use Tabasco or Peri Peri sauce.