In about 1900 a Swiss doctor named Maximilian Bircher-Benner developed a healthy, easily-digested dish for the patients in his hospital.
Bircher Muesli soon became a light evening meal or breakfast dish throughout Switzerland and northern Germany. In the latter half of the 20th century muesli spread to the rest of the Western world and became a commercial product.
Bircher Muesli makes a nice change from the toasted granola-style ones you buy or make yourself. You can always add some crunch via the toppings.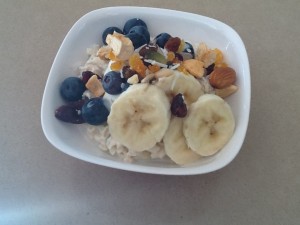 1 cup porridge oats (not the quick-cook variety)
1 cup plain yoghurt
½ cup milk
2 eating apples, cored and grated, including skin
Toppings:
Extra milk
Sliced banana
Fresh berries
Plain yoghurt
Honey to drizzle
Dried fruit, nuts, coconut
Mix oats with yoghurt, milk and grated apples. Cover and refrigerate overnight. Serve with extra milk and a selection of toppings. Keeps in the fridge for two days.
Note:  I like the fact that this muesli is all ready to serve in the morning, when I have less time to spare for things like grating. However, if preferred, soak oats with yoghurt and milk and add grated apple when serving. Some recipes use fruit juice instead of milk, but I prefer milk.