We were staying with our daughter and son-in-law in Newcastle last year when they hosted an Australia Day party for about 30 friends plus kids. We ran out of time to make the desserts and bought a couple of pavlovas from Woolworths supermarket. I always make my own and was quite impressed with these bought ones which were moist and marshmallowy in the middle and crunchy on the outside. Not as good as a home-made one, which has more crunchy bits, but not bad. Once you've added the whipped cream and fresh berries they're pretty good as an instant dessert.
When I was shopping for the Easter weekend Woolies had their large pavlovas, which they say serve 20, for half the normal price. So I bought one. Then I started to wonder how to make it look more home-made.
The answer is to use a stacking ring and cut circles from the pavlova. Top with the cream and fruit and voilà – an elegant dessert in no time at all. If you don't use it all, the rest of the pavlova will keep for several days, so you can cut more circles and serve it again. If you think the pavlova circles are too big, cut them in half horizontally, then you will get twice as many smaller servings.
If you don't have stacking rings you can make one by cutting the top and bottom off an empty metal can with a suitable diameter. If it's deep enough top the pavlova with the cream and fruit before removing the ring, as I did for this photo, which results in a neater finish.
I doubt if anywhere other than Australia and New Zealand sells pavlovas in their supermarkets, so I'm afraid this blog post won't help people living in other parts of the world!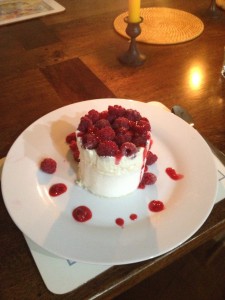 1 bought pavlova
Cream, whipped until thick
Fresh berries or passion fruit pulp
Spray the inside of a stacking ring lightly with some vegetable oil, to make removal easier, then cut circles from the pavlova. If the ring is deep enough, top with cream and fruit, if not do it afterwards. If liked drizzle some raspberry coulis around the plate.