When we were growing up my brother, sister and I spent many happy summer holidays on a dairy farm on the moors of County Durham in the far north of England, not far from Barnard Castle. Hill House was run by my Dad's Uncle Hector and Auntie Vina, their youngest son Ian and his wife Mary. Sometimes we went with my parents, other times we travelled the 300 miles on our own by train and Mary would meet us in Darlington. Ian's brothers and sisters all had farms and we spent time with all of the rellies. Dent Gate farm had a stream with trout in it. If we were patient we could catch them by tickling them. Don't believe me? Well neither does Matthew, but it's true!
Cakes were a staple part of a farmer's diet back then. They were served with morning tea at eleven and afternoon tea was a proper sit down affair back then. On Sundays they really went to town. The first time I saw the table groaning under the weight of a huge selection of cakes, sweet pastries, cold meats, chutneys, jellies, trifles and fruit salad, I couldn't believe my eyes. Down south where I came from we were lucky if we had one home-made cake to choose from!
One day a week was set aside for baking in the temperamental wood-fired Aga stove. You couldn't adjust the temperature and had to cook according to how hot the oven was that day. On windy days the oven would be hot and we would make blackberry and apple pies, using wild blackberries we had collected ourselves. If there was no wind the oven would be cooler and we made fruit cakes.
When I won first prize for a two egg sponge in the Butterknowle annual show I was tickled pink – but it was all thanks to Auntie Vina's foolproof recipe. She had a huge influence on my love of cooking, teaching me all the basic skills and recipes for cakes and pastries. This Rum and Raisin cake is adapted from one of her recipes. I've added the cottage cheese and a bit more rum.
I never let the lack of an ingredient stop me making something, so you will see I've listed some substitutions below.
Ian and Mary have retired and in the family tradition Hill House is now being run by their son Jonathon and his wife Fay. It's no longer a dairy farm as they lost all their cattle in the Foot and Mouth outbreak of 2001 and had to start over again.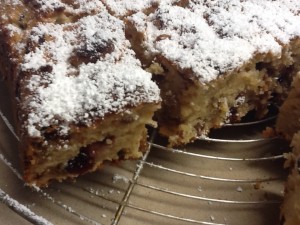 1½ cups raisins
½ cup dark rum
125g butter, at room temp
1 cup brown sugar, firmly packed
3 eggs
1/3 cup milk
300g cottage cheese or ricotta
¾ cup ground almonds
1¼ cups self-raising flour, sifted
Icing sugar
Soak raisins in rum several hours or overnight. Preheat oven to 170°C. Line a cake tin with baking paper. I used a 22cm (9″) square tin, but a round one will do. In food processor or in a bowl with electric beaters mix butter and sugar until creamy. Add eggs, milk and cottage cheese and mix well, stopping to scrape down the sides halfway. Add ground almonds and self-raising flour. Stop and scrape down, add raisins and rum and mix just enough to incorporate as you don't want to chop the raisins. Scrape into tin and smooth the top. Bake for 40-60 mins or until evenly browned, firm to touch and a skewer inserted in the middle comes out clean. Cool then tip out, remove paper, dust with icing sugar and cut into squares or rectangles to serve.
Makes about 20 pieces
Note: you can make your own ground nuts in the food processor.
Substitutions: brandy instead of rum, sultanas or other dried fruit instead of raisins, white sugar instead of brown, ground hazelnuts or walnuts instead of almonds.