When we were living in Paris I was a member of a Franco-Australian group which met once a month. We took it in turns to host the meeting which took the form of afternoon tea, with an hour speaking in English followed by an hour speaking in French. When it was her turn to host the group Dominique made this very unusual Lemon Tart. The crust is quite thick but it's like a delicious shortbread that blends in with the filling, so it doesn't seem to matter.
The recipe fills a normal 20-25cm (8-10 inch) round pie dish. In the photo I have used a rectangular meat-roasting pan (26x33cm) and increased all the ingredients by about a quarter. I wanted something to cut into squares to serve a large crowd. I have put those quantities, for a bigger pie, in brackets. The original recipe was sprinkled with flaked almonds, but I used rhubarb instead because it needed using up!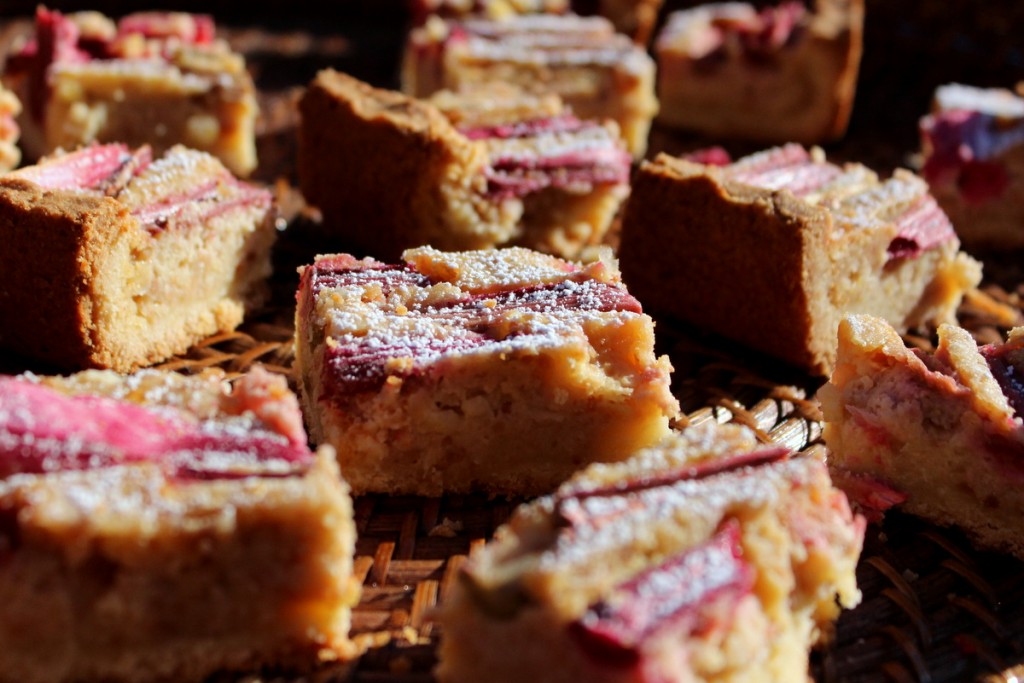 Pastry:
200g marzipan (at room temp) (250g)
200g butter (at room temp) (250g)
2 cups plain flour (2½ cups)
Filling:
100g ground almonds (125g)
3 large eggs (4)
1 cup sugar (1¼ cups)
1 large lemon (2 smaller ones)
pinch salt
1 Tbs flour (1 heaped Tbs)
1 cup cream or sour cream (1¼ cups)
50g flaked almonds (80g)
Pastry: Preheat oven to 170°C. Process marzipan and butter in the food processor until well combined, then add the flour and process till it starts to stick together. Tip the sticky crumbs into a tart tin or large quiche dish. Using fingertips, press pastry all over the bottom and up the sides to form the crust.
Filling: No need to wash the food processor to make the filling. If almonds are not already ground, put them in the food processor first and process till fine. Cut the lemon into quarters, remove the stalk and pips then add to the food processor with the sugar, eggs, cream, flour and salt.Mix until fairly smooth.Pour into the pastry case and sprinkle the flaked almonds all over the top. Bake for 40-60 minutes until deep golden brown. If the edges start to get too brown, cover them with a collar of foil. Serve with cream as a dessert or for afternoon tea, dusted with icing sugar.
Serves 8-10
Note: This tart is nicer if you let it get slightly over-cooked so the edges become crunchy.
Variation: omit flaked almonds and top pie with a bunch of rhubarb, washed, trimmed and cut into 6-cm lengths.