We had this recipe from Delicious magazine last night and it was just as yummy as it looks in the photo. I made half the salmon and pumpkin – enough to serve two people – but all the almond pesto. The left-over pesto will be nice served with pasta, grilled chicken or steak, or drizzled over home-made wintery soups.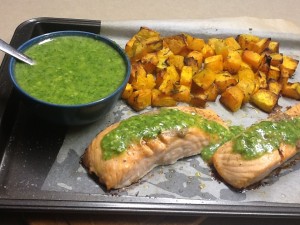 1kg pumpkin, peeled, seeds removed
1 Tbs rosemary leaves, chopped
Salt and freshly ground black pepper, to taste
½ cup olive oil, plus 2 Tbs
1 bunch parsley, leaves picked off
1 clove garlic, crushed
½ cup blanched almonds (whole, flaked or slivered)
4 x 200g skinless salmon fillets, pin-boned
Steamed green vegetable to serve
Preheat oven to 200°C and line a large roasting pan with baking paper. Cut pumpkin into 2-3cm cubes and place on the paper with the rosemary and 1 Tbs oil. Season and toss to combine. Roast for 15 mins or until almost tender. To make pesto place parsley, almonds and garlic in food processor and whiz to combine. Add the ½ cup olive oil, scrape into a small bowl and season to taste. I also added the juice of half a lime, to give it a bit more zing.
Brush salmon with remaining 1 Tbs oil, season and add to the roasting pan with the pumpkin. Bake for a further 10 mins or until just cooked. Divide salmon and pumpkin among 4 plates and serve with the pesto and a steamed green vegetable such as beans, snow peas, brussels sprouts or broccoli.
Serves 4