A perfectly ripe pear and an avocado sitting next to each other in the fruit bowl provided the inspiration for this healthy week-end lunch. I've always liked the sweetness fresh fruit adds to an otherwise savoury salad. You can use any type of blue cheese and pecans instead of walnuts.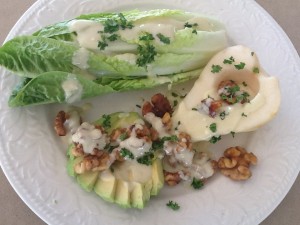 2 baby cos lettuce hearts
1 large ripe pear
1 ripe avocado
2 tsp oil
About 20 walnut halves
2 tsp honey
Dressing:
½ cup vegetable oil of your choice
Juice of ½ lemon or lime
¼ cup cream or sour cream
2-3 Tbs blue cheese
Freshly ground black pepper
To serve:
Finely chopped parsley or chervil
Arrange lettuce on two plates. Peel and halve pear and remove core with a melon baller, arrange on plate. Peel avocado, remove stone, cut each half into slices but not quite to the narrow end, then fan out on the plate. Heat oil and cook walnuts for a minute or two, stirring. Add honey and continue to cook and stir until sticky and glazed then turn off the heat – be careful, they burn easily. Place all ingredients for dressing in food processor and process until smooth. Start with 2 Tbs cheese, then taste and see if it needs more. Drizzle some of the dressing over the salads, sprinkle with walnut halves and herbs.
Serves 2