I recently attended the Fine Food Fair at the Sydney Convention Centre. As I was wandering round I saw a cooking demonstration about to start, grabbed a chair and sat down. The subject of the demo was how to cook cheap cuts of meat quickly, rather than by one of the slow methods we usually use with less tender cuts.
The chef was a Pom like me, so he called the cut of beef he was using skirt. Here in Australia it's known as flank. He said there were five rules for the successful quick-cooking of flank steak:
use a piece of lean flank steak about 2.5cm thick
marinate for about 30 minutes in a mixture which includes lemon or lime juice
cook over high heat for 3-4 minutes each side, turning once, to achieve medium-rare
rest meat loosely-covered for the same amount of time as you cooked it
slice thinly downwards, across the grain
Samples were passed around and the results were impressive. The meat was tasty and surprisingly tender so I decided try it at home. At the demo they served it in bread rolls which they called Vietnamese Steak Sandwiches. We had ours on top of the salad.
You can use any combination of crunchy vegetables for the salad. I used one carrot instead of two and added one coarsely grated raw beetroot and some finely shredded red cabbage.
The marinade can also be varied with any herbs, spices or sauces that take your fancy.
1 piece of flank steak weighing 600-750g and about 2.5cm thick
Marinade:
Juice of ½ lemon or 1 lime
2 Tbs soy sauce or Worcestershire Sauce
2 Tbs fresh grated ginger or 2 cloves garlic, crushed, or both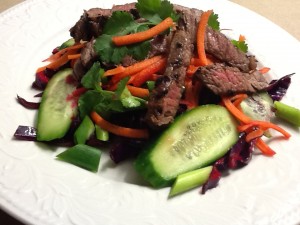 Salt and freshly ground black pepper
Salad:
2 spring onions, finely sliced on the diagonal
½ cup fresh coriander leaves
1 cucumber, thinly sliced
2 carrots, coarsely grated
Salad Dressing:
1 clove garlic, crushed
1 tsp sugar
Pinch chilli powder (optional)
1 Tbs rice wine vinegar
1 Tbs water
Salt and pepper to taste
Combine marinade ingredients except salt and pepper, add meat, turn to cover and leave for 30 minutes, turning occasionally. At the demo they marinated it in a sealed plastic bag, but I just used a dish. Mix salad ingredients in a bowl and dressing ingredients in a jar with a lid and shake.
Preheat BBQ or griddle to very hot. Drain steak and pat dry with paper towels. Season with salt and pepper on both sides. Cook steak for 3-4 minutes each side, turning once, until medium-rare. Remove from  heat, cover loosely with a piece of foil or a saucepan lid and leave to rest for 6-8 minutes. Slice thinly downwards, across the grain. If serving in rolls, split and lightly toast them. Mix salad with dressing.
Serve beef and salad in rolls or arrange on individual plates.
Serves 4
Note: if preferred just use your regular salad dressing instead.