This soup is quick, easy and satisfying. I invented it one day when I had a friend coming for lunch and one lonely eggplant sitting in the fridge. I just stuck it in the oven and let it cook while I did something else. The final mixing and reheating takes less than 10 minutes.
While the subtle flavour of the eggplant is somewhat overpowered by the tomato, it does provide a nice texture. And the peanut butter, garlic and chilli add an Asian touch to the flavour combination.  I've made the recipe with both crunchy and smooth peanut butter and while they're both nice I prefer the creamier result you get with the smooth variety. But If you've only got crunchy I wouldn't go out and buy a jar specially.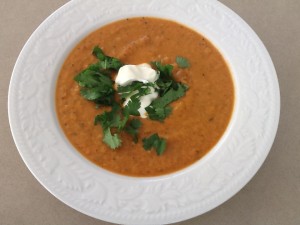 1 large eggplant
1 clove garlic, crushed
1 500g jar tomato sauce for pasta (see note)
1 jar of water (and maybe a bit more)
1 tsp sugar
1 chicken or vegetable stock cube
3 Tbs peanut butter
1 small red chilli, seeded and chopped
Salt and freshly ground black pepper to taste
To serve:
sour cream or thick Greek yoghurt
fresh coriander
fresh bread or toast
Preheat oven to 180ºC. Pierce eggplant a couple of times with a knife, so it doesn't explode in the oven. Place in the oven for 30-40 minutes, or until it feels soft when you squeeze it. Halve eggplant and scrape out the flesh into a food processor, discarding skin.
Add remaining ingredients and process until smooth. Tip into a saucepan and heat to boiling point. Check seasoning and add a bit more water if necessary to make desired consistency. This will depend on how big your eggplant was.
Ladle into soup bowls and top each serving with a dollop of sour cream or yoghurt and chopped coriander. Serve with fresh Turkish or sourdough bread or toast.
Serves 4
Note: Most pasta sauces weigh about 500g. I used about two thirds of a 700g jar of Woolworths Home Brand Chunky Pasta Sauce.